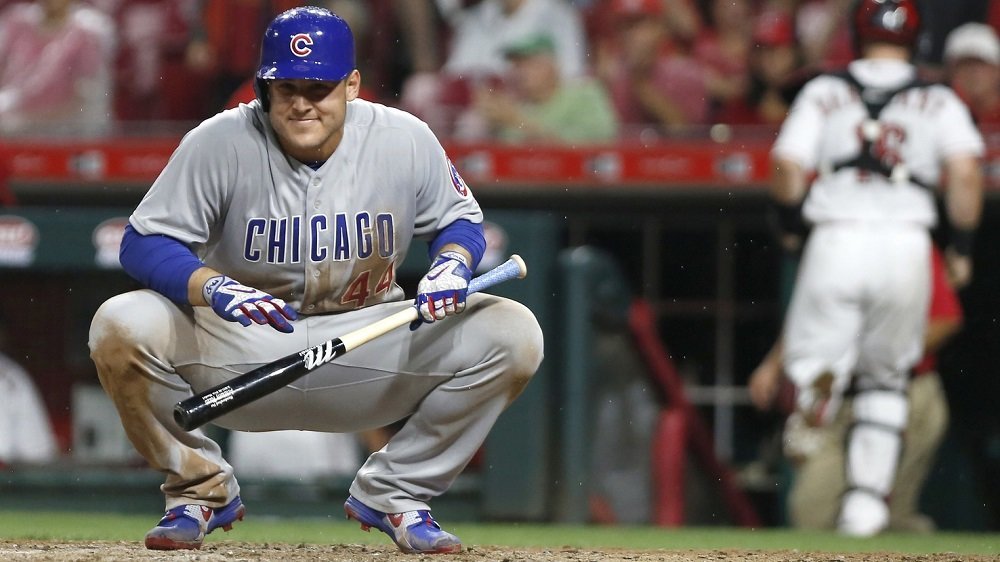 | | |
| --- | --- |
| RISP: The Cubs' Achilles heel | |
---
It happened in 2016 for the first time in 108 years: the Cubs won the World Series. Then it didn't happen in 2017, and at the rate, we're going, it isn't going to happen this year either, not unless the ailing Cubs can figure out how to move runners in scoring position. Don't look to me for many answers, as if I had them; I'd be managing the team.
One thing I have noticed though is that Baez looks to be swinging for the fence every time he enters the batter's box. What's worse, is that when Javy gets into that mode, he starts chasing pitches, and ugly balls at that. Once he calmed down and started focusing more on contact a couple of weeks ago, he started hitting more consistently. Then, that nightmare series in Cincinnati rolled around, and he started swinging for the stands again. I'm sure Baez feels the need to tally RBIs, but let's not get into the story of the tortoise and the hare, as almost always, the hare is going to win.
Except for the struggling Chris Gimenez (now batting .115), the Cubs offensive numbers look good on the surface: Baez is still batting .266, Schwarber is at .238, Heyward is at .278 and Almora is cruising at .317, yet something isn't clicking. Seemingly, the Cubs are hitting, but they aren't doing so with RISP. Then that nagging question surfaces again; why? Again, I can only speculate…
Bryant's slump continues, interrupted by just enough hits to keep his batting average at a respectable .280. Plagued by recent shoulder pain, KB has sat out the last couple of games and has just landed on the 10-day disabled list. Conjecture is swirling around Twitter about possible lasting effects from the concussion he suffered, after he was hit in the head by a pitch on April 22 while playing in Denver. Has Kris Bryant been the same since then? The short answer is "no," his numbers have, in fact, declined during May and June. However, there has been only a modest drop in his batting average over those two months (.291 through the end of April, .267 for June). The biggest difference I see in Bryant's stats is the drop in his OPS; .948 through April, and only .707 in June.
Pressure shouldn't be a huge issue for these guys, as they've fared well under tremendous stress at different times throughout the season this year, and in the post-season in recent years past. That's not to say that every member of the team doesn't feel compelled to hit and produce runs, after all, that's a big part of what they get paid to do, so I'm afraid pressure isn't the problem either.
Opposing pitchers can't be the problem, as the Cubs have rocked some of the best in the league and faltered against some of the worst. I could understand a weak offensive showing if the Cubs are facing the likes of Kershaw, Scherzer, deGrom or Nola, but pitchers of that caliber are few and far between. Likewise, bullpen aces like Kenley, Hader and Albers have seemed generally ineffective against the Cubs' sticks; so cross pitching off the list now, as well.
While we're at it, let's check off batting orders, as Joe Maddon has tried countless options this year; most to no avail. Defensive shifts have robbed countless hits, and presumably runs, but guys like Schwarber, Baez and Heyward have learned to compensate by hitting to the opposite field; check that one off the list.
With no pun intended, I have covered just about every base that could be contributing to the lack of run production, and I'm still at a loss. When the Cubs start a rally with no one out, they can't seem to advance the runners. Two-out rallies get started, but that inevitable third-out continually comes before anything materializes. Double-play balls are a continuing problem, but the DP excuse doesn't wash when the Cubs have men on second and/or third with first base open.
Alas! A lack of quality bunting has undoubtedly caused an issue, as has a lack of aggression in the stolen base department. While the Cubs aren't the speediest team in MLB, they certainly have satisfactory speed in Baez, Happ, and Almora, and decent speed in Bryant, Russell and Heyward. I think the Cubs need to exploit that speed and make the opposing catchers work harder. Until the offense starts humming like a well-oiled machine, the Cubs should initiate the double-steal each and every time they have runners on first and second with nobody out. Granted, you'll probably lose one runner, but they aren't gonna get them both- and either way, they'd have at least one runner in scoring position, with the threat of the double-play being removed.
Next, I think the Cubs need to work on the bunting issue. I've seen countless foul-bunts from pitchers and position players alike, save for Jon Lester. Gimenez popped a bunt in Monday night's loss to the Dodgers, causing Schwarber to get doubled off second, thus killing another would-be rally. The guys could learn a lot from Lester, as his bunts are usually impeccable, but until the bunting improves on its own, or until Lester starts giving batting clinics, I fear we are going to continue to strand runners and hit into double-plays.
Many fans are shrugging off the recent offensive struggles plaguing the Cubs, by stating that there's still plenty of time for the bats to get going. I disagree wholeheartedly with the fans who say that "…first place in June doesn't matter." Pittsburgh fans probably said the same thing earlier this month, and now the Bucs are down by eight-and-a-half and fading fast. Meanwhile, the Brewers are picking up steam and leading the Cubs by two-and-a-half games. The clock is ticking: April turned to May, then May to June. July is looming, and the Cubs are struggling, all because the offense can't get in sync.