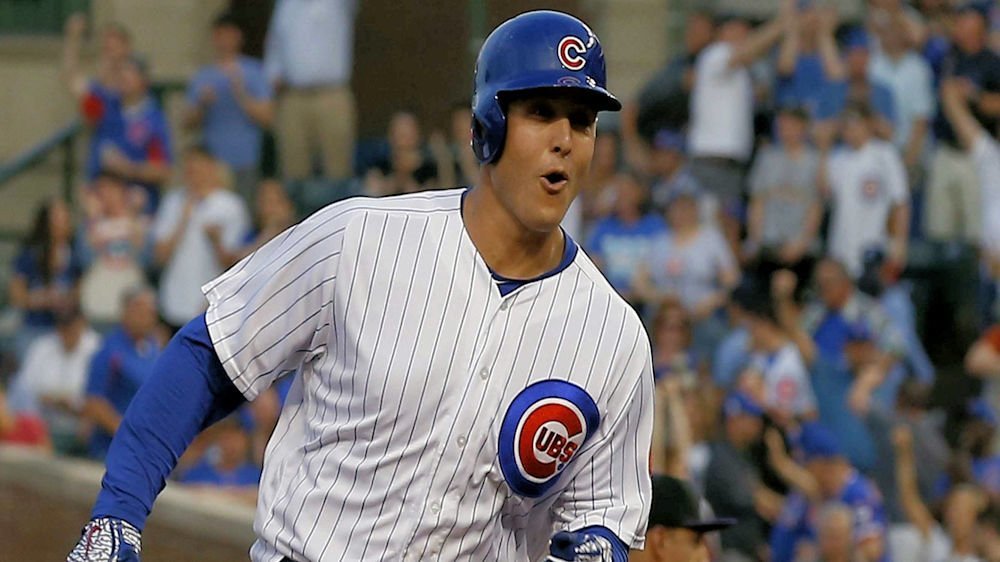 | | |
| --- | --- |
| Rizzo hits fourth homer in leadoff spot, but Cubs fall to Rockies | |
---
| | | |
| --- | --- | --- |
| Tuesday, May 1, 2018, 10:33 PM | | |
CHICAGO — Last June, Chicago Cubs manager Joe Maddon experimented with first baseman Anthony Rizzo in the leadoff spot. Though unorthodox to have a 240-pound power hitter batting leadoff, the decision proved wise while it lasted, with Rizzo clubbing three home runs in his leadoff tenure.
On Tuesday night, in a home contest versus the Colorado Rockies, Maddon opted to utilize one of his signature unconvential batting orders for the first game in quite some time, including putting Rizzo in the leadoff position. In true storybook fashion, Rizzo returned to the leadoff spot in a blaze of glory, taking the first pitch that he was thrown over the outfield wall and into the bleachers for a solo home run. That, in addition to a good performance by starting pitcher Kyle Hendricks on the bump, positioned the Cubs for their sixth straight win, but it just was not in the cards for Chicago, as Colorado used three home runs of its own to win 3-1 in the second game of the three-game sereies at Wrigley Field.
With the wind blowing out, a home run bonanza took place in the early innings, much to the chagrin of the starting pitchers. Hendricks got off to a miserable start, giving up consecutive homers in the first two at-bats of the contest. First, Rockies center fielder Charlie Blackmon powered a shot to straightaway center, and, then, left fielder David Dahl joined the fun with a shot to center.
#Rockies @ #Cubs

Blackmon's leadoff home run (00:46)

MLB Gameday: https://t.co/UZZ2YAqgS2 pic.twitter.com/hgfHbfUe68

— Ballpark Videos (@BallparkVids) May 2, 2018
#Rockies @ #Cubs

Dahl's solo home run (00:48)

MLB Gameday: https://t.co/UZZ2YAqgS2 pic.twitter.com/K7Op69v2gB

— Ballpark Videos (@BallparkVids) May 2, 2018
Surprisingly, Hendricks was able to shake off his early troubles and put forth one of his best performances of the year. Pitching seven and two-thirds innings of four-hit ball, Hendricks did an excellent job of battling the wind by forcing the Rockies into an abundance of groundouts. Not helping Hendricks's cause, though, was a lack of offensive production of behalf of his teammates. Accumulating just three hits on a night that, weather-wise, was fit for hitters, Chicago was unable to settle into a groove at the plate over the course of the game.
Like Hendricks, Rockies hurler Jon Gray overcame a troublesome first inning to produce a solid outing. Making up for a subpar performance in a start against the Cubs a few weeks ago, Gray struck out six and allowed just three hits and one walk in seven innings pitched. Gray overcame the worst beginning to an outing that a pitcher could ask for, giving up a no-doubter of a home run of his first pitch of the game. Throwing a fastball down and away, Gray was taken deep by Rizzo, marking the Cubs slugger's fourth career home run in the leadoff spot. Interestingly enough, the 329-foot round-tripper also marked Rizzo's first home run since Opening Day.
.@statcast alleges a 1% hit probability, but our internal metrics gave it a 100% chance of leaving the yard. #GLHOAT #TeamRizzo pic.twitter.com/YBXIUEJcMx

— Chicago Cubs (@Cubs) May 2, 2018
Unfortunately for the North Siders, they were able to muster only two additional hits for the remainder of the game. Meanwhile, Rockies third baseman Nolan Arenado put his club ahead 3-1 in the fourth with a solo jack of his own, taking an offspeed pitch from Hendricks over the wall in left field.
#Rockies @ #Cubs

Arenado's solo home run (00:48)

MLB Gameday: https://t.co/UZZ2YAqgS2 pic.twitter.com/MHIww3o6Qi

— Ballpark Videos (@BallparkVids) May 2, 2018
The Cubs had an auspicous opportunity to make up for that run in the next inning, sporting men on first and second with one out. But two straight groundouts to end the inning made that scoring chance null and void. Later, in the seventh, Chicago left fielder Kyle Schwarber was also left stranded. Hitting his first triple of the season, Schwarber barreled to third on a ball hit to deep right. The three-bagger served as the Major League-leading 11th triple of 2018 for the Cubs. However, the Cubs did not convert the one-out triple into a run, with a strikeout and a foulout ensuing.
The Cubbies were unable to mount a comeback thereafter, with former Cubs and current Rockies closer Wade Davis tallying his 11th save in the bottom of the ninth, despite facing the heart of the Cubs' batting order. The 3-1 loss snapped a five-game win streak for the Cubs. Hendricks (2-2, 3.19) received the loss, and Gray (3-4, 4.99) was named the winner.