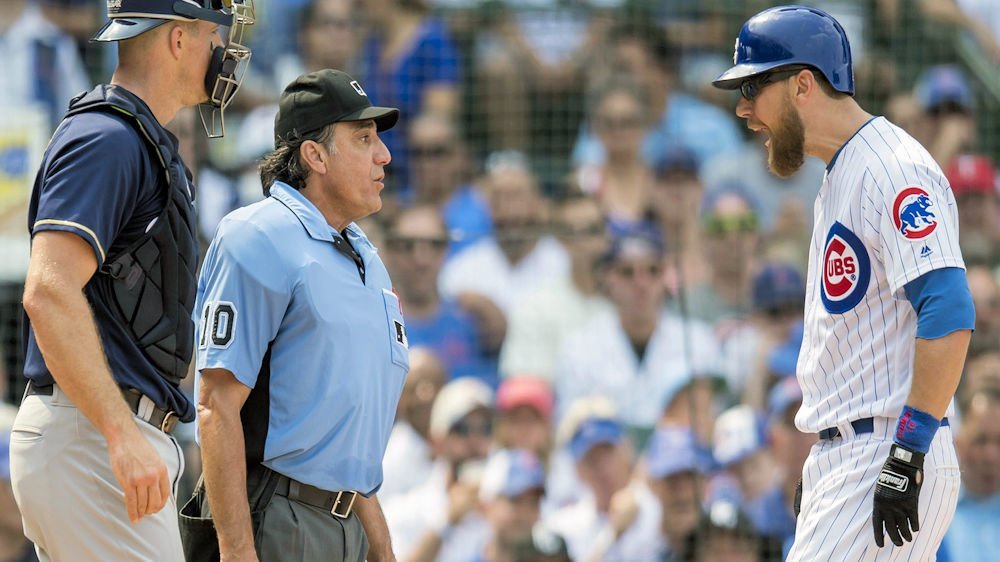 | | |
| --- | --- |
| Should MLB implement an electronic strike zone? | |
---
Ben Zobrist was ejected yesterday, for the first time in his professional career- a career that, including his time in the minors, has now spanned 16 years and 1,562 games.
Zo had gotten a little irate earlier in the game, after being called out on strikes by a bad call. Joe Maddon rushed to his rescue, knowing that Big Ben is not generally a guy that argues balls and strikes, at least not that passionately. Maddon's job in that scenario is to get the player out of harm's way before the player gets himself ejected, which Maddon did, but never one to walk away from a fight, Joe continued to argue the strike call until he got himself bounced in the bottom of the sixth.
The funny part is, Zobrist wasn't even the batter at the time of his ejection, but instead he was the on-deck man. After Baez was wrung up on strikes to end the bottom of the eighth for the Cubs, Zo left the on-deck circle to approach home-plate and continue his earlier protest.
In a bizarre scene that left television viewers confused and wondering, TV game back from a break just in time to see Zo get the thumb that ousted him from the game. Not that you can ever hear the arguments, but this time, no one ever even saw what led to the ejection; thank God for Len Kasper and Jim Deshaies…
Zo never dropped an "F-bomb," and he never insulted home-plate umpire, Rick Cuzzi's wife or mother. Instead, it was one well-placed jab got Zobrist tossed. "That's why we want electronic strike zones," Zo exclaimed, and with that, Cuzzi lost his mind and Ben lost his right to remain in the game.
As far as ejections go, this was a well-played move on Big Ben's part, as he was coming out of the game anyway, to make room for Addison Russell in the ninth.
The phenomenon of the electronic zone has been going on for a while now, and Zobrist has personally supported the idea for over a year. Is it something that can, or should, be a reality though? The only thing I do know about the concept is that it has the little hamster in my head turning its wheel at a feverish pace, while I contemplate the pros and cons.
We certainly have the ability and technology to make this thing a reality, but part of the allure of baseball has always been the human (error) factor. Without a doubt, if and when it's implemented, the electronic strike-zone is going to be alive by the sword, die by the sword type of thing. Case and point: we groaned when Zo got called out on strikes by a pitch that was definitely outside the zone but had Ryan Braun been wrung up on that same pitch, we'd have all been laughing hysterically, as he walked back to the dugout, pouting like a puppy who had just been caught in the garbage.
I'm sure MLB would work out the majority of snags before implementing an automated strike zone, but in the meantime, I have some questions and observations...
First, with the number of foul balls that clip and injure umpires, would an electronic strike-zone create an environment where the umps wouldn't even necessarily need to be nestled in behind the catchers? If so, how weird would that look? Where would the umps even stand, waiting for the somewhat occasional play at the plate?
Next, who, or what will determine whether or not a pitch hits a batter? Does the electronic zone define foul tips, or does the home-plate umpire still do that? Maybe the umps do need to stay where they are now, as someone has to determine what constitutes a drop-third strike.
I didn't like the idea of replay-reviews when the NFL started using them, and they seemed like an unwanted sign of the times when they made their debut in MLB. Implementing an electronic strike-zone is going to be no different, serving only to take the excitement out of the game, much like the replay-reviews did, and that's not what baseball needs.
Joe Maddon told the ump yesterday:

Do you realize Ben Zobrist is arguing with you?#EverybodyIn pic.twitter.com/ApupLHIiPU

— CubsHQ (@ChicagoCubsHQ) August 15, 2018

Upgrade Your Account
Unlock premium boards and exclusive features (e.g. ad-free) by upgrading your account today.
Upgrade Now