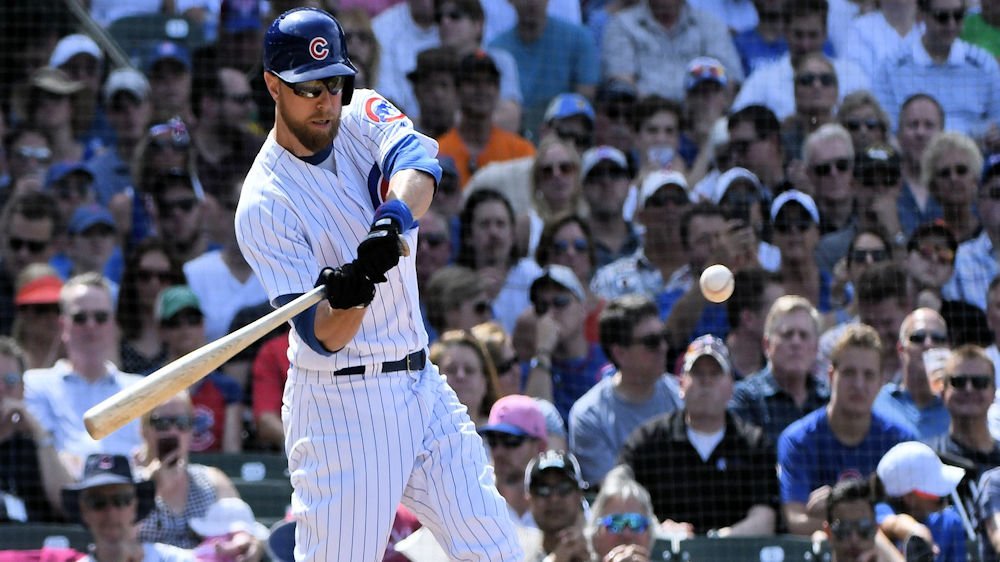 | | |
| --- | --- |
| Should the Cubs re-sign Ben Zobrist? | |
---
| | | |
| --- | --- | --- |
| Thursday, October 17, 2019, 8:10 AM | | |
Yes, yes, they should.
If he stays in baseball.
Ben Zobrist has had one of the best four-year stretches of any Cubs player, based solely on the fact that he was the World Series MVP in the Cubs' first World Series title in 108 seasons. It was Zobrist who delivered the clutch RBI double down the left-field line in the top of the tenth inning.
Zobrist was signed four years and 56 million before the 2016 season, and the switch hitter was reunited with manager Joe Maddon.
After those four years, Zobrist is 38 but has proven he can still perform at a high level and continuously deliver a professional at-bat. Zobrist's good eye and contact ability makes him valuable for any team, especially in the clutch.
His family situation, divorce proceedings among it, shortened his 2019 season and ultimately could lead to him stepping away from baseball.
Should the Cubs welcome back Ben Zobrist, you can anticipate much of the same that you saw from Zobrist in his brief time this year. He will likely see time at second base and the outfield a bit, where he has primarily played his entire Cubs career. He will provide the Cubs with a solid defender at multiple positions, and he has always been acclaimed for his bat.
Zobrist is known for his ability to produce a "professional" at-bat at any time, and he could do that at any spot in the lineup. He would likely end up in the leadoff spot at times and near the bottom of the order when he does play. As we saw this year, Zo is not at the point of his career where he is extremely durable, and we would only see him likely once or twice max in any given series.
Of course, the matchups matter a lot too. Zobrist was usually slotted in lineups against right-handed pitchers because he is typically better batting left-handed, but it is important to remember that he is a switch hitter and is always a valuable pinch hitter.
I imagine that Ben Zobrist would hit around .270-.290 with about 10-15 home runs and 50-60 RBIs. And the Cubs would gladly welcome that production and Zobrist's leadership back in 2020.
But if he decides to come back, his .260 average and.358 on-base percentage in 47 games is an excellent bar to set to gauge his expectations for 2020. Zobrist won't play every day, but his knowledge, leadership, and consistency are undoubtedly valuable for any roster, especially the Cubs in 2020, as they continue to search for contact-oriented players and fewer strikeouts.
Zobrist could call it a career and be extremely content with his performance. A pair of World Series titles as he played almost every position, and is known as one of the better guys in the industry.
If it is the end for Zobrist, his last on-field moment was striking out Yadier Molina. Not a bad way to go out.
If it is not the end of his admirable career, the Cubs should certainly consider bringing Ben Zobrist back to the Cubs for a much more affordable price.
Zobrist K'ing Yadi. ?? pic.twitter.com/u3EeyjKZXK

— Rob Friedman (@PitchingNinja) September 29, 2019