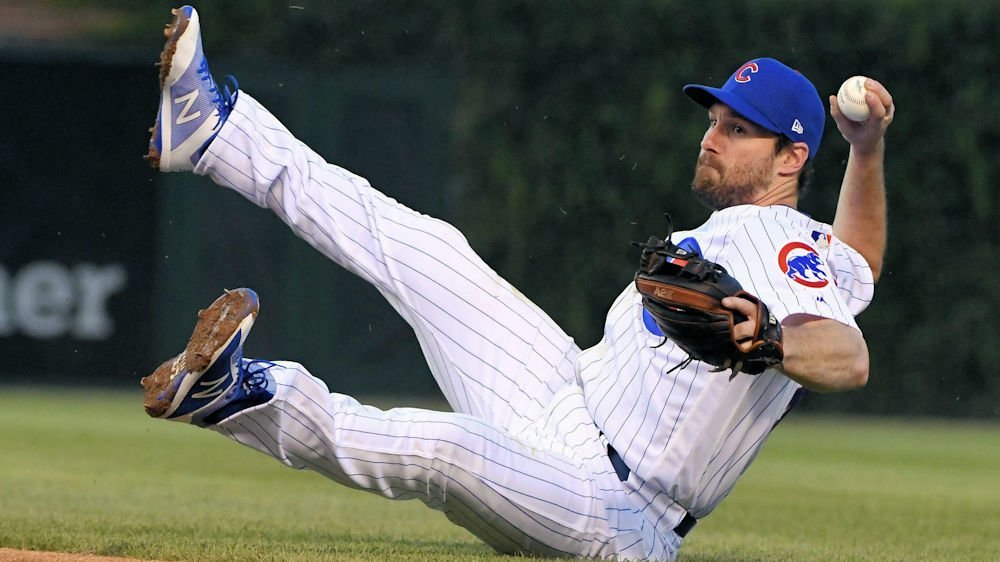 | | |
| --- | --- |
| The Cubs latest 1-2 punch with Murph and Hollywood | |
---
| | | |
| --- | --- | --- |
| Friday, August 24, 2018, 1:43 PM | | |
Last night was nothing short of amazing. The offense looked alive and fine, the defense was exciting, and the pitching…oh man, the pitching…words can't even describe it. In case you've been under a rock, "Hollywood" Cole Hamels tossed a complete game last night.
What started out as a somewhat rough first inning (24 pitches and an earned run), quickly transformed itself into a thing of beauty, with Hamels throwing only four pitches in the second inning. Not trying to rub it to any Reds fans' noses out there, but the four pitches also included Hamels giving up a single. Hamels would go on to pitch a total of six innings consisting of 10 or fewer pitches.
When Hamels came to bat late in the game, I told my wife, "He's going for it!"
Things did get a little dicey in the top of the ninth, and you could see Joe Maddon wrestling with himself in the dugout, trying to decide whether or not to pull his starter. With a six-run lead, Maddon wasn't worried about losing the game, he was worried about the pitch count. With no off days for the next three weeks, he and Jim Hickey had to ensure that Hamels didn't weaken, or even worse, injure, his pitching arm.
I thought for sure that Hamels would be pulled at 110 pitches, no matter what the situation on the field, but Hollywood played it just right. Every time Maddon went climbing the stairs of the dugout, Hamels downed another Red. With just one out and the bases loaded in the ninth, Hamels served up a double-play ball to end it.
If you didn't like Hamels enough already, the post-game interview with him should have certainly changed your opinion of the guy. The man just tossed a complete game, which is a rarity anymore, to say the least, and he took ZERO credit for himself and his pitching. Javier Baez, Joe Maddon, and Victor Caratini were all praised, and the offense and defense were credited- but not a single word about how well his fastball worked, and not so much as an utterance about the effectiveness of his off-speed pitches. The man is simply an all-around pro.
Turning to the offense…
In an article that I wrote Thursday morning, I said the following: "I'm feeling lucky here: Murphy to lead off again (as he will throughout the series), playing second base. He goes 3 for 5 (.600) today, the Cubs bat .350 or better as a team, and they win by five-plus runs. Cubs take this series by no less than 3-1."
OK, so I'm not exactly Jimmy the Greek, but as Meatloaf once sang, "two out of three ain't bad." Daniel Murphy didn't have that stellar night that I had hoped for, going only two for five, but hey, that's still .400. The Cubs did, however, go 12 for 33 (.364) as a team, and the final score of 7-1 covered the five-plus run differential that I'd predicted. I guess we'll know this weekend if I was right about winning at least three of four in the series, but work with me here, I'm on a roll…
Murphy's presence has undoubtedly rekindled the fire under the Cubs' offense, which is exactly why Theo Epstein acquired him. Murphy is now 4-10 (.400) as a Cub, which is great, but more importantly, the Cubs have now scored 15 runs in two games, as opposed to a total of five runs in the preceding five games. As a team, the Cubs have now gone 23 for 70 the last two games, good enough for a team average of .329, and that folks, is exactly where the Cubs need to be.
Weather permitting, it'll be rookie, Alec Mills (0-0, 0.00 ERA) for the Cubbies vs Matt Harvey (6-7, .491 ERA). While I was certain the Cubs were going after Harvey, waiver rules allowed Milwaukee to claim him. True to form, the Brewers managed to botch a second deal for pitching this season, so for now, Harvey remains a Red.
Let's go Cubs, time to notch another "W."