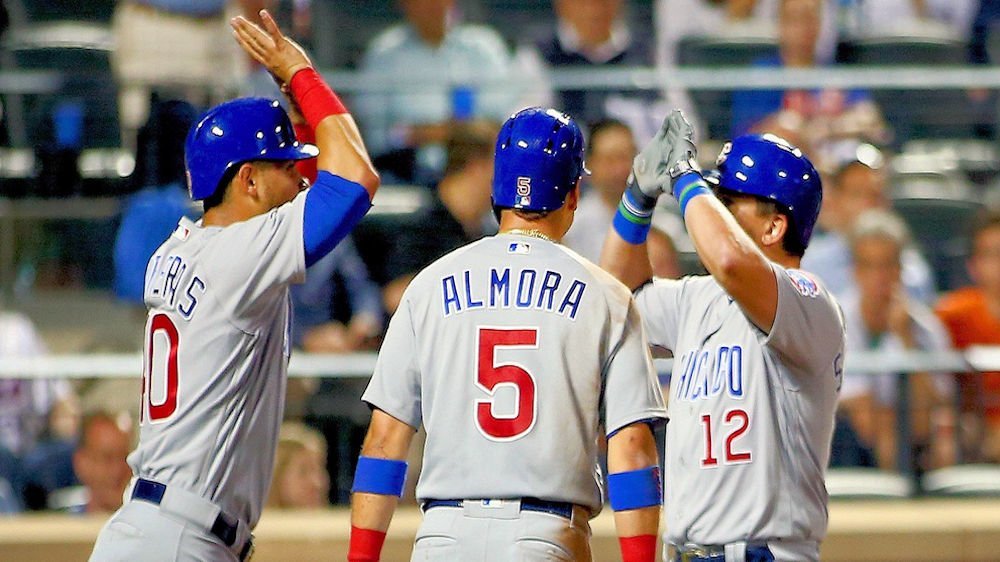 | | |
| --- | --- |
| The Hot Corner: Cubs leadoff situation, Almora emerging, Hamels' leadership, more | |
---
| | | |
| --- | --- | --- |
| Thursday, February 21, 2019, 12:25 PM | | |
Cubs' news and notes
Cubs' Opening Day: 3 days. (March 28 @ Rangers)
First Spring Training game: 2 Days. (Saturday, February 23, Brewers vs. Cubs at Sloan Park). The Cubs are then due to take on the Giants on Sunday, the Dodgers on Monday and the D-Backs on Tuesday.
Weather Delay: Nobody's idea of spring in Mesa consists of cold and rain, but that's precisely what they're getting today. The Cubs expect to do no outside work today, and this may be the case tomorrow as well. This, according to some, has been the coldest, wettest Cubs' camp in recent memory, and the rain is expected to continue into Friday. High temps over the next few days will only reach the low to mid 50's. Weather for the spring opener on Saturday is expected to be mostly sunny with a high of 55.
Batting orders/Lineups: According to NBCS Chicago's Tony Andracki, Joe Maddon is looking to use series-by-series lineups/batting orders this year to better integrate players as opposed to last year's daily lineups. So once again, the lineups will be inconsistent, but not nearly as much as last season.
Albert Amora, Jr.: In an MLB.com article, Joe Maddon says that center fielder Albert Almora, Jr. will soon grow into being an everyday player, but it's not likely to happen this season. Maddon went on to say, "He's still young, And I know, when you are young, impatience, being impetuous, is really a part of that age bracket. His time to be an everyday player is probably on the horizon. But among the mix that we have right now, and if everybody is well, you're going to still see a lot of what we did last year, trying to put them in there against their best matchups and making sure that everybody is being taken care of and developed."
Cole Hamels: The Cubs expected veteran leadership out of Cole Hamels, and Cole is giving them what they want. Reports out of Mesa say that Hamels has emerged as a very "vocal" leader.
Cole Hamels has emerged as a vocal leader, before his first full season with the #Cubs.

Pretty solid resume for someone that is setting lofty goals with his squad. pic.twitter.com/HrZ4L5TRui

— Cubs Talk (@NBCSCubs) February 21, 2019
Baseball is back! Spring training games start today…
Today: Mariners vs. Athletics- (3:05 PM Eastern)
Friday: Fire vs. Tigers (1:05 PM Eastern)
Huskies vs. Red Sox: (1:05 PM Eastern)
Phillies vs. Rays: (1:05 PM Eastern)
Athletics vs. Mariners: (3:10 PM Eastern)
An additional sixteen games are scheduled for Saturday, including the Cubs' opener. Stay tuned to CubsHQ for scores and updates.
Other news and rumors from around MLB
A's: Baseball has claimed its first casualty of the season. RHP Chris Smith believes he's headed for Tommy John surgery after rupturing his UCL on one of his final pitches yesterday.
Mets: While the team's focus has been on reaching an extension agreement with Jacob deGrom, Noah Syndergaard says no such offers have come his way. Thor, currently playing for $6M, has arbitration years in 2020 and 2021, before gaining free agency after the 2021 season.
Phillies: The Phillies say their main focus now is on what to do after Bryce Harper, whether or not he signs with Philly. The Phillies say that once Harper signs somewhere, they will consider going after either Dallas Keuchel or Craig Kimbrel. The team needs a starter more than a reliever, so although Keuchel would seem the likely target, both men are on the radar. The Phillies have also announced that they've signed third baseman, Trevor Plouffe, to a minor league deal with an invite to spring training.
Tigers: With the addition of free-agents, Josh Bell and Jordy Mercer, the Tigers have now duplicated the double-play combination that Pittsburgh enjoyed last season.