| | |
| --- | --- |
| Chicago Cubs: The Hot Corner: Ian Happ to play regularly, Zo arrives at Camp, Latest Vegas odds | |
---
| | | |
| --- | --- | --- |
| Friday, February 22, 2019, 12:31 PM | | |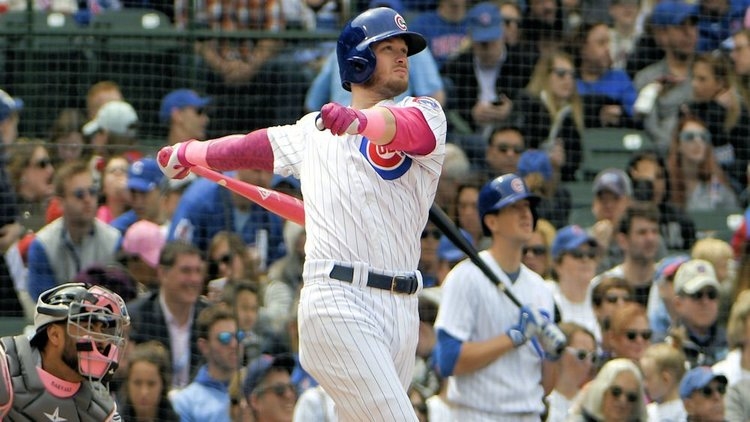 Cubs' news and notes
Cubs' Opening Day: 34 days. (March 28 @ Rangers)
First Spring Training game: TOMORROW. (Brewers vs. Cubs at Sloan Park). The Cubs are then due to take on the Giants on Sunday, the Dodgers on Monday and the D-Backs on Tuesday.
Opposing odds: While PECOTA seems to think the Cubs finish in last place with a record of 79-83, The Las Vegas SuperBook gives the Cubs the benefit of having the sixth best chance to win the World Series. Throughout the last eleven years, PECOTA has been exactly right about the Cubs twice (2014, 2017), but they've missed the boat, big-time, in a few other recent seasons, including 2015 and 2016 when the Cubs won a total of 21 more games than initially predicted.
Astros 6/1
Yankees 6/1
Dodgers 7/1
Red Sox 7/1
Indians 10/1
Cubs 12/1
Cardinals 12/1
Nationals 12/1
Phillies 14/1
Braves/Brewers 18/1
Mets 20/1
A's/Rays/Rockies 25/1
Ben Zobrist: Despite poor weather in Arizona, the Cubs found a little sunshine today. Ben Zobrist, who had been excused from camp due to personal reasons, has finally arrived.
Ben Zobrist has arrived at #Cubs camp #OwnItNow pic.twitter.com/UP7a8OayV9

— CubsHQ (@ChicagoCubsHQ) February 22, 2019
Ian Happ: Joe Maddon says that whether via the infield or outfield, Ian Happ will be worked regularly into the lineup this year. When asked what he wants to see from Happ in terms of offense this year, Maddon replied, "Perfect world, it would be a little bit more consistent contact. Because, with more contact, the numbers are going to spike. He hits the ball really hard, and he hits the ball really far. So, it's going to start with just more consistent contact, more consistent hard contact."
Jon Lester: "Shocked to hear of the passing of Nick Cafardo [Boston Globe]. Even though I may not have always wanted to speak with him (or any member of the media), he was always kind, fair, and had a dedication to his craft that you couldn't help but respect. We lost a really good one. Rest easy Nick."
Birthday wishes: Happy birthday to Brian Duensing who turns 36 today.
Happy birthday, @BrianDuensing52! pic.twitter.com/NcdhtTQ1AW

— Chicago Cubs (@Cubs) February 22, 2019
Spring Announcer: The Cubs have announced that for the spring training webcasts, Mick Gillispie will handle the call. Gillispie was Ballpark Digest's minor league broadcaster of the year in 2017.
Meet the voice of the Cubs' spring training webcasts, Mick Gillispie. https://t.co/3jrCbWu5ao

— Sun-Times Sports (@suntimes_sports) February 21, 2019
Spring? Bruce Levine (670 The Score) woke up this morning in Mesa or so he thought. Levine emerged from his motel room to find a snow-covered car.
My car in Mesa - pic.twitter.com/BBp82gYNRb

— Bruce Levine (@MLBBruceLevine) February 22, 2019
Spring Training Scoreboard:
Today:
Fire vs. Tigers
Huskies vs. Red Sox:
Phillies vs. Rays:
Athletics vs. Mariners
Saturday:
1:05 PM Eastern: Yankees @ Red Sox, Twins @ Orioles, Pirates @ Phillies, Cardinals @ Marlins, Tigers @ Blue Jays, Braves @ Mets.
3:05 PM Eastern: Brewers @ Cubs, Dodgers @ White Sox, Indians @ Reds, Rangers @ Royals, Dodgers @ White Sox.
6:05 PM Eastern: Padres @ Mariners, Giants @ Angels, Rockies @ D-Backs, Rays @ Twins.
6:35 PM Eastern: Astros @ Nationals.
Other news and rumors from around MLB
Bryce Harper: While no one seems to know just what it is that Bryce Harper is looking for, one thing is clear- he seems to be alienating teams. As per 670 The Score, the White Sox are now saying that they will not bid any further on Harper, and now the Nationals' managing principal owner, Mark Lerner has said, "We've moved on." Lerner went onto say, "We haven't really heard from [Boras and Harper] in a couple of months."
It really feels like the Phillies are competing against themselves for Harper at this point. Padres are likely out, White Sox are not likely to meet the price, Nationals haven't spoken to him in months, apparently, and the Giants just seem like an imperfect fit.

— Michael Cerami (@Michael_Cerami) February 22, 2019
Padres: One down, one to go. Machado has passed his physical and SD plans to announce the signing this morning. The Friars are also still holding out some hope that Harper will also be signing there.
Reds: Cincinnati has been having discussions with free-agent shortstop, Jose Iglesias about a minor league deal. Iglesias would serve as a reserve infielder.
Red Sox: Instead of using his pre-game press conference to talk about the team, manager, Alex Cora, used it to pay homage to longtime reporter, Nick Carfado, who passed away suddenly at the ballpark yesterday.
Alex Cora pays tribute to Nick Cafardo pic.twitter.com/Bx1Wc3Bgbs

— NESN (@NESN) February 22, 2019