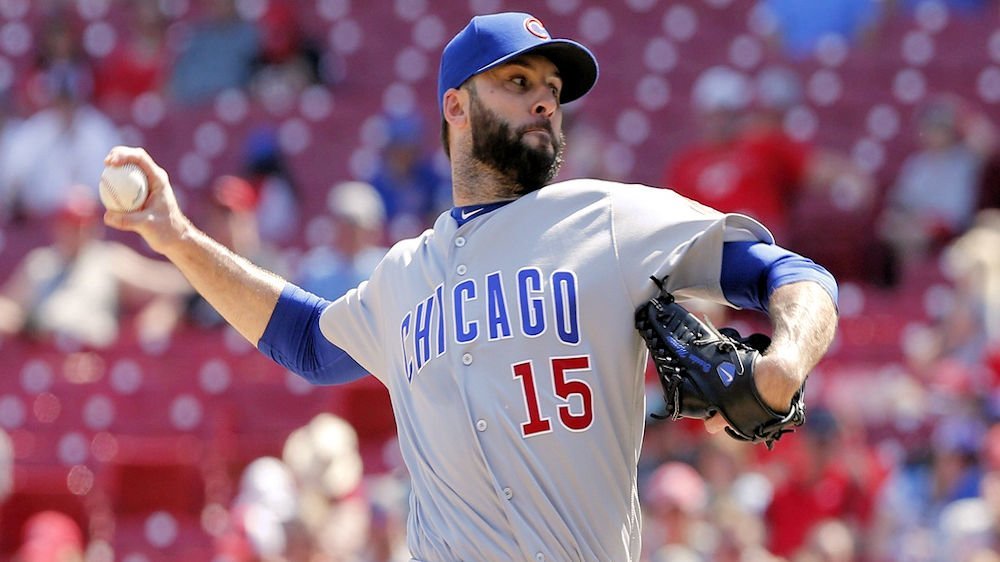 | | |
| --- | --- |
| Cubs News: The Hot Corner: Morrow's rehab, Machado waiting on $300 mil, and more | |
---
| | | |
| --- | --- | --- |
| Friday, February 15, 2019, 12:54 PM | | |
Cubs' news and notes
Cubs' Opening Day: 41 days. (March 28 vs Rangers)
First Spring Training game:8 Days. (Saturday, February 23, Brewers vs. Cubs at Sloan Park)
Brandon Morrow: According to MLB.com's Justin Bastian, "The plan for Brandon Morrow (right elbow) is to have him play catch up to a distance of 90 feet again on Friday. Then, if all goes well, next step will be 105 feet. He's hoping to resume daily catch sometime next week."
After an elbow injury derailed his season in July, a timeline for Brandon Morrow's return is still an unknown at the start of spring training. pic.twitter.com/eMoPtX8D9c

— Cubs Talk (@NBCSCubs) February 13, 2019
Carl Edwards, Jr.: According to Jesse Rogers (ESPN), Carl Edwards Jr. says he's mimicking Kenley Jensen's pause in his delivery as attempts to gain better control of his stuff: "Keeps me over the rubber longer and in the zone more."
Carl Edwards Jr. said, yes, he studied Kenley Jansen's delivery this offseason and incorporated the hesitation over the rubber. Hope is that it helps hone his command of the zone. pic.twitter.com/QtsGnUoxtd

— Jordan Bastian (@MLBastian) February 14, 2019
Tyler Chatwood: During an interview with Cubs Talk, Tyler Chatwood says his goal is to be a starting pitcher again, citing age being in his favor.
Tyler Chatwood's 2018 season with the #Cubs did not go according to plan... but heading into 2019, he is looking forward to his shot at redemption.

FULL STORY: https://t.co/xwsjmvL6Xo pic.twitter.com/ApihuCJsvm

— Cubs Talk (@NBCSCubs) February 15, 2019
According to Joe Maddon, Chatwood's role is currently undefined and will depend on him. While returning to the rotation is an admirable goal, this will be a tough nut to crack, barring any injuries. At this point, Yu Darvish completes the rotation, and the odds of Montgomery being used as the first backup starter seem to outweigh Chatwood's possibilities of landing a spot.
Brad Brach on free-agency: "We talked to certain teams and they told us that, 'We have an algorithm and here's where you fall.' ... It's just kind of weird that all offers are the same, they come around the same time. Everybody tells you there's an algorithm."
Other news and rumors from around the league
Manny Machado: According to MLB Network's Jon Heyman, "Heard in Miami circles: It's about the deal, he's disappointed with the offers so far and Machado is willing to wait for what he thinks he's worth (said to be about $300M). There is some strategy to this, as his market may improve if Harper goes off board first."
A's: Oakland has signed infielder, Cliff Pennington, to a minor league deal.
Blue Jays: Toronto has reached a deal that will bring back right-handed reliever, John Axford, though this time it'll be a minor league deal.
Giants: SF has signed utility infielder, Yangervis Solarte.
Indians: According to Bob Nightengale of USA Today Sports, Trevor Bauer says he enjoyed the arbitration process, except for the last 10 minutes of the hearing, which he described as a "character assassination.'' He expects to be in arbitration one last time, and says he'll sign only one-year contracts rest of career.
Marlins: Miami has signed RHP Sergio Romo to a one-year deal.
Tigers: Detroit has won the arbitration case with RHP Michael Fulmer. The team had offered $2.8M but Fulmer wanted $3.4M. If my memory serves me correctly, the arbitration record for the year now stands at 4-3 in favor of ownership.
Twins: Outfielder Max Kepler and the Minnesota Twins agree on a five-year, $35 million deal with a sixth-year option. The option is for $10 million and includes a $1 million buyout.
Yankees: NY and Luis Severino are in agreement on a four-year, $40M extension, with a club-option for a fifth year.