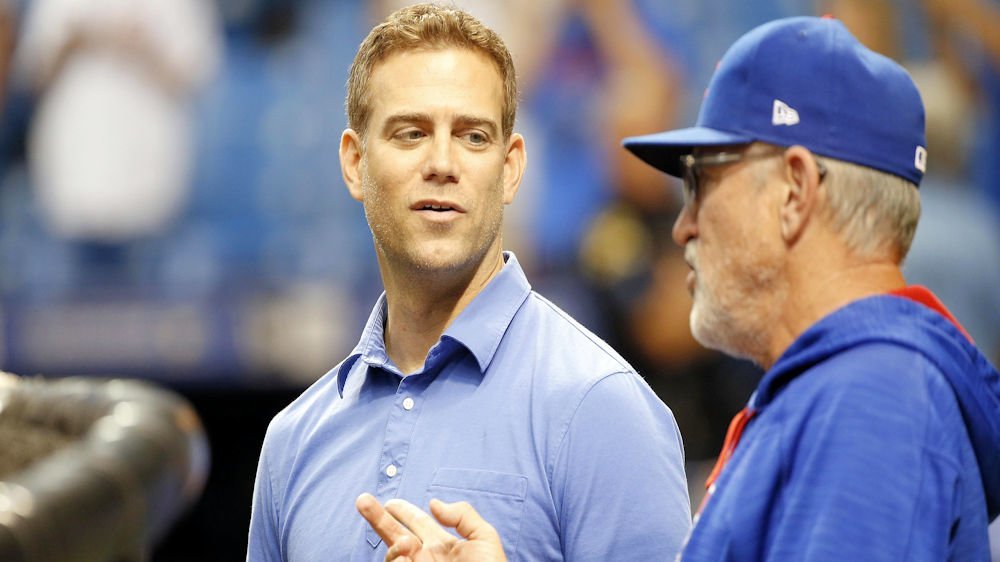 | | |
| --- | --- |
| What off-season moves should Cubs make? | |
---
The GM meetings are over, and everyone has returned to their offices with nothing of any real consequence coming out of these meetings. They were what they usually are; a company paid three-day vacation to a luxury resort. All the GM's are sitting around at lunch complaining about how hard they worked this past year to construct their team that didn't win the world series, again.
Theo Epstein noted that he and his organization spent some quality time together going over who to target this offseason from other teams in the majors and the minors. Kind of like the Acme Widget company's fantasy draft meeting at Hooters in Schaumburg but at about 600 times the cost.
So, while the Cubs were having fun in the sun and no progress was made on anything, fans were wondering about, I feel we need to reset the agenda and try to get a handle on what to expect in the coming weeks. As always this is for entertainment purposes only.
Free agency is, of course, the topic of primary interest for us all. Many of you are crossing fingers and toes in the hopes that our beloved will find a way to sign Bryce Harper or Manny Machado or both. I'm sorry to be the bearer of bad news, but it is not looking good for those who are wishing for a starry Christmas.
There is still a very outside shot at Harper signing with the Cubs, but fans should prepare themselves to see second and third level players signed by Jed and Theo. This is not necessarily a bad thing and actually will allow the Cubs to go after multiple players that can help them in 2019.
Start thinking shortstop, relief pitchers, and a backup catcher, and you will be not disappointed this winter. These are the primary areas of need for the Cubs, and by saving about $400 million by not signing Harper, they will have enough to interest a few more guys to come to Chicago.
Not talked about nearly as much, but every bit as important this offseason will be trades. It is becoming increasingly clear that some fan favorites will not be wearing Cubs pinstripes this summer. I have been saying since June, and now many around baseball are agreeing, that Kyle Schwarber looks like he will be one of the chips traded, most likely to get a starting pitcher. You can add Ian Happ, Victor Caratini, and Addison Russell to that list too.
Because Yu Darvish and his health are still not resolved, and with the continued problems of Tyler Chatwood, plus the need to keep Mike Montgomery in the pen, getting another starter, or two, is paramount. The Cubs have gotten very left handed with starting pitchers and the need to have another righty to complement Kyle Hendricks is a concern for team Theo. The above players as trade bait will bring some quality arms back to the Cubs and will be insurance in case the worst happens with their five-man rotation.
The final piece of the puzzle for fans to focus on is getting the coaching staff under control. For me, I look towards the manager as the guy, and the coaches are minor pieces. Heck, I'm not sure I could name two of them to be honest, but they must serve some purpose because every team has about 15 of them.
With the firing of Chili Davis and the hiring of Anthony Iapoce, they have adjusted the hitting coach situation. News coming out of the GM meetings was that pitching coach Jim Hickey is about to be a goner also. The issue seems to be can the Cubs get anyone worthwhile because everyone knows that Joe Maddon could be a goner in 2020, or sooner. I say he's right under their noses already. Just name Lester Strode as the new pitching coach and problem solved.
Look, I can't keep doing Jed and Theo's jobs and not get paid for having all the answers. Theo, I know you are reading this, and it is about time you admitted that I am your primary source for decisions.
So, there you have an updated agenda of things to look forward to this holiday season. I believe that once a significant trade or free agent signing happens, it will open the floodgates and things will start moving. If history is any indication it will likely be around the time of the winter meetings in Las Vegas December 9-13.
Buckle up as we are in for an exciting winter.

Tags: Cubs Baseball
,
Kyle Schwarber
,
Ian Happ
,
Victor Caratini
,
Addison Russell
,
Yu Darvish
,
Tyler Chatwood
,
Mike Montgomery
,
Kyle Hendricks
,
Joe Maddon
,
Lester Strode
,
Theo Epstein
,
Chili Davis
,
Jim Hickey