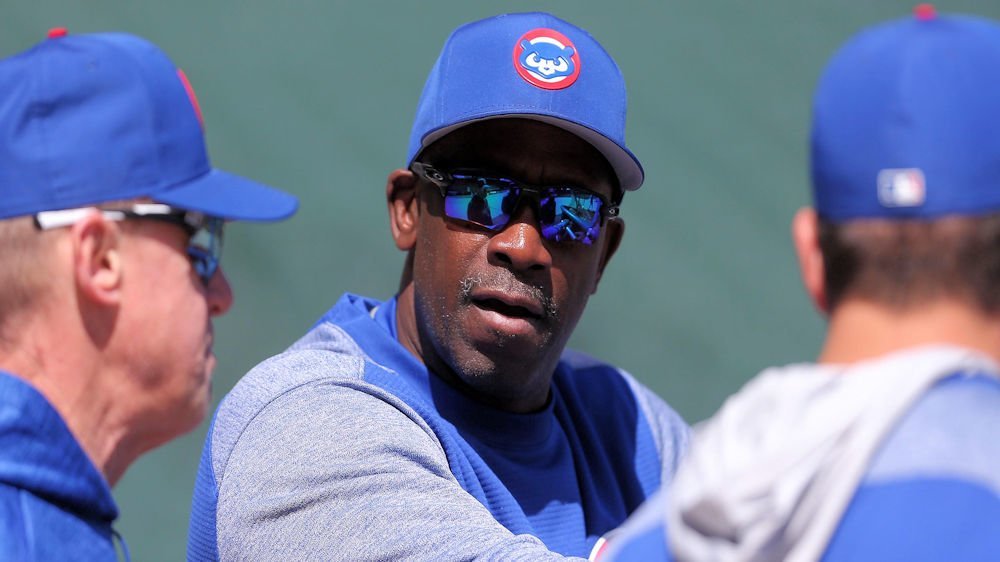 | | |
| --- | --- |
| Cubs News: Who is to blame for this slumping offense? | |
---
| | | |
| --- | --- | --- |
| Wednesday, September 26, 2018, 9:39 AM | | |
After another inconceivably bad offensive game last night against a pitching staff that has been very good since the All-Star Game, and in September, Cubs fans have been screaming for Chili Davis' head.
Now, I don't know if he has been good, bad, or other as a hitting coach, but I do know he is not standing in the batter's box each game and not producing. That Cubs fans is on the players themselves.
The greatest coach in the world cannot make a person perform once the game starts. You can only get a player into the best possible position to be successful and then it is up to them to produce. All indications are that Davis is a professional, is prepared, and has gained the respect of the players.
Since the All-Star game, there have been only three hitters on the beloved that have been worth a spit, Ben Zobrist, Anthony Rizzo, and Javier Baez. Zo is hitting .344, Rizzo .323, and Baez .297. Additionally, Rizzo has a team-leading .967 OPS which is 70 points higher than Baez and 100 points higher than Zobrist.
Unfortunately for the Cubs, the other side of this coin is that most of the rest of the team has decided to take some time off and watch games from the comfort of the new dugout. Kyle Schwarber and Daniel Murphy have been so-so since the ASG and the rest of the position players have been just god awful.
Ian Happ, Addison Russell, Willson Contreras, David Bote, and Albert Almora Jr. all have hit under .230 since the ASG and in September they are all under .200. The rest of the guys are somewhere in between crappy and unwatchable.
Pittsburgh's pitching staff, meanwhile, has decided to make a run for the best staff in baseball. They have an average season ERA of 4.00 which places them in 15th place in baseball with only six NL teams worse than them.
Since the ASG they have improved to 3.49, good enough for fifth overall in baseball, and in September they are at 3.58 which is sixth best. If you are a fan of the Buc's, you have to be thrilled with the progress you're seeing. Meanwhile, the Cubs players see Sandy Koufax, Bob Gibson, Orel Hershiser, and Tom Seaver when they look toward the mound.
As I mentioned yesterday, the Pirates make me crazy, but I can't help but direct some frustration at the Cubs themselves. They have played mediocre baseball for most of the year and but for a stretch where they put it all together and climbed into first place, they are what they are, a team that is playing like they want the season to end.
We, the fans, can blame Joe Maddon for his questionable pitching moves, line-ups, and in-game maneuvers, and we can hold Chili Davis guilty for the hitting woes, and we can find any number of reasons to blame for the lack of urgency right now. For me, it is two things. The players not doing their jobs and those damn blue uniform tops.

Tags: Cubs Baseball
,
Ben Zobrist
,
Anthony Rizzo
,
,
Kyle Schwarber
,
Ian Happ
,
Addison Russell
,
Willson Contreras
,
Albert Almora Jr
,
Joe Maddon
,
Chili Davis