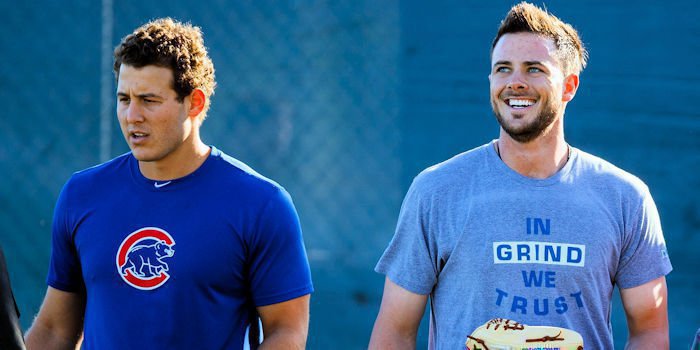 | | |
| --- | --- |
| Cubs News: Who's Better at the Plate: Rizzo vs. Bryant? | |
---
| | | |
| --- | --- | --- |
| Sunday, April 2, 2017, 10:30 AM | | |
CHICAGO -- With the 2016 season behind us, we are now ready for the 2017 season of the Chicago Cubs. There's no secret that the Cubs are going to be fun to watch this year. The stellar defense, the potent young offense, and the veteran pitching staff are ready to go, starting this Sunday night, where the games finally count again. Exactly five months after the Cubs beat the Indians in Game 7 of the 2016 World Series, they will begin their 2017 campaign against the division rival St. Louis Cardinals.
Going back to the powerful young offense of the Cubs, a substantial part of that is 25-year-old phenom Kris Bryant and 27-year-old slugger Anthony Rizzo. They will likely be slotted at the second and third spot in the batting lineup this year. Last season, Bryant and Rizzo both boasted an identical .292 batting average in the regular season. It was enjoyable following them the entire 2016 season, trying to predict who would finish with a higher batting average and who would lead the Cubs in home runs. Bryant eventually won the longball battle, putting up 39 long balls to Rizzo's 32. The power-hitting first baseman returned the favor in the RBI column, edging out Bryant 109-102.
Looking at career averages, Bryant is a .284 hitter, while Rizzo is at much lower .267. Of course, Bryant has only been in the major leagues for two seasons.
This spring, Kris Bryant (59 at bats) has hit .305 with four home runs, and 15 RBI. Rizzo (52 at bats) put up a .250 average with four HR and six RBI.
ESPN.com predicted these batting statistics for Bryant and Rizzo going into the 2017 season:
Bryant: .284 avg, 35 HR, 104 RBI
Rizzo: .288 avg, 33 HR, 104 RBI
It honestly appears like it may be a close battle again. If Bryant and Rizzo catch fire at the plate, the Cubs are dangerously close to unbeatable. With other stellar hitters around them including Kyle Schwarber, Ben Zobrist, Addison Russell, and many others emerging, look for the Cubs offense to explode this year. The Cubs scored 808 runs as a team last year, and I expect them to pass that this year. However, when it comes down to Bryant vs. Rizzo at the plate, who really cares as long as the Cubs win. I don't think these guys will pay too much attention to who performs better at the plate, so long as the 2017 season ends similar to the 2016 season with another glorious title!