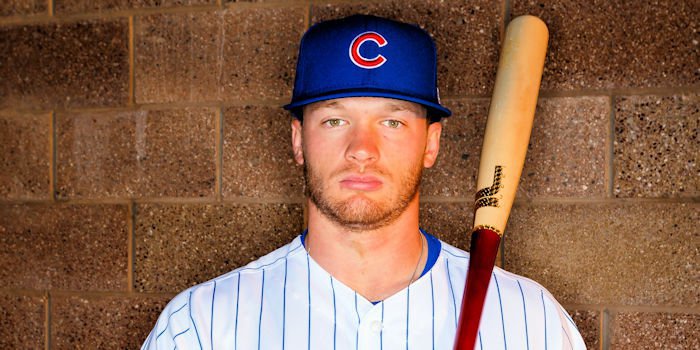 | | |
| --- | --- |
| Cubs News: Will Ian Happ be traded for pitching? | |
---
| | | |
| --- | --- | --- |
| Monday, May 22, 2017, 11:27 AM | | |
CHICAGO -- The Cubs have continued to show the minor league pipeline is anything but empty as they called up super utility prospect Ian Happ. Happ has been quick to adjust to the Major's, putting up solid numbers in his first week as a big league ballplayer. Happ has started off his major league career going 7 for 21 with two home runs. He has quickly earned the confidence of his manager, already getting the majority of his plate appearances in the cleanup spot. At only 22 years old, Happ has matured quickly, tearing his way through the minor leagues. The former 2015 9th overall pick played in only one full minor league season and parts of two others before being called up. Happ hit .275 with 33 home runs through 227 minor league games. Spring training was a coming out party for Happ when he hit an impressive .383 with five home runs in Mesa, Arizona. His bat stayed hot after being optioned to Triple-A Iowa to start the year, where he hit .298 with seven homers before his major league call-up.
Possibly just as impressive as his work at the plate, Happ has shown great versatility to play across the diamond. Originally drafted as a second baseman, he has moved to the outfield in the majors. Happ's versatility reflects a system-wide agenda by the Cubs organization to have players who can play multiple positions at a high level. Numerous Cubs players have played multiple positions in their careers allowing them to always put out a strong, but different looking lineup. Manager Joe Maddon has always valued versatility in his clubhouse, which should allow Happ to fit right in. Happ's willingness to play multiple positions demonstrates his determination to do whatever he can to help the Cubs win and his want to be a part of the winning atmosphere in Chicago. Happ has already drawn comparisons to Cubs' second baseman/outfielder Ben Zobrist as Zobrist moved around the diamond nearly every game earlier in his career when he played in Tampa Bay, managed by Maddon. Maddon loved Zobrist's versatility, which was a major reason he was targeted by the Cubs a couple winters ago in free agency. Zobrist has shown his value in Chicago as he was able to move to the outfield last year, allowing the Cubs to play Javier Baez at second base. As a young player, Happ already mimics much of these Zobrist-like qualities, with the addition of more power in his bat. Happ has the potential to be a useful piece anywhere on the field, with the production of 25 home runs a year.
With the influx of young talent already with the Cubs, the question has been raised if Ian Happ will spend the better part of his career as a Cub, or will he be dealt to address pitching needs. The way the Cubs are set-up, there is no need to trade away a talent like Happ for pitchers. While, it always useful to listen to offers and allow other teams to give up too much, Happ should not be traded for anything less than an ace pitcher. Happ already has shown the kind of player he can be and the value he brings to the team. He fits in nicely with both the Cubs playing style as well as culture. With Zobrist getting older, Happ offers a perfect replacement for his versatility and offensive production. Happ can make a difference in the Cubs lineup this year and in the foreseeable future; it is too early for the Cubs to go into panic mode and trade young talent for pitching.
The Cubs clearly need to address their gaping 5th starter hole, but they have better means of adding pitchers than trading away Happ. A player the Cubs would be better off parting ways with is 23-year-old corner infield prospect, Jeimer Candelario. Candelario is a highly rated prospect with a lot of major league potential, but he will have a hard time seeing the field as a Cub. Candelario has played both third base and first base in the Cubs system and despite playing well, he is blocked from seeing a lot of playing time by Kris Bryant and Anthony Rizzo. Candelario got to play in Chicago during the Bryant illness, playing stellar defense but hitting an underwhelming .143 at the plate. Although he had a slow start to the year in the majors, he has been crushing Triple-A pitching this season, hitting .333 with five home runs through 30 games. To a team with less talent in the infield, Candelario offers a player that has versatility and an ability to rake eventually at the major league level. The Cubs could potentially get a solid return on him if they do choose to trade him. Both Candelario and Happ have the look of talented major leaguers but based on positions Candelario makes more sense to play out his career somewhere else.