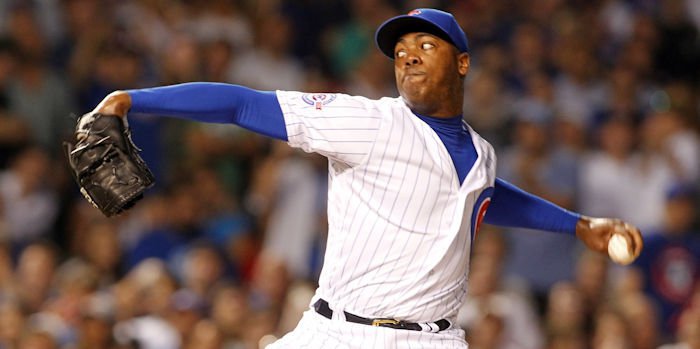 | | |
| --- | --- |
| Zobrist, Chapman lead Cubs to series-finale win over White Sox | |
---
CHICAGO -- Ben Zobrist hit an RBI single in the 3rd that would be the game winner, and Aroldis Chapman got his first Cubs save as the Cubs beat the White Sox 3-1 to split a four-game series with the rival White Sox on Thursday night.
John Lackey was pitted against Chris Sale (his first game back after a five-game suspension for cutting up team uniforms because he felt they were "uncomfortable."), and it was the White Sox that scored first. Tim Anderson had a 53 foot hit to get on base, and then Melky Cabrera hit a line drive into right to score Anderson, putting them ahead 1-0. Kris Bryant retaliated later in the inning as he doubled to deep center, scoring Dexter Fowler to tie the score 1-1.
The Cubs took the lead in the 3rd as Ben Zobrist scored Fowler on a single to center, putting the score at 2-1. Fowler was able to get on base again in the 5th for the third time of the night, and Rizzo hit a bloop single to advance him to third base, but the Cubs left them stranded.
The Cubs ran into trouble in the eighth as the White Sox led off with a leadoff double. Hector Rondon was able to get two outs for the Cubs, but with a runner on third a call to the bullpen saw Chapman come into the game to get the last out of the inning, as the White Sox left a runner stranded on third.
Zobrist led off the bottom of the eighth with a triple into the right field corner. The kid Addison Russell got the RBI groundout to add an insurance run to put the Cubs lead at 3-1. Chapman was able to get the last three outs of the game to secure the win for the Cubs for his first Cubs save.
Lackey pitched 6 innings allowing four hits for the win. He had one walk on the night and 4 strike-outs.
The Cubs start a 3 game series against the Mariners Friday as Jon Lester will face Hisashi Iwakuma on the pitcher's mound.