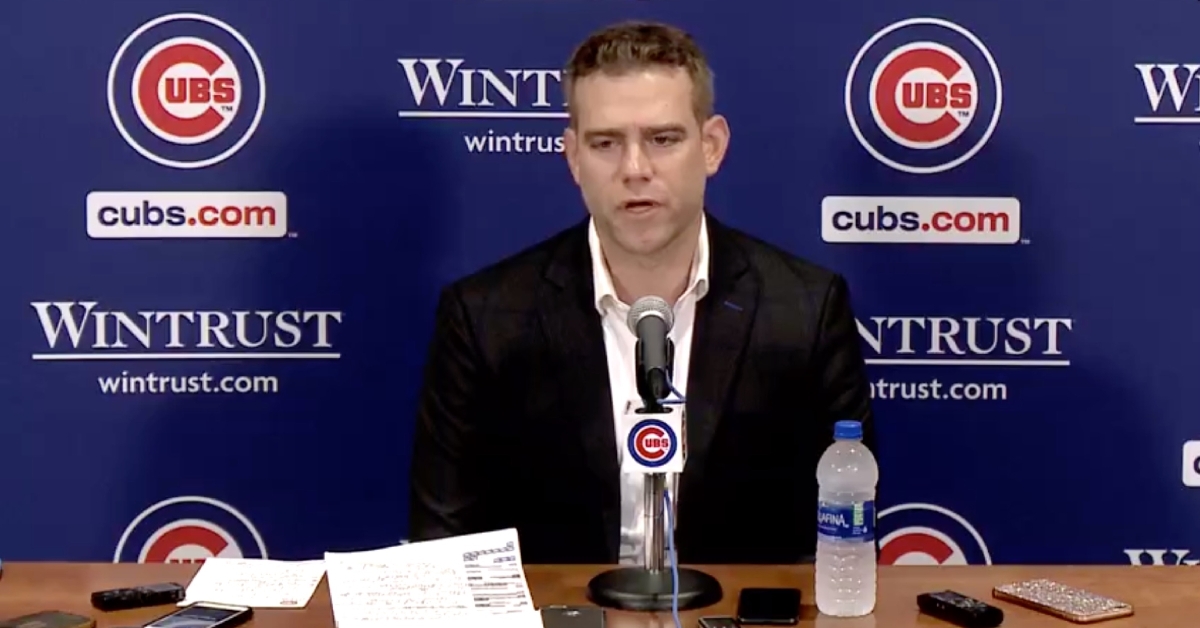 | | |
| --- | --- |
| Cubs News: Key takeaways from Theo Epstein's season-ending press conference | |
---
| | | |
| --- | --- | --- |
| Monday, September 30, 2019, 6:02 PM | | |
CHICAGO — On Monday afternoon, the lid was officially shut on the Chicago Cubs' interesting 2019 campaign, as Cubs President of Baseball Operations Theo Epstein held a season-ending press conference at Wrigley Field. An annual tradition following the conclusion of the Cubs' season, Epstein's media session allowed the face of the Cubs' front office to share his takeaways from the 2019 season and look ahead to the 2020 slate.
"When we fail to make the playoffs," Epstein said of the Cubs not advancing the postseason for the first time since 2014, "especially with the second-highest payroll in baseball, that is not just on the manager."
Epstein accepted some of the blame for the Cubs' shortcomings this year and said that "real changes" throughout the organization are likely to take place this offseason, saying that the Cubs' front office is "open to change" and "open-minded about the roster." Interestingly, Epstein also did not rule out trading any of the players on the current roster, stating that he does not like the concept of untouchable players.
Theo starts by thanking #Cubs fans and saying organizations is "very disappointed we weren't able to deliver October baseball, something we feel like we should be able to do year in and year out."

— Kelly Crull (@Kelly_Crull) September 30, 2019
Asked for biggest self-criticisms, Theo said two:

• Had belief that he was building an unstoppable force, and parted with so many resources to pour into that belief.
• And that "you've got to hit on deals"

Wants to look forward, be innovative, cutting edge, not rely on past.

— Jordan Bastian (@MLBastian) September 30, 2019
Theo says Cubs will be "extremely open-minded" about the roster. Doesn't believe in untouchables. Will discuss possibility of extensions with some, but if not possible, more open-mindedness to trades could follow.

— Jordan Bastian (@MLBastian) September 30, 2019
Theo on Baez and Bryant:

"It'd be hard to see them out of a Cub uniform" and hopes they remain part of the core here. Will probably broach extensions this winter. But, team *has* to be open-minded about trades to balance now and the future.

— Jordan Bastian (@MLBastian) September 30, 2019
With that being said, Epstein said that he expects several of the Cubs' key players to be back in the fray next season, but, of course, the Cubs will definitely have a new manager. Regarding Joe Maddon's replacement, Epstein admitted that former catcher David Ross, who publicly declared his interest in the job on ESPN on Sunday, was a candidate but made it clear that the Cubs will have a long list of candidates to choose from and will not hastily select the new manager.
"We're looking for someone who can help the whole be as good or exceed the sum of the parts," Epstein said of what Cubs executives are looking for in the managerial search. "We want a manager who can get the most out of each individual player."
Theo: any talk of new manager traits not a critique of Maddon.

"The next manager has to create an environment that turns [the talent in the room] into wins."

• Cultivate winning culture
• Culture of accountability
• Foster team identity
• More team, less individualism

— Jordan Bastian (@MLBastian) September 30, 2019
Theo, Cubs "working on our list". Team is full-speed ahead, but no timeline yet for new manager. Said David Ross' connection to 2016/players isn't necessary a significant factor. Wants to keep focus forward, not backwards. He's on the "broad list" of candidates.

— Jordan Bastian (@MLBastian) September 30, 2019
The self-described "low-hanging fruit" of the major points discussed by Epstein was the Cubs' need for a leadoff hitter. Epstein said that the statistics from the leadoff spot have been unacceptable for quite some time and implied that the Cubs would be in the hunt for a productive leadoff hitter in the offseason, particularly one who can man center field or second base on the defensive side of the ball.
Based on Epstein's remarks, the Cubs' pitching staff should be expected to experience multiple changes in the offseason, with Epstein saying that the starting rotation needs to be deeper and younger. As for the Cubs' bullpen, which has been the club's primary weakness since winning the 2016 World Series, Epstein talked about the overarching improvements made by the bullpen following the All-Star break but also pointed out that the late-game struggles, especially those suffered by closer Craig Kimbrel, were major hindrances to the Cubs' playoff push.
"Our inability to pitch in high-leverage situations was a real problem," Epstein said of the Cubs' bullpen woes before saying of the starting rotation, "We certainly need to add depth, and we need to add some youth. There'll be a little bit of a different look moving forward."
Together with Cubs general manager Jed Hoyer, Epstein is certain to be a major player in the free-agency market later this fall. Several notable players on the current roster will become free agents, and Epstein will likely aim to bring some of them back and let others take their talents elsewhere. The most noteworthy Cubs free agent will be right fielder Nicholas Castellanos, who carried the Cubs' batting order after being acquired at the trade deadline. Although Castellanos is expected to generate plenty of lucrative contract offers, Epstein was not coy about wanting to retain him if the price is right.
"I love everything about Nick Castellanos," said Epstein. "He knows we'd love to have him back. He also knows it's more complicated than that."
All in all, Epstein was fairly candid in the lengthy conversation, which featured a bevy of questions from the reporters in attendance. A recurring theme of Epstein's answers was that of a hangover effect experienced by the Cubs in the wake of winning it all in 2016, with Epstein admitting that changes that likely should have been made last year or the year before were put off due to a reluctance to change what worked during the World Series campaign. Starting anew was another fixture of Epstein's conjecture, with the front-office maven foreshadowing an offseason of new beginnings in Wrigleyville.
Theo ended with "The reality is we're building something anew." "Really intent on building the next #Cubs championship team."

— Kelly Crull (@Kelly_Crull) September 30, 2019

Upgrade Your Account
Unlock premium boards and exclusive features (e.g. ad-free) by upgrading your account today.
Upgrade Now