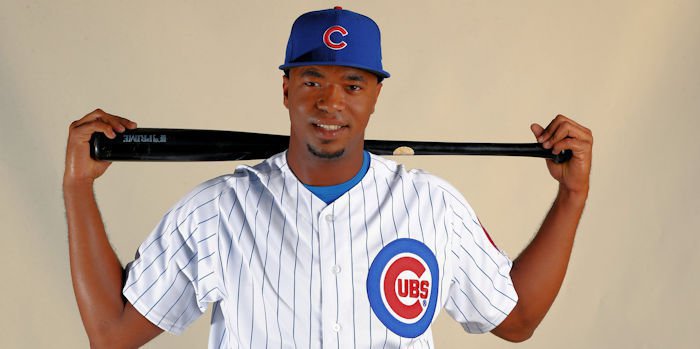 | | |
| --- | --- |
| Commentary: If the Cubs could re-do blockbuster trades, would they? | |
---
| | | |
| --- | --- | --- |
| Wednesday, August 14, 2019, 4:44 PM | | |
When Theo and company took over this team in 2011, they had one mission in mind. That mission was to bring Chicago a World Series championship. It didn't come easy at times, but in 2016 they accomplished that feat in what many call the greatest world series game ever played.
After becoming champions, the entire organization had visions of winning multiple titles and becoming a dynasty. How could they not think like that with a young and supposedly ever-improving core. Since then, the core has not developed as quickly as they had hoped, and the once topflight farm system has been depleted to get that title.
I know no one would trade that title in for anything but if the front office could do some trades over would they if it put them in a better position to succeed now. Two trades that immediately come to mind are the Aroldis Chapman and Jose Quintana deals. I believe one of these deals needed to be made but not both.
The deal I think had to be made was the Quintana deal especially considering how the Cubs No. 5 starter at the time Brett Anderson pitched a total of six games that year. Eddie Butler ended up making 11 starts in place of Anderson before Quintana was acquired. Although what seemed like a smart trade at the time, the Cubs I feel got hosed on that deal especially when you consider what they gave up and who else was on the market.
For the most part, Quintana has been a steady starter who never wowed you on the mound. He has always been .500 at best, but most of that came from a White Sox team that consistently lacked run support. With that in mind, the Cubs decided to take a flyer out on him in hopes of uncovering his true self on the mound. Granted he has gone 30-23 since arriving in Chicago, giving up both Eloy Jimenez and Dylan Cease for him seems like a high price.
When you look at that trade, Cease was coming off Tommy John surgery but was a front-line starter in the waiting who was touching triple digits by age 20. Yes, he has struggled since his callup this season, but the Cubs are extremely thin in terms of MLB ready pitchers in the system so holding on to him would have been a wise choice.
The other part of that deal was losing Jimenez which yes it hurt but did they have a place for him to play? Unless the Cubs unloaded Jason Heyward or Kyle Schwarber before that trade, Jimenez would have been stuck in the minors looking for an opportunity to play. That doesn't help any players development so that part of the deal I am sort of ok with.
The only thing that irks me about this trade was if you wanted to go and get an arm for those pieces why not get Justin Verlander. Yes, he is four years older than Quintana, but the proof is in the stats as he has resurrected his career with Houston. I tend to think he would have done the same for Chicago.
The one trade I was happy with at the time, but regret now was the Chapman deal back in 2016. Yes, Chapman played a massive role in the Cubs title, but he also let it slip away due to being overused in the postseason. My thoughts on this trade originally was ecstatic but did we need a closer? At the time, we had Hector Rondon who people may not realize was having an impressive year in his own way.
After logging over 35 saves in 2015, Rondon was 20-23 in saves before Chapman was acquired but went the entire first month of the season without allowing a walk and only walked 11 batters that entire season. Sure, he didn't max out at 105 MPH, but he could consistently hit 97-98 with a put-away slider, so the Cubs were in a great position with him on the mound.
The reason why that deal stings so much now is the lingering effects it had on this team moving forward. Not only did we lose our priced possession Gleyber Torres, but Chapman walked following the season forcing us to trade for another closer that cost us another big piece of the team.
Known as a high average hitter in the minors, Torres has returned from Tommy John surgery and has produced at a level that the Cubs didn't even think he had. With 26 homers this year including 12 against Baltimore, Torres now has 50 career homers in 231 games after connecting for just 24 homers in 373 minor league games. Had the Cubs known that type of power was in that bat, I don't know if that trade is made and if it is other names may have been thrown in instead of Torres.
What makes this deal that much worse is that Chapman returned to the Yankees the next season which forced the Cubs to trade for Wade Davis the following year costing them Jason Hammel, Travis Wood, and Jorge Soler. Yes, Davis was a great pickup going 34-35 in saves, but he too left following the 2017 season which had the Cubs searching for a closer answer yet again which still hasn't happened.
The first part of the deal panned out in Chicago's favor as both Hammel and Wood did amount to much with the Royals. Soler is the one that I think got away. After battling with a ton of injuries in Chicago, Soler was never able to show his true potential with the Cubs. Once he was able to stay healthy, he tapped into what the Cubs saw in him back in 2013 as he has connected for 35 hrs and 87 RBIs this season. Both those numbers would lead the Cubs in 2019.
Yes, he was never an everyday player in Chicago, but I feel the Cubs gave up on him too soon especially with Schwarber still not where the front office expected him to be. He very easily could have played left field and would have more offensive pop in an already stacked lineup. So that brings me back to the original question of if the Cubs could do these trades over would they be in better shape now?
That is a hard question to answer because you never know what rate these players developed at. Taking their seasons into account now, this is the lineup the Cubs could have had this season had these deals been done differently. Willson Contreras (c), Anthony Rizzo (1b), Gleyber Torres (2b) Javier Baez (ss), Kris Bryant (3b), Jason Heyward (cf) Jorge Soler (rf) and Eloy Jimenez (LF). That is not only a stacked lineup, but only Rizzo is the 30 years old with everyone else 29 years old or younger with team-friendly deals.
Some names missing on that list include Kyle Schwarber, Addison Russell, Albert Almora, and Ian Happ. I believe some of these players would still be on the roster had those trades been made but wouldn't be starting. They very easily could have been traded themselves had they produced at the same rate as the others in the system. The Cubs were blessed at that time to have unlimited resources in terms of bats, but it also hurt them trade time.
After the year Russell had in 2016, a Torres trade made sense because everyone expected him to play SS long term. With Schwarber playing hero in the WS, it made Soler replaceable the following year. With Almora flashing gold glove defense, the Cubs sacrificed his offense to give him chances to be the man to replace Dexter Fowler in center. The problem is not all these players have worked out in the Cubs favor, and the results have shown in the past two seasons.
Do I think the Cubs would have more than one title now had those trades been made? No, I don't, but I do think they would be lined up for a much longer run of success than they are now. That title might not have even happened in 2016 if that first trade wasn't made, so you need to look at that also.
All I know is every GM makes mistakes in terms of who they trade for and who they let go. The Cubs felt they had needs at the time and did what they needed to do to fill those needs. We must hope that those deals can only help this team maintain success over the next five years while we watch the ones that got away continue to make us cringe in certain moments.
Like I stated earlier, I would never in my life trade that World Series title for anything as 108 years is way too long to wait. I wish, and maybe it is selfish of me as a fan to want more than one ring in my lifetime, but I wish the Cubs could have done a few things differently in terms of who we acquired for what they gave away. Either way, the Cubs are still a contending team set up for long term success, but the window is closing and may close sooner than we want.

Tags: Cubs Baseball
,
Jose Quintana
,
Aroldis Chapman
,
Brett Anderson
,
Eddie Butler
,
Jason Heyward
,
Kyle Schwarber
,
Hector Rondon
,
Wade Davis
,
Jason Hammel
,
Travis Wood
,
Jorge Soler
,
Willson Contreras
,
Anthony Rizzo
,
,
,
Addison Russell
,
,
Dexter Fowler