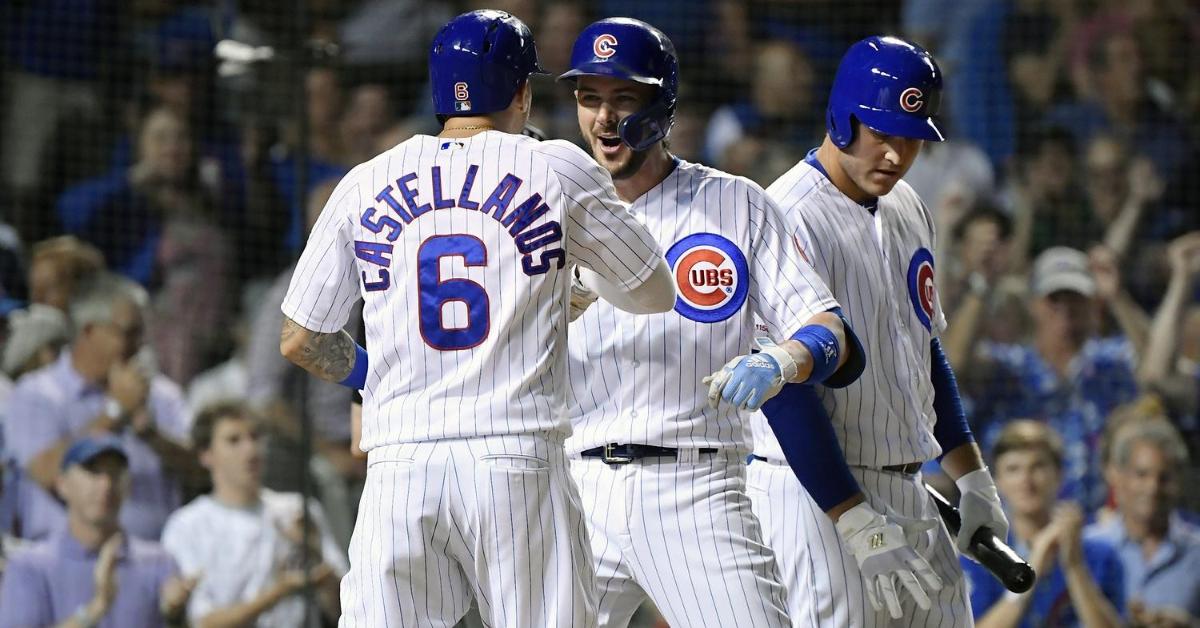 | | |
| --- | --- |
| Commentary: Speculating and Introducing the 2020 Cubs | |
---
When all of this is said and done, and we know for certain whether postseason baseball is a reality for the Chicago Cubs, I thought it might be time, if for no other reason than to take our minds off it, to look ahead at the roster reconstructing that is inevitably coming for 2020.
While this is all pure speculation of course, it's safe to assume that with Theo Epstein and the front office now battling for their own jobs and with money coming off the books, there will be a "re-tooling" while hoping to remain competitive and atop the NL Central. Also, there is far too much talent still remaining on this roster under contract to rebuild completely. With that being said though, there are trades to be made, real-life hitters to be acquired, a bullpen to blow up and then completely restructured (i.e., Kimbrel is safe, everyone else not so much) and can anyone say PLEASE get a leadoff man?! So, without further adieu, here are the scenarios:
Who's Going?
First of all, I imagine a combination of on-base skills plus defense will be a major priority for the front office this offseason. What, with 100 errors already on the season which is absolutely dreadful, there will be a renewed emphasis on playing a cleaner brand of baseball going forward. Knowing this, here is a list of the ones who will be coming off the books for the Cubs at the end of this season, whenever that might be:
*Cole Hamels (FA)
*Ben Zobrist (FA)
*Tyler Chatwood: He's been fantastic this year and his $13 million dollar salary for 2020 will play in someone else's rotation.
*Brandon Morrow-nice experiment, but with the amount of money handed out with no return, he will be released with an injury settlement of some sort.
*Pedro Strop-absolutely no reason to re-sign. Thank you for the memories and sideways cap debates, but there is no longer an effective arm along with the crooked cap.
*Steve Cishek- Not next year after the bullpen blowup that will happen (mark my and everyone else's words on that)
*Brandon Kintzler-nice resurgent year but unless he comes significantly down on his contract and even if he does there is no way he gets re-signed.
*Derek Holland-No need to explain this one.
*Daniel Descalso- I bid farewell.
*Addison Russell-No way the front office sticks with this fiasco of lack of accountability for literally anything including his defense.
*Jonathan Lucroy-Could not have been a better fill-in when Contreras went down with the hamstring injury, but no need to carry him going forward.
*Albert Almora Jr (TRADE).-Love the guy and will always be grateful for the famous tagup in the 2016 World Series. While I love the energy and passion and defense for the most part, his bat just doesn't play and if he bats leadoff one more time…so help me!
*Victor Caratini (TRADE)-It would be too easy to echo my words on Jonathan Lucroy as Victor Caratini was the perfect fill-in for an injured Contreras as he played as well as a starter. Therein lies the conundrum, with Miguel Amaya waiting and Contreras still a rockstar and with so many catcher-needy teams, Caratini will be in high demand simply by how he played.
Now for the coaches:
*Joe Maddon-I could write an entire article, but it would be one of far too many on how Joe Maddon's voice just does not resonate with this club anymore. The players love him and why not? He's a great guy, decent manager, and overall fun presence. The problem is these players have graduated past Maddon. The only evidence you need is the lack of magicians and petting zoos while reading up on Baseball for Millenials. Joe Maddon is simply the absolute best manager for younger talented rosters and he was the perfect fit for the Chicago Cubs circa 2015 and while he has won more than any other manager in Cubs history and "broke the curse" (cough cough…Aroldis Chapman and poor decision making) he is no longer the guy to lead this team going forward.
*Brian Butterfield-While I love the sheer volume of names you can use for this guy, the defense has been horrid to say the least this year. Whether it stem from far too many overthrows, not hitting the cutoff man, not making the simple plays, or just a general lack of efficiency, something has to change and Butterfield will be one of the coaches to depart following this season.
Who's Staying?
Knowing who is staying gets a little tricky as of course, this is a speculative article and trades happen in the middle of the night when no one else is expecting them, and one is left dumbfounded on how it could have happened. However, based on talent, contracts, and what we've seen with the naked baseball eye this year as far as who could be a core of players to build around, there is a pretty good idea on who the Cubs might be haggling with keeping around going into 2020.
*Jason Heyward (FA in 2024, $21 million in 2020, 2021, and $22 million in 2022 and 2023)-With his contract, his defense, his offensive improvement as long as he never bats leadoff again-EVER, and his overall leadership, he is a lock to remain a Cub.
*Jon Lester (FA in 2022, $20 million in 2020, $10 million option for 2021)-Lester is still very much the "bulldog" of this Cubs rotation. While his peripherals are way down and his command is showing signs of the countless innings he has accumulated over his amazing career, he is still a rock solid starter. It might be that he is now more the number 3 versus the Opening Day Starter, but even if, he's still a solid option if for leadership alone.
*Darvish (FA in 2024, $22 million in 2020 and 2021, $19 million in 2022, $18 million in 2023)-Darvish has come on as the unequivocal ace that the Cubs thought he would be before all the elbow debridement stuff and far too long to diagnose issues. He has been quite the amazing turnaround this year and so much so that the longings for the return of Jake Arrieta (who is now on the injured list with the same elbow issues) have quieted at long last.
*Kyle Hendricks (FA in 2024 after new extension; $12 million in 2020, $14 million in 2021, 2022, and 2023)- The Professor has had an up and down year but with the much-deserved extension I have no doubts he will return to the Maddux-like efficiency next season.
*Jose Quintana (FA in 2021, $11.5 team option for 2020)-While I wouldn't be surprised to see the Cubs trade Q or even not pick up the option, I think he is a solid 5th starter and for only $11.5 million I think it would be worth what he gives you, Cease and Jimenez aside!
*David Phelps ($1 million team option for 2020)-He hasn't been great, but he's been serviceable and I think he will remain if for nothing else but the cheap contract option.
*Anthony Rizzo ($16.5 million team option in 2020, 2021)-Rizzo is my Captain! I'll say it again, this dude is priceless! While he is the perfect candidate for an extension, there is no way he goes anywhere without a revolt of all Cubs fans ever.
*Craig Kimbrel ($16 million in 2020 and 2021)-Absolutely love the chicken wing and with a full offseason and Spring Training under his belt there is no doubt he will return to be the dominant closer the Cubs luckily (Thanks Tom Ricketts!) ran into at the midway point this season.
*David Bote ($960k in 2020, $1.01 million in 2021, $2.51 million in 2022, $4.01 million in 2023, $5.51 million in 2024)-While the same David Bote has not been readily available and clamoring for an absolutely ridiculous thought by some Cubs fans of trading KB away from last season, and while he needs to re-tool his swing over the offseason, this extension is peanuts to the front office and for what he brings to the table, it's a worthy signing.
*Kris Bryant (Arbitration Eligible in 2020 and 2021, FA in 2022)-First of all, any inclination whatsoever that this guy is not clutch or not good or anything of the sort is asinine and just plain dumb. He's the superstar we want and need and while I don't know if he will re-sign after the service time fiasco, whatever he wants he deserves and should get from the Cubs front office.
*Nicolas Castellanos (FA in 2020)-Re-sign him NOW! Seriously Theo, don't hesitate, don't even sneeze without a call to Scott Boras on how to get this guy to keep loving Chicago and bringing "everyday is Opening Day" to the rest of whatever makes up the Cubs 2020 roster! Re-sign him NOW!
*Javier Baez (Arbitration Eligible in 2020 and 2021, FA in 2022)-EL MAGO…enough said.
*Kyle Schwarber (Arbitration Eligible in 2020 and 2021, FA in 2022)-This one is a bit trickier in that he has proven himself to be a hot commodity with now 35 homers and counting for 2019 and while that's not a bat you get rid of, nor do you get rid of his new found plate discipline, he's intriguing as a trade candidate since he has upped his value, but ultimately I think he is still your core so you keep him.
*Willson Contreras (Arbitration Eligible in 2020, 2021, and 2022, FA in 2023)-No doubt he is your leader in the catching postion and his fire is unmatched although admittedly anyone that is not a Cubs fan probably hates the guy. Contreras is El Mago behind the plate and he is a mainstay, now just go get a serviceable backup.
*Ian Happ (Pre-arbitration in 2020, then Arbitration eligible in 2021, 2022, 2023)-I have loved the re-tooling of Ian Happ's swing and although I don't think Maddon will be around, any manager worth their salt will find the at-bats available for your utility guy that can play all over the diamond, now if only we could get him to smile?
*Tony Kemp (Pre-arbitration in 2020, then Arbitration eligible in 2021, 2022, 2023)-I loved the trade for Kemp with sending Maldonado to the Astros. He is 27, but he is cheap and can give you a serviceable baserunner and second baseman in a pinch.
NOTES: Rowan Wick, Brad Weick, James Norwood, Duane Underwood Jr., Kyle Ryan, all have options and while I think Wick and Weick will be in the bullpen, there's no doubt they stay with the Cubs as well.
*There are only eight players with guaranteed contracts totaling $114 million for the Cubs for 2020. Seven players have options totaling a maximum $54 million with another estimated $30 million in arbitration costs for 2020. That leaves an estimated $152.5 million payroll without options picked up (which will never happen of course), and $201.3 million with options picked up. (Thank you baseballreference.com for the stats)
Who May Be Coming?
Bullpen
Look for the Cubs to again completely blowup their bullpen with Craig Kimbrel as the mainstay and everyone else a maybe. The bullpen has been more than the proverbial Achilles heel this year for the Cubs losing an estimated 18 games for this club already, and we are not done with September yet. This bullpen needs a complete refresh and build around the closer. I think it would be fitting to see a Kyle Ryan return to the Cubs major league roster along with Rowan Wick, Brad Weick and possibly David Phelps, but that's it, leaving at least three bullpen spots. Again, these guys have options so I wouldn't be surprised to see the brass sign some realistic major league bullpen guys to fill it out.
(Potentials: Dellin Betances, Anthony Swarzak, Tyler Clippard)
Starting Rotation
With Darvish, Lester, Hendricks, and quite possibly Q returning, there's only one real slot for another starting pitcher and that slot will go to…drum roll, please…Madison Bumgarner. Wait…what? That's right. With everyone clamoring for Stephen Strasburg after he opts out of his deal with the Nats and Gerrit Cole, it will end up being Madison Bumgarner who will solidify that rotation. Why, you ask? Fair enough. Simply put, both Cole and Strasburg will command upwards of $25-28 million each, and I think Bumgarner can be had for under $20 million. I know everyone thinks he can command more than that and maybe so, but he will give you a good start each time, he won't always have the greatest command, but he will give you a fight, and that's what the Cubs will want and need on a three-year deal. With Adbert Alzolay and Brendan Marquez still a few years away from actually contributing to the starting rotation and in that time Lester retiring, and with Darvish and Hendricks still in your rotation, for 2020 and 2021 with a team option for 2022 it will be Bumgarner.
Position Players:
Now, THIS is where you will see the Cubs dole out some money and make a trade. I think that money will go to none other than Castellanos and Anthony Rendon. It may seem like overkill with Bryant already a stud 3B but picture Castellanos back with Rendon's bat and glove at third, and you've got yourself the most impressive batting order yet.
While Rendon might just be back with the Nats if they can get him signed if that doesn't happen picture for a second that glove at third base with KB in the outfield in LF and Castellanos in RF. I know that the Whit Merrifield thing has been visited and revisited and then revisited over and over and over, but I think you will see the Cubs make a move for him again this offseason for a full-time 2B and keep Nico Hoerner in AAA for another year. He might be up with the big club if he can finish this year strong, but I don't think that will happen. So, don't picture it but here's a potential lineup for 2020:
Whit Merrifield-2B
Castellanos-RF
Bryant-LF
Rizzo-1B
Rendon-3B
Baez-SS
Contreras-C
Heyward-CF
Pitcher
Holy Crap! I mean, seriously! Baez hitting in the six-hole with all those runners in front of him? It sounds crazy, but even if you shuffle it, good luck getting an out! This is what will fix the Cubs offense for the next several years. The Rendon signing will be justified if/when Bryant either signs an extension to be the everyday LF or doesn't sign to try out free agency and you keep Schwarber or trade him for Merrifield with pieces. It's unbelievable the talent in a lineup like this, and it's nothing short of a defensive and offensive dream.
Coaching Staff:
Last but not least, who will be the Cubs manager going into 2020? That's the $6 million dollar question as you will save so much of that just by saying "Thank you so much seriously for everything Joe Maddon, we love you, goodbye." But, who will replace him? Everyone will be clamoring yet again for Girardi, and while I think he would be fine and would identify with the Cubs organization as both a Chicagoan and former Cub, it's too easy, and Theo is never easy. I think you will see a renewed emphasis on David Ross and they just might land him. He knows the game like no one else from all the time as a backup catcher, he was the unequivocal leader in that 2016 World Series Champion clubhouse, and even Joe Maddon himself turned to Grandpa Rossy for leadership and oversight. That's exactly what you need is someone who is understanding of these guys but won't take their crap defensive mistakes, and won't settle for anything less than hard work and smart play, just ask Jon Lester!
So, there you have it…I introduce to you the not-so-new-but-ever-improved looking 2020 Chicago Cubs! Time to get back to winning boys…EVERYBODY IN!

Tags: Cubs Baseball
,
Steve Cishek
,
Cole Hamels
,
Ben Zobrist
,
Tyler Chatwood
,
Brandon Morrow
,
Pedro Strop
,
Brandon Kintzler
,
Daniel Descalso
,
Addison Russell
,
Albert Almora Jr
,
Victor Caratini
,
Miguel Amaya
,
Aroldis Chapman
,
Jason Heyward
,
,
Jake Arrieta
,
Kyle Hendricks
,
Jose Quintana
,
Anthony Rizzo
,
David Bote
,
,
,
Kyle Schwarber
,
Willson Contreras
,
,
Rowan Wick
,
James Norwood
,
Duane Underwood
,
Kyle Ryan
,
Adbert Alzolay
,
David Ross
,
Joe Maddon
,
Theo Epstein
,
Brian Butterfield