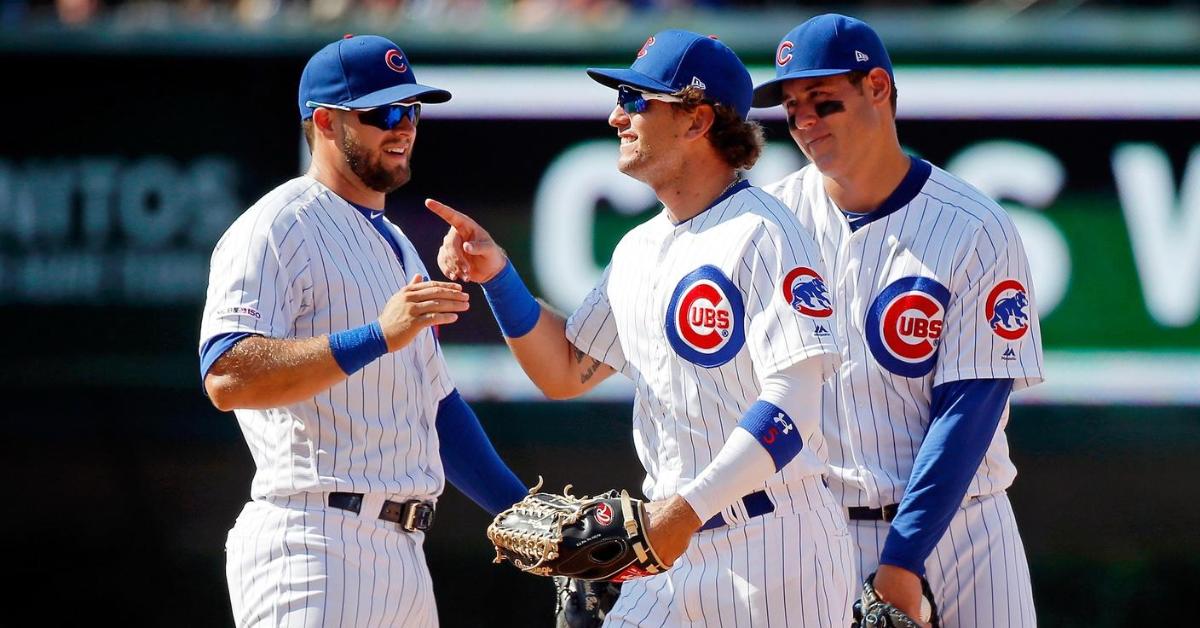 | | |
| --- | --- |
| Commentary: The Chicago Cubs will be just fine in 2020 | |
---
With just 45 days remaining until the first Spring Training game and 85 days until Opening Day, the Cubs have done little to improve, but you know what? I'm becoming OK with it.
There hasn't been free agent signings and no trades to date, but as the winter drags on in Chicago, I'm actually feeling more and more content that the 2020 Cubs will be just fine. After joining my colleague Anthony Pasquale on his Cubs Corner podcast, the other day, I hung up the phone feeling more content with Theo Epstein, David Ross, and the current Cubs' roster than I have been all winter.
I think David Ross is just as right for the Cubs' manager spot now, as Joe Maddon was in 2015. Once Maddon's fate was decided, I never wanted to see Joe Girardi get the position, despite his insane popularity among the fanbase. I won't disagree that Girardi knows how to win; however, I just never saw his style meshing with this team. I've maintained all along that while Maddon seemed soft (especially toward the end), Girardi seemed to be a guy who was going to be too radically different, which was going to result in the same outcome for Chicago.
I firmly believe that Ross is going to completely overhaul and rejuvenate the team's attitude, both in the clubhouse and on the field. He isn't so far removed from the game (as a player) that he's forgotten what it's like to win, and I think that energy and hunger are going to carry over to the roster. I don't think it will take long for Rossy to dispel concerns about being "Theo's boy," nor do I think you'll see an issue with him "managing his friends."
There'll be a learning curve, but Ross has surrounded himself with coaches who'll be able to see the game as he does, in part because most are former catchers. This maneuver will undoubtedly pay dividends for Willson Contreras, Victor Caratini, and perhaps, Miguel Amaya, but it's also likely to help both the starting rotation and bullpen.
I'm very impressed with Ross vowing to hold players accountable, and while I don't want to see underperformance on the field, I'm excited to see how Ross approaches the problem. It's hard ever to imagine Maddon benching a star for a lower-tier player, but winning is what it's all about, and if a sub can turn in the performance that the team needs, then I say let him play.
Even after losing a small army's worth of players to free agency, the Cubs have maintained a ton of talent on the roster, augmenting it with a series of minor league signings. With so many openings in the bullpen, players like Dan Winkler stand a chance to have bounce-back seasons in the majors, while guys like Hernan Perez and Carlos Asuaje will vie for that 26th roster spot.
As the winter wears on, I'm actually feeling better and better about the Cubs roster, as it stands now. pic.twitter.com/U6RBI0Ki1K

— Ken Allison (@KenAllison18) January 8, 2020
With or without Kris Bryant – whom I still think will be traded – the Cubs' current roster presents a plethora of talent. Looking around the infield, Contreras, Anthony Rizzo, Javier Baez, and David Bote will remain staples, as will Kris Bryant – at least for the moment. Second base remains a bit of a mystery, and although Nico Hoerner's future in the majors remains uncertain at this time, you can't deny his emergence and existence. Should the Cubs elect to demote Hoerner to Triple-A (a huge mistake in my opinion), you'll still be looking at Ian Happ, Tony Kemp, Perez, Asuaje, and (cough, cough) Daniel Descalso at second base. Let's also not forget that Robel Garcia will be vying for that slot, and could become a likely candidate, should he be able to improve offensively.
It doesn't seem as though the Cubs will part with Kyle Schwarber – which is just fine in my humble opinion – so as of now, you're looking at a potential outfield consisting of Schwarber, Happ, Jason Heyward, Albert Almora Jr. and perhaps Kris Bryant. I still hold out hope that a KB trade will free-up salary for the Cubs to re-sign Nicholas Castellanos. Yet, even without Nick's golden bat and positive attitude, the outfield can be solid both offensively and defensively, so long as Heyward can come out swinging, while making contact, of course. I recently predicted that Heyward would have his best season as a Cub in 2020, and I'd like nothing more than to see the big man settle in and do what the Cubs signed him to do.
Tyler Chatwood seems to have figured it out, and with Cole Hamels' spot remaining vacant to date, I can only hope that Chatwood comes out firing and that David Ross sits up and takes notice. I've made no bones about the fact that I don't believe Adbert Alzolay to be ready for the majors, and while Alec Mills was impressive in 2019, he doesn't carry the experience or stamina that Chatwood possesses. I think if Ross is smart, he leaves Mills in the pen for another year, using him as a spot-starter in the event of injury or underperformance. Mills would nicely fill the swingman position that Chatwood was supposed to have had last year, allowing him to log innings while gaining experience.
I'm jazzed about the guys who remain in the bullpen, though I'd love to see Theo come to terms with Brandon Kintzler, as the pen lacks veteran leadership. Craig Kimbrel has years of experience, but I don't view him as a leader – at least not like Kintzler was. Rowan Wick, Brad Wieck, and Kyle Ryan all dominated some down the stretch last year, and if they, along with Kimbrel, come back in solid form, half of the bullpen is set.
Jharel Cotton may or may not show promise, and I don't hold out any hope for Brandon Morrow's return, but I'm expecting good things out of newly acquired Ryan Tepera. The former Jays' righty saw limited action last year, appearing in only 23 games, but posted an average ERA of 3.36 over his first four years in the league. Tepera suffered an elbow injury last spring (ending with surgery), causing him to post a 4.98 ERA after healing. If he returns healthy, he may very well become the Cubs go-to guy, especially if they lose out on re-signing Kintzler.
Under the current circumstances, Dillon Maples, Duane Underwood Jr., and James Norwood have their chance to emerge, and you may see CD Pelham turn some heads. I was surprised when the Cubs continually bypassed Dakota Mekkes last year, but you may see him get the chance to make his MLB debut as well in 2020.
Sit back and relax, I think the 2020 Cubs will be just fine. Now… if I could just figure out how I'm going to get the Marquee Network.

Tags: Cubs Baseball
,
David Ross
,
Willson Contreras
,
Victor Caratini
,
Miguel Amaya
,
,
Anthony Rizzo
,
,
David Bote
,
,
Daniel Descalso
,
Robel Garcia
,
Kyle Schwarber
,
Jason Heyward
,
Albert Almora Jr
,
Tyler Chatwood
,
Cole Hamels
,
Adbert Alzolay
,
,
Brandon Kintzler
,
Craig Kimbrel
,
Rowan Wick
,
Kyle Ryan
,
Brandon Morrow
,
Dillon Maples
,
Duane Underwood
,
James Norwood
,
Dakota Mekkes
,
Joe Maddon
,
Theo Epstein