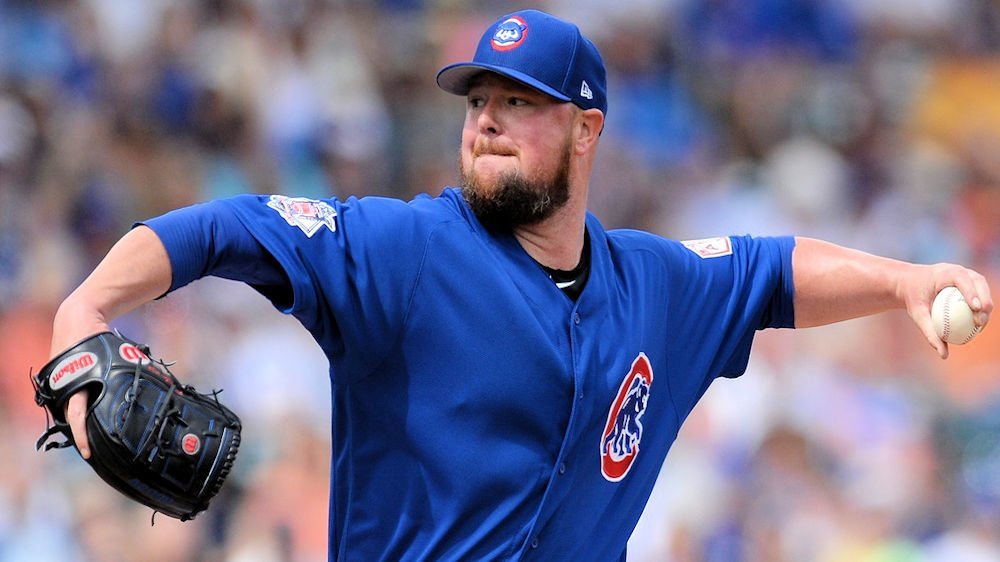 | | |
| --- | --- |
| Cubs New and Notes: Maddon on KB's injury, Hot Rizzo, All-Star voting, more | |
---
| | | |
| --- | --- | --- |
| Wednesday, May 29, 2019, 8:03 AM | | |
Next Game: Today, 7:10 PM CDT: Cubs @ Astros. RHP Kyle Hendricks (4-4, 3.34 ERA). LHP Wade Miley (4-2, 3.51 ERA).
CUBS NEWS AND NOTES:
Tuesday's Game Recap: In game two of this series, Jon Lester took his turn at trying to right the ship, as he faced-off against rookie, right-hander, Corbin Martin, and a scorching Houston offense; he foundered.
Lester got in a little trouble in the first, but he limited the damage to just one run. It looked as though things might work out for the Cubs, as Jason Heyward, Addison Russell, and David Bote fired back in the second with a trio of homers, but Houston wasn't having it. After tagging Lester for another run in the third, they launched an all-out assault in the fourth, scoring four runs and assumed a 6-3 lead.
The Cubs attacked again in the sixth when David Bote added a second homer of his own, followed shortly after that by Kyle Schwarber's bomb to tie it at six. The Cubs' new life was short-lived, as Lester was pulled after putting a man on in the bottom of the sixth, and was replaced by Brad Brach, who promptly gave up a two-run homer and the lead. Brach let the Stars tack on an insurance run in the seventh, before he was replaced by Carl Edwards Jr., who closed it out for the Cubs. Final score: Houston 9; Cubs 6.

Cubs/Cards Probable Pitchers: Friday, 7:15 PM: RHP Yu Darvish (2-3, 5.40 ERA) vs RHP Mile Mikolas (4-5, 4.76 ERA). Saturday, 7:15 PM: LHP Jose Quintana (4-3, 3.73 ERA) vs RHP Jack Flaherty (4-3, 3.77 ERA). Sunday, 1:15 PM: LHP Cole Hamels (4-1, 4.02 ERA) vs RHP Adam wainwright (4-4, 4.82 ERA).
Homerun or bust: Recently, it seems like the Cubs go long, or they go bust. Station to station hitting seems almost useless for the Cubs lately, as the only way they score runs is via the long ball. Not that dingers are a terrible thing, but the Cubs have got to start hitting for contact with men on base. They only stranded a total of 17 men last night, but recent games have been much, much worse concerning the number of men left on base.
ERAs on the rise: With Jon Lester's disastrous 5.2 inning outing last night, his ERA now sits at 3.59, which is a hard pill to swallow, as it was just 1.16 a little over two weeks ago. Final line: 5.2 IP, eight hits, 7 ER, 3 BB, 3 K, 1 HR.
Hamels on Monday's loss: When interviewed after Monday's game- a loss which saw Cole Hamels fan no one, while Javier Baez fanned five times alone, Hamels says, "It just tests who you are and tests the staff for who they are. We have to build back up and get back to playing the game we know we can." Joe Maddon added, "We have a great group. I know they've been struggling a bit as of late, but that happens. When you've been nailing it for a while, you're going to struggle for a bit; then you're going to come back and nail it again."
Maddon on KB's injury According to Joe Maddon, "I don't have anything dramatically new to report except that he's feeling better." Bryant is currently under evaluation by the team's medical staff for a head and neck injury.
Tyler Chatwood: "I have always taken pride in my mental skills approach," Chatwood said. "I didn't vary too much when things went bad last season. I knew something was wrong, but I feel I never broke mentally. I kept working in the season, so the offseason was an extension for my search."
Rizzo on a roll: Rizzo is only the 2nd Cubs' LH hitter to hit 15 HRs before June 1, joining Billy Williams who hit 15 homers entering June 1970. Only four other Cubs have hit 15 HRS before June 1: Hank Sauer (16, 1954), Dave Kingman (15, 1979), Sammy Sosa (five times, last in 2002 with 19) and Lee (16 in 2005).
All-Star Voting: It's that time (already) again. MLB has opened up the voting for this year's All-Star teams.
The All-Star Game ballot is now open and EVERY vote matters! Vote (up to 5 times/day): https://t.co/gdRdxZdk6d#EverybodyIn #VoteCubs pic.twitter.com/X3MvBtq7IR

— Chicago Cubs (@Cubs) May 28, 2019
The Anthony Rizzo Family Foundation: Kudos to Anthony Rizzo and his foundation, as they continue to slug away at childhood cancer. Rizzo, a childhood cancer survivor himself, just raised (through his foundation) a total of $1.8M for cancer research, through his annual Cook-Off for Cancer event. This is the seventh year the foundation had held the event.
MLB or NFL? For years, it seemed that incidents of domestic violence between athletes and their significant others were mostly confined to some of the NFL, but suddenly it seems more and more MLB players are involved in these incidents. The latest player to enter the Hall of Shame is Phillies outfielder, Odubel Herrera, who was arrested Monday night on charges of domestic violence.
#Phillies outfielder Odubel Herrera has reportedly been placed on administrative leave.

All that's known on his arrest: https://t.co/zV2g9LT0Uw pic.twitter.com/gsz6ye4Jk9

— MLB Trade Rumors (@mlbtraderumors) May 28, 2019
Cub Birthdays: Celebrating yesterday, were ex-Cubs Mike DiFelice (50), Mike Maksudian (53), Tom Grant (62), Randy Martz (63), and posthumously, Bobby Smith (85).
NL CENTRAL SCHEDULE (May 26 – June 1, 2019)
(Wins are in green, losses in red)

NL CENTRAL SCOREBOARD/STANDINGS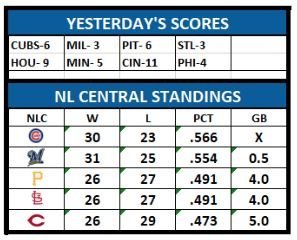 Tags: Cubs Baseball
,
Kyle Hendricks
,
,
Jason Heyward
,
Addison Russell
,
David Bote
,
Kyle Schwarber
,
Yu Darvish
,
Jose Quintana
,
Cole Hamels
,
,
Tyler Chatwood
,
Anthony Rizzo
,
Joe Maddon