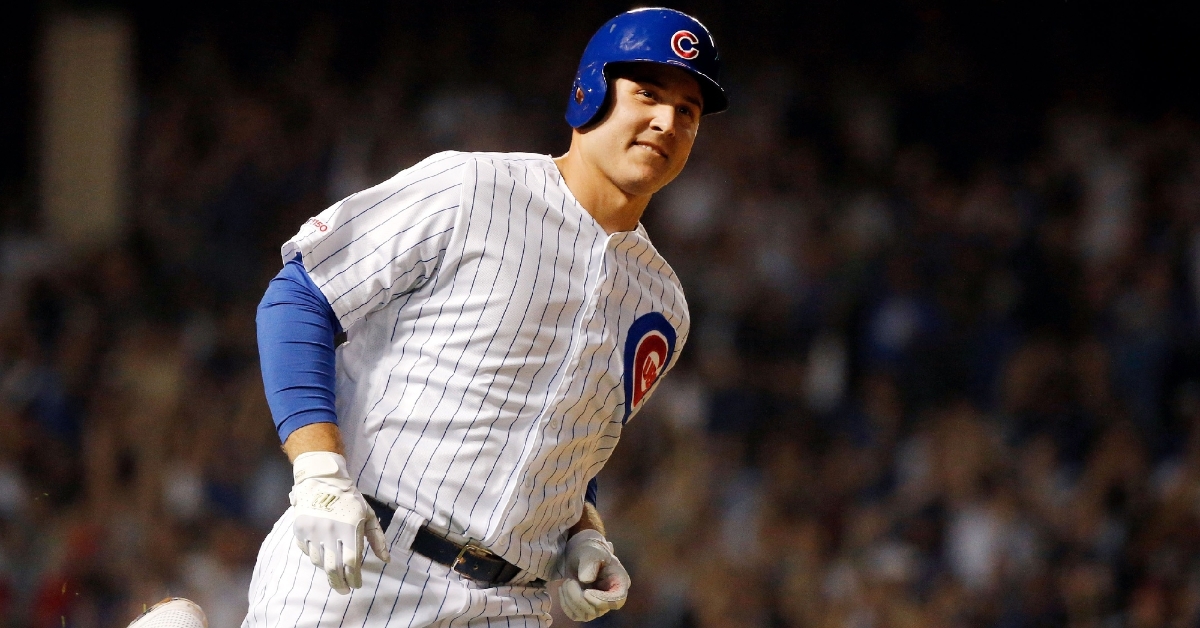 | | |
| --- | --- |
| Cubs News and Notes: Cubs in third place, Rizzo's surprise comeback, Maddon rumors, more | |
---
| | | |
| --- | --- | --- |
| Friday, September 20, 2019, 8:20 AM | | |
NOTE: Cole Hamels has been scratched from Saturday's game due to shoulder fatigue. Alec Mills will start on Friday, with Jose Quintana pitching Saturday.
Next Game: Friday: RHP Alec Mills (1-0, 3.42 ERA) vs RHP Michael Wacha (6-7, 4.76 ERA). Game information: 1:20 PM CDT; Televised on FOX.
Thursday's Game Recap:
With ten games left to play, the Cubs aren't exactly in the greatest place, especially after losing again last night to Cincinnati and falling 3.0 games back.
Kyle Hendricks would take the mound to face right-hander, Jack Flaherty for the Cards. Victor Caratini became a late scratch- but not for injury, rather because Anthony Rizzo surprised everyone and took the field himself. Rizzo wasn't even supposed to be out of his boot and off of his cute little scooter for the next two days.
Tonight's new #Cubs leadoff hitter: pic.twitter.com/ZZsbKu0SWv

— Chicago Cubs (@Cubs) September 19, 2019
Guess who else is back? The Cubs activated Craig Kimbrel, and Javier Baez was available to pinch run. Addison Russell was also activated, and the Cubs say Brandon Kintzler should be available against Pittsburgh. Will it all be enough to subdue the Cardinals though, or is it a little too little, a little too late?
Joe Maddon made sort of a bone-headed move in the first, challenging a close pick-off play that went from Hendricks to Rizzo, in an attempt to get Wong. The call was upheld, Wong was safe, and Maddon and the Cubs were without a challenge for the next 8.2 innings. To add insult to injury, about two pitches later, Hendricks got Goldschmidt swinging, then Willson Contreras threw Wong out trying to take second.
A couple of singles and a walk would put the Birds up 1-0 in the third.
The Cubs would tie it in the bottom of the third on Anthony Rizzo's home run to left-center with two away. Hey- he really is better. By the way, listen to how they say, "In a surprise appearance here in game one." Sounds almost playoff-like — 1-1 after three innings.
King of the Confines. #TeamRizzo pic.twitter.com/37utahC5uH

— Chicago Cubs (@Cubs) September 20, 2019
The Cards would get after it again in the fifth, capitalizing on a triple by Edman, then a single by Baser. They'd threaten further, but Hendricks limited them to just a run. 2-1 Cards.
The Cards would jab again in the sixth, adding another two runs to make it 4-1 Cards.
The Cubs would threaten in the seventh, when Kyle Schwarber singled, took second on a wild pitch, then advanced to third on Ben Zobrist's groundout. Willson Contreras would bounce back to the mound, but a bad baserunning mistake by Schwarbs would get himself caught in a rundown between third and home.
The Cubs fizzled after that. 4-1 Cards, as they enter the eighth.
The Cubs would come to life and rally in the bottom of the ninth. Nicholas Castellanos walked, Kris Bryant singled, then with one away, Zo cranked a double down the right-field line to score Castellanos. Baez would enter the game as a pinch-runner for Zobrist. A swinging bunt by Contreras would result in Bryant scoring, with everybody safe all around (Baez to third), and still only one away; this would drive Martinez off the mound and out of the game, replaced by Andrew Miller.
Jason Heyward would ground out, but Javy scored to tie it. 4-4 Cubs, with two out. For the second time in two nights, the game would fall on the shoulders of Nico Hoerner. Hoerner made solid contact (as he did on Wednesday night), but Bader was able to field the fly ball. We're going to extras, and Craig Kimbrel's headed in for the tenth.
Kimbrel would fan the first man he faced, but Matt Carpenter would homer to center to put the Cards up 5-4 in the 10th. Gallegos would replace Miller on
the mound for the Red Birds.
Cubs go down in order in the tenth. Cards win it 5-4.
The Brewers beat the Padres by a final of 5-1, so the Chicago Cubs will start today's game in third place, trailing the Brewers by a game and the Cardinals by four full games. This is the first time this year that the Cubs have been out of the playoff scene since April 30th. The Cubs now have an elimination number of only six.
CUBS NEWS AND NOTES
Cubs/Cardinals Probable Pitchers: Saturday: LHP Jose Quintana (13-8, 4.37 ERA) vs RHP Dakota Hudson (16-7, 3.35 ERA). Game information: 1:20 PM CDT; Televised on WGN, SAP WGN, MLB Network (out of market only). Sunday: RHP Yu Darvish (6-7, 4.02 ERA) vs. Miles Mikolas (9-14, 4.29 ERA). Game information: 1:20 PM CDT; Televised on NBC Sports Chicago and TBS (out of market only). The Cubs will have a day off on Monday, September 23, before making the final push against the Pirates and Cardinals (again), in a pair of away series.
Cubs/Pirates Probable Pitchers: Tuesday: LHP Jon Lester (13-10, 4.51 ERA) vs RHP Joe Musgrove (10-12, 4.52 ERA). Game information: 6:05 PM CDT; Televised on NBC Sports Chicago. Wednesday: RHP Kyle Hendricks (11-9, 3.26 ERA) vs RHP Steven Brault (4-5, 4.98 ERA). Game information: 6:05 PM CDT; Televised on WGN. Thursday: Pitchers TBD. Game information: 6:05 PM CDT; Televised on NBC Sports Chicago.
NL Wild Card race: The landscape has change- and not for the good.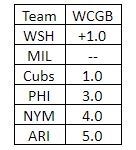 Jon Lester: "Nobody in that clubhouse is naive to what's going on. We know what's in front of us. We know what lies there and how big of a weekend this is. But, if you start looking towards the entire weekend, you forget about tomorrow. We've got to worry about that."
Maddon on the Cubs' quagmire: "Honestly, it's more fun this way. With all due respect, ask Cincinnati: Would they rather be in this moment or that moment? You want this feeling. I've talked about that often where if the word 'pressure' or whatever is attached to it, my goodness, run toward it. That's the only way to do what we do. To be in this position at this time of the year with something on the line is what we all strive for."
I'll agree, this situation is exciting, that is, when I'm not taking aspirin for all the headaches and throwing up over every loss.
Kolten Wong on Cards/Cubs: The Cards are 0-6 at Wrigley this year, but that doesn't faze Card's second baseman, Kolten Wong: "Doesn't mean shit. We're coming to play ball. We know how tough that team is to play at Wrigley, but you know, that's what this is all about."
After Rizzo warmed up in the outfield - and before he was added to the Cubs' lineup - he told me he was going to announce his return the way Michael Jordan announced his 1995 comeback - with a Fax saying, "I'm back." Well, no fax was necessary. News happens faster these days!

— Ken Rosenthal (@Ken_Rosenthal) September 19, 2019
Is it over? The Cubs are in a real jackpot after Thursday's night's loss to the Cards. At this point, the best the Cubs can hope for is to win the next three and enter the final week of play one game back.
Wash would play at Mil on Monday, winner moves on. Loser plays at Wrigley on Tuesday. Winner moves on.

*Wash could choose to be Team 3 in that scenario and host one game instead of 2 on the road but doubtful. They do get a choice though* https://t.co/FMYVSopvKa

— Jesse Rogers (@ESPNChiCubs) September 19, 2019
The wildcard race is where the Cubs may really find themselves in trouble, as every time they lose to the Cards, they get two points knocked off of their elimination number (which is now 6). Meanwhile, the most the Brewers can lose is one point a day, so long as they beat the Padres and Pirates, and they're certainly poised to do so.
Hoyer on Maddon: "You're always looking at the total body of work, and you're looking at what's happened most recently...and that's everyone. Everyone is evaluated on what most recently happening in the context of a larger career."
Maddon rumor: There's now been a rumor that David Ross will replace Joe Maddon as the Cubs' manager "by Thanksgiving." When 670 The Score asked Jed Hoyer about it, Jed replied, "That's something, of course, I'm never going to comment on. Asking me that question with ten days left, of course, I'm not going to give that any credence."
Hoyer declines to comment on report that Cubs are grooming David Ross to replace Joe Maddon this offseason.

— Tim Stebbins (@tim_stebbins) September 19, 2019
Javy! After being cleared by a hand-specialist to resume light baseball activity, Joe Maddon almost used him as a pinch-runner in Wednesday's loss to the Reds. Joe Maddon says he had to fight the temptation to use Baez, and said, "[Javy]was feeling pretty antsy," to get in the game. Maddon said that the injury is most bothersome for Báez when catching a ball. He has not resumed any fielding work. "That seems to be like the part of it that bothers him the most, is just squeezing or closing the glove," Maddon said. "Swinging the bat doesn't bother him nearly as much. That's all in play, but he keeps getting better every day. He keeps feeling better about it every day."
Don't blame Kimbrel: You can't blame Kimbrel; The Cubs waited way too long to sign him and then rushed him into the bullpen. The offense and pitching couldn't keep Chicago in the games, so Kimbrel would go a week at a time without pitching. He'll be on it next year, but don't expect much now.
Baseball Quotes: "I'm more of a feel pitcher. If something's wrong, I don't watch a video. I go throw in the bullpen until it feels right." -Justin Verlander
The roar of the crowd has always been the sweetest music. It's intoxicating. -Vin Scully pic.twitter.com/SrIMAPs3br

— Baseball Quotes (@BaseballQuotes1) September 18, 2019
Cubs Birthdays: Celebrating yesterday, were ex-Cubs Scott Baker (38), Randy Myers (57), Phil Stephenson (59), and Buddy Schultz (69).
Also, Happy Birthday to one of my favorite non-Cubs- Kenny Rosenthal (57).
Happy Birthday to an all-time great journalist, colleague and friend! @Ken_Rosenthal https://t.co/GAGivTTekh

— Jon Morosi (@jonmorosi) September 19, 2019
THIS WEEK'S NL CENTRAL SCHEDULE:
(Wins in green, losses in red)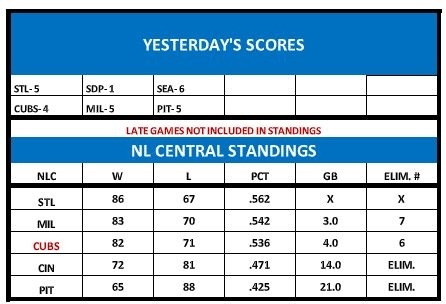 Tags: Cubs Baseball
,
Cole Hamels
,
,
Jose Quintana
,
Kyle Hendricks
,
Victor Caratini
,
Anthony Rizzo
,
,
Addison Russell
,
Brandon Kintzler
,
Willson Contreras
,
Kyle Schwarber
,
Ben Zobrist
,
,
Jason Heyward
,
Yu Darvish
,
,
David Ross
,
Joe Maddon