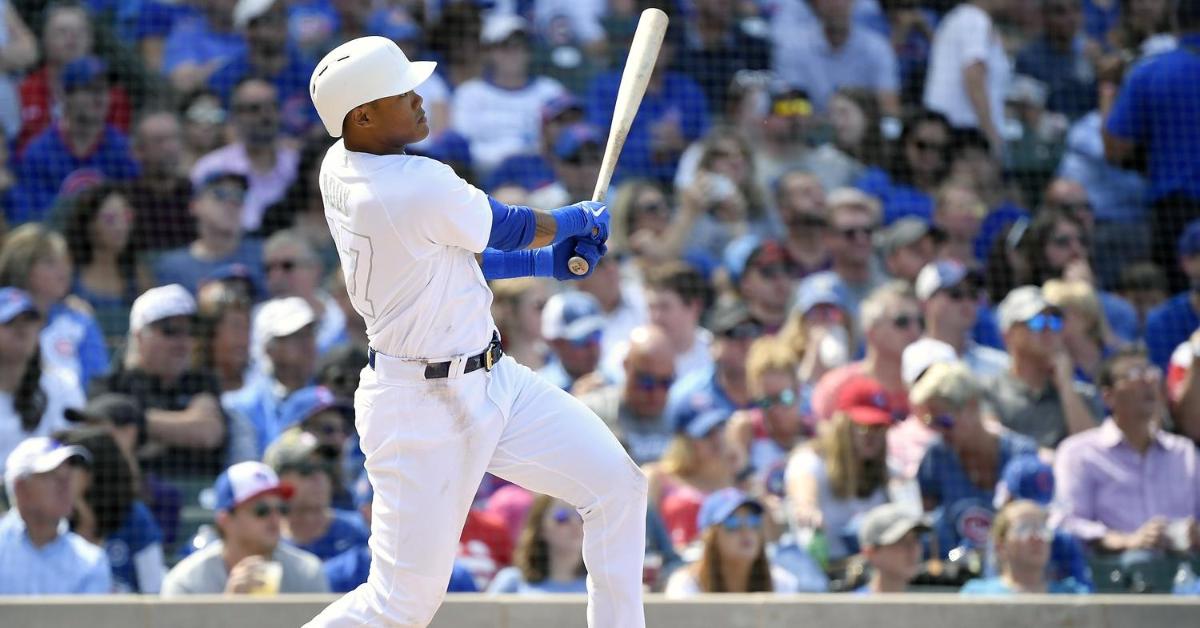 | | |
| --- | --- |
| Cubs News and Notes: Cubs swept at home, Rizzo injured back, Zobrist slumping, more | |
---
| | | |
| --- | --- | --- |
| Monday, August 26, 2019, 7:59 AM | | |
Next Game: Tuesday: RHP Yu Darvish (4-6, 4.43 ERA) vs RHP Marcus Stroman (7-11, 3.18 ERA). Game information: 6:10 PM CDT; NBC Sports Chicago, MLB Network (out of market only).
Sunday's Game Recap:
Saturday's game cemented the series loss for Chicago, only the second home series loss all year. With that, Cole Hamels and the Cubs attempted to avoid the embarrassment of being swept at home, as they faced Stephen Strasburg and the Nationals for the series finale.
Once again, the Nats would draw first blood, courtesy of Anthony Rendon's bomb in the fourth. The Cubs would flash a little light of their own but failed to score. Nats up 1-0 after four.
In the fifth, Hamels would pitch himself out of a jam, helped in part by great defense from his infield. Addison Russell would help the team with a solo-shot in the Cubs' half of the fifth. Game tied 1-1.
Addison Russell's game-tying homer in the 5th: pic.twitter.com/ckRjc4iRWQ

— Chicago Cubs (@Cubs) August 25, 2019
Unfortunately, the Nats would jump right back in the sixth, retaking the lead 2-1, as Juan Soto scored from third as the Cubs were turning a double play.
Nationals plate a run with a GIDP in the 6th to take 2-1 lead. That's five runs in three games via outs (groundouts or sac flies).

Maddon pregame: "Scoring runs with outs is an art form that we have to accomplish, too."

— Jordan Bastian (@MLBastian) August 25, 2019
Jason Heyward would reach base for Chicago, after being hit by a pitch in the sixth, then would advance to third on yet another hit by Castellanos. With runners on the corners and nobody out, Kris Bryant would next deliver an RBI single to tie the game at two.
(This is part of the reason that I love watching Castellanos play for the Cubs)
As Nationals huddled up for a mound visit, Castellanos sprinted over to first base to congratulate Bryant and bump him on the chest in excitement for the big hit.

3 really nice at-bats in a row from the Cubs off Strasburg the third time through the order

— Tony Andracki (@TonyAndracki23) August 25, 2019
Strasburg would get the next three (Javier Báez, Kyle Schwarber, and Jonathan Lucroy, limiting the damage to just a run. Game tied 2-2.
Rowan Wick would struggle in the seventh, leaving a bases-loaded mess for Kyle Ryan. An infield single by Soto, followed by a line-drive single to the right by Cabrera would put the Nats up 5-2. Brandon Kintzler would get the final out, but not before the damage was done.
Victor Caratini would hit a smash to right to start the bottom of the seventh, bring the Cubs to within two.
.@VictorCaratini gets one back. #EverybodyIn pic.twitter.com/PXlbgrt69N

— Chicago Cubs (@Cubs) August 25, 2019
After Kintzler held the Nats in the eighth, Javier Báez drew a two-out walk in the bottom of the inning, followed by a monstrous, Schwar-BOMB to left, to tie it at five.
There's beauty in the bat drop. #EverybodyIn pic.twitter.com/pIUZHRfYeG

— Chicago Cubs (@Cubs) August 25, 2019
Craig Kimbrel held down the ninth, but the Cubs failed to score. Now in extra innings, both teams would survive the tenth, but the Nats would get to Tyler Chatwood for two runs in the eleventh.
Again, unable to rise to the occasion, the Cubs would wind up not only losing the game but getting swept and falling another game back in the standings to the Cardinals. Final score: Nats - 7; Cubs - 5

CUBS NEWS AND NOTES
Cubs/Mets Probable Pitchers: Wednesday: RHP Kyle Hendricks (9-9, 3.20 ERA) vs RHP Noah Syndergaard (9-6, 3.71 ERA). Game information: 6:10 PM CDT; NBC Sports Chicago. Thursday: LHP Jon Lester (10-9, 4.49 ERA) vs Jacob deGrom (8-7, 2.56 ERA). Game information: 6:10 PM CDT; ABC-7, MLB Network (out of market only).
The injury bug bites again: If there's one thing the Cubs certainly don't need, it's seeing Anthony Rizzo sidelined with more back issues. Rizz was pulled from Saturday's game due to back tightness. Even if Rizz doesn't hit the IL for this issue, the Cubs will undoubtedly have to use him a little more conservatively for the next little while, causing them to lose not only a quality first baseman but also a powerful bat which has come alive over the last week. Rizzo was not in yesterday's lineup.
A Cubs official says that Anthony Rizzo exited today's game with mid-back tightness.

— Patrick Mooney (@PJ_Mooney) August 24, 2019
According to Joe Maddon, Rizzo's unscheduled day off was just a precautionary measure (so far), but he said Rizzo wouldn't even be available off the bench.
Maddon says Rizzo likely to sit out entire game barring "miracle cure," though it's a precautionary rest for his back.

— Paul Sullivan (@PWSullivan) August 25, 2019
Roster Moves: The Cubs have recalled infielder, David Bote; Derek Holland was sent to the IL for a wrist injury. The Cubs have been playing with a short bench since Bote was demoted to Iowa, and now with Rizzo down for an undetermined period, it only made sense for the Cubs to go back to a five-person bench and an eight-man bullpen.
Kemp on uniforms: Cubs second-baseman, Tony Kemp, was asked about the all-white Players' Weekend uniforms and his reply says it all. I've seen only one reader on social media say that he liked them, but beyond that rogue soul, nobody else can seem to stand them… including, apparently, Tony Kemp.
. @tonykemp talks #Cubs all-white uniforms for Player's Weekend pic.twitter.com/eHtdjVge9S

— Cubs Talk (@NBCSCubs) August 24, 2019
If there's one good thing that has come out of Players' Weekend, it has to be the creativity of some of those in the media. Take a look at the uniforms, as Rowan Wick stands to the left of David Bote during the national anthem. You KNOW they planned this…
Play ball! #EverybodyIn#PlayersWeekend pic.twitter.com/OA46Z6sSej

— Chicago Cubs (@Cubs) August 25, 2019
?????? https://t.co/UI5DTj105m

— Cubs Talk (@NBCSCubs) August 25, 2019
Cubs plummeting: Just the other day, I wrote that according to Fangraphs, the Cubs had a 79.4% chance of entering the postseason. With back-to-back losses to Washington on Friday and Saturday, coupled with wins by St. Louis and Milwaukee, the Cubs' chances have now fallen to 68.9%, with the Cardinals right on their heels. Milwaukee still lags in the playoff outlook (22.7% chance of seeing October), but they sit only 2.0 games behind the Cubs in the NL Central standings.
NL playoff chances, per Fangraphs:
Nationals 82.6%
Cubs 68.9%
Cardinals 63.9%
Mets 37.8%
Brewers 22.7%
Phillies 8.9%

— Buster Olney (@Buster_ESPN) August 25, 2019
Oh no, Zo: In a season already marred by controversy, injuries, underperformance, drama, and uncertainty, the Cubs will now have to decide what they'll be doing with Ben Zobrist. His offensive numbers have been terrible in the minors, but they say the call-up is still in line for September first. The expanded rosters will undoubtedly allow some leeway to accommodate Zo, but Theo Epstein has to be wondering at this point, just how much Ben will be able to contribute on the field.
Daily Zo: Ben Zobrist 0-for-4 last night and now 2-for-16 at Iowa, and .189 overall in 12 minor league games. Cubs' next move is TBA. Call-up by Sept. 1 still in line.

— Paul Sullivan (@PWSullivan) August 25, 2019
Time for a (multiple) double-take: To further accentuate the point that I made in my commentary about the absurdity of Player's Weekend, here's a video from Baseball Quotes' Twitter page, showing all 30 teams in action this weekend, while hitting bombs. One would think these were all highlights from the same two teams, but not so.
???????? pic.twitter.com/l5xcutyyRZ

— Baseball Quotes (@BaseballQuotes1) August 25, 2019
3-AM: After suffering a fractured tibia (shin) several weeks ago, former Cub, Tommy La Stella, is now hitting off a tee and doing a little fielding. Tommy was having the best season of his career, before the injury.
Baseball Quotes:
There are only three outs an inning, and they should be treasured. Give one away, and you're making everything harder for yourself. -Earl Weaver pic.twitter.com/EkYlC2xyqb

— Baseball Quotes (@BaseballQuotes1) August 23, 2019
Cubs Birthdays: Celebrating yesterday, were ex-Cubs Adam Warren (32), Gary Matthews Jr. (45), Doug Glanville (49), and posthumously, Floyd "Rube" Kroh (133).
THIS WEEK'S NL CENTRAL SCHEDULE:
(Wins in green, losses in red)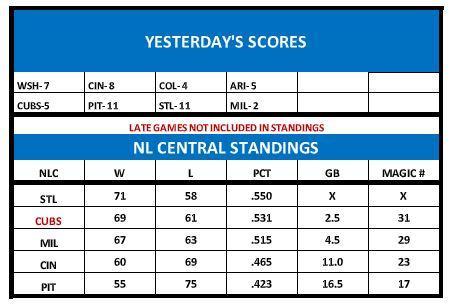 Tags: Cubs Baseball
,
Yu Darvish
,
Cole Hamels
,
Addison Russell
,
Jason Heyward
,
,
Kyle Schwarber
,
Rowan Wick
,
Kyle Ryan
,
Brandon Kintzler
,
Victor Caratini
,
Tyler Chatwood
,
Kyle Hendricks
,
,
Anthony Rizzo
,
David Bote
,
Ben Zobrist
,
Tommy La Stella
,
Adam Warren
,
Joe Maddon
,
Theo Epstein