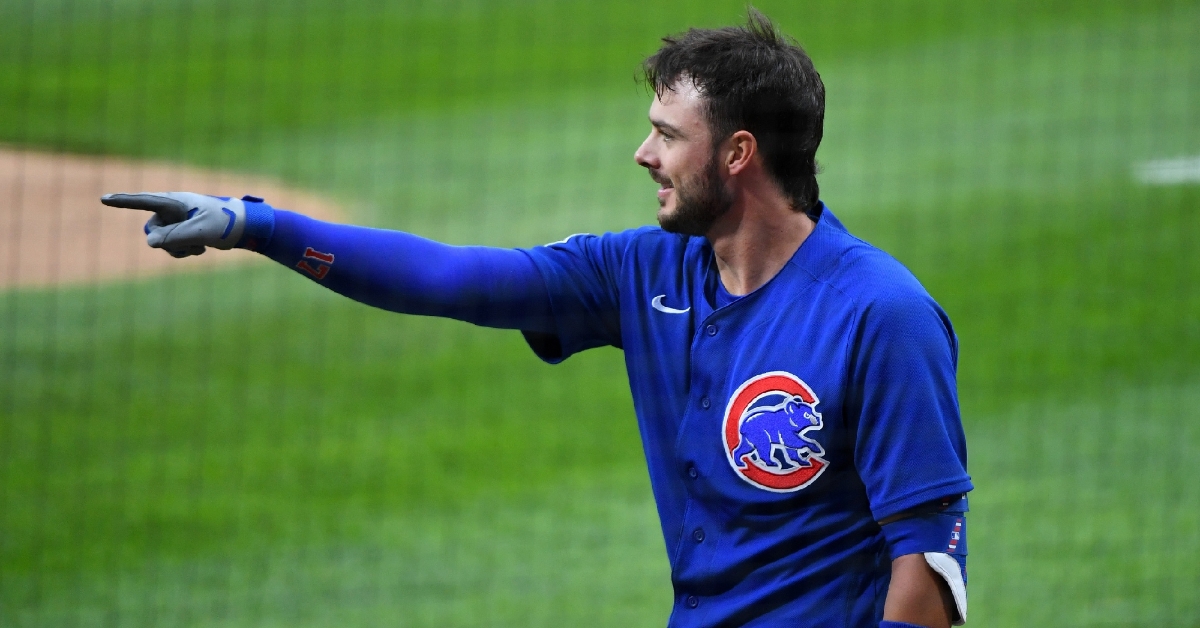 | | |
| --- | --- |
| Cubs News and Notes: ESPN drops the ball, Cubs exhibition breakdown, more | |
---
| | | |
| --- | --- | --- |
| Tuesday, July 21, 2020, 3:26 PM | | |
CUBS NEWS AND NOTES
Opening Day: Just three more days! Brewers @ Cubs, July 24th. Game time is 6:10 PM Central, and this will be televised on Marquee Network, ESPN and Fox Sports Wisconsin.
Mini rant: Now that I'm a Wisconsinite, I can't tell you how grateful I am to get FSWI as part of my YouTube TV programming package. ESPN has provided the worst coverage imaginable for baseball, and their broadcast for last Sunday night's matchup between the Cubs and White Sox was terrible.
Led by Jon Sciambi, Chipper Jones and Rick Sutcliffe seemed to spend more time telling war stories from their glory days than calling the game. Sciambis' excuse was that he was in his apartment and not privy to players' names, but the truth is, he was too busy telling Chipper Jones about how Chipper's green sports jacket looked like something from the Masters in golf.
Fans got on him, but Scaimbi was quick to offer to defend himself.
Easy bro...I'm calling the game from MY APARTMENT...it's hard. "Just calling the game" is not simple in these conditions when say, I don't know the changes or can't see stuff. And yeah, sorry but we're not gonna do "are the Cubs gonna rally??" In a 7-3 meaningless game.

— Jon Sciambi (@BoogSciambi) July 20, 2020
It's become blatantly obvious (and sad) that ESPN prioritizes every sport except baseball. Great that the Cubs and others get national coverage, but it would help if they actually "covered" the game. Excellent that Sciambi basically said they didn't give a damn since the Cubs were down by four runs late in the game. Rant over.
Cubs now 0-2: While I managed to watch all of Sunday night's game against the White Sox, I didn't get to see all of last night's game, but I saw enough.
Before everyone starts nagging at me – YES – I understand these are practice games and that they don't affect the standings, but the truth is – believe it or not – they do matter. The Cubs are now 0-2 in the exhibition series, with Opening Day coming on Friday.
Omg back to Sunday's game, Kyle Hendricks looked good until the fifth, as he started to tire. His objective was to throw 85 pitches, and he fell just short of that marl with 83. His finesse was there, his breaking stuff was moving, and he managed to collect a pair of strikeouts. On the downside, he'd given up a couple of hits and walks before the fifth, but once the Sox came to bat in the fifth, they were all over the Professor. He left the game with men on base, but the Cubbies still held a 2-0 lead. Then disaster struck.
David Ross elected to put Jharel Cotton in to relieve Hendricks. When they signed this kid, I said it was a waste of time, money, and resources, and Cotton managed to confirm my belief in the span of 14 pitches. The first four batters he faced went double, double, double, triple, putting the Sox up 6-2; three of those runs were charged to Hendricks. Next, Rex brothers, another new addition n to the bullpen, gave up a run in the seventh, allowing the Sox to build a five-run lead. Dan Winkler looked good in the eighth, and while Rowan Wick issued a walk, he shut the Sox down in the ninth.
The Cubs bullpen was never strengthened this winter. They lost Brandon Kintzler and Pedro Strop but did nothing to replace them with anyone of equal talent. I still hold out hope for Jeffress, Tepera, and maybe even Winkler, but the Cubs are in trouble if they need to rely on guys like Cotton.
Defensively, Javier Baez looks good at short, though he did commit an error on Sunday. Nico Hoerner looks comfortable at second and needs to remain there. And Willson Contreras? Yeah, well…
u live u learn pic.twitter.com/MrUqwlET37

— Chicago Cubs (@Cubs) July 20, 2020
Concerning the Cubs' offense on Sunday, they could only muster five hits (David Bote, Jason Kipnis, Willson Contreras, Nico Hoerner, and Victor Caratini). I was blown away by Kipnis being allowed to DH, and even further mesmerized when he jacked a home run in his first at-bat. I had a feeling Hoerner would hit, and he did, accumulating an RBI in the process.
Local kid!@TheJK_Kid pic.twitter.com/aybn5mXt6f

— Chicago Cubs (@Cubs) July 20, 2020
Kris Bryant led off both games, and he's now 1-6 from that spot. I said it before and I'll repeat it, Bryant is not the guy to be leading off. Put Ian Happ in that spot. Coincidentally, Happ went 0-3 in those two games, playing only partial innings over the last two days, but I feel that he'd serve better as a leadoff man than Bryant will.
So far as Monday's game, Yu Darvish wasn't tuned up yet, though I have no doubt that he competes for a Cy Young this year. He endured a rough first inning, hurling 22 pitches before he ever saw the first out. If that wasn't bad enough, he served up a grand-slam ball to former Cubs Eloy Jimenez. The Cubs would lose this match by a final of 5-3.
Yu live Yu learn. pic.twitter.com/06adD5ulkw

— Chicago White Sox (@whitesox) July 21, 2020
Whether the games count in the standings and stats is irrelevant. This is it. The final road to the regular season and the Cubs needed at least one of hose games for the sake of morale, if for no other reason. The Cubs host the Twins tomorrow at 6:05 PM, with that game televised on Marquee, FSN, and MLB TV. Chicago is now 0-2 against a White Sox team that only won 79 games last year while next hosting Minnesota, who won 101 games in 2019.
Last year (2019 season), when I griped about bad spring training games and poor showings early in the season, many readers had the same response: "Chill out, man. April and May don't matter." OK. Quick question: What were you doing October second last year? I guarantee you weren't watching the Cubs play postseason ball. These games DO matter, just not in terms of the season standings.
Best of luck to the Cubbies, but they need to tighten up a lot before Friday.
Cubs' Birthdays: Celebrating today, ex-Cubs Kyuji Fujikawa (40), Nelson Mathews (79), and posthumously, Myron "Moe" Drabowsky (85), Billy Holm (108), and Johnny Evers (139).
Baseball Quotes: "Cub fans, by consensus, are the best in baseball. Year after year, in good times and (mostly) bad, they turn out in vociferous numbers, sustaining themselves with a heavenly ichor that combines loyalty, criticism, cheerfulness, durability, rage, beer and hope, in exquisite proportions." -Roger Angell
Tommy Lasorda is NOT a fan of the Philly Phanatic! ???? pic.twitter.com/i848aRjy2O

— Baseball Quotes (@BaseballQuotes1) April 4, 2020

Upgrade Your Account
Unlock premium boards and exclusive features (e.g. ad-free) by upgrading your account today.
Upgrade Now

Tags: Cubs Baseball
,
Kyle Hendricks
,
David Ross
,
Jharel Cotton
,
Rowan Wick
,
Brandon Kintzler
,
Pedro Strop
,
,
Willson Contreras
,
David Bote
,
Victor Caratini
,
Kris Bryant
,
Ian Happ
,
Yu Darvish