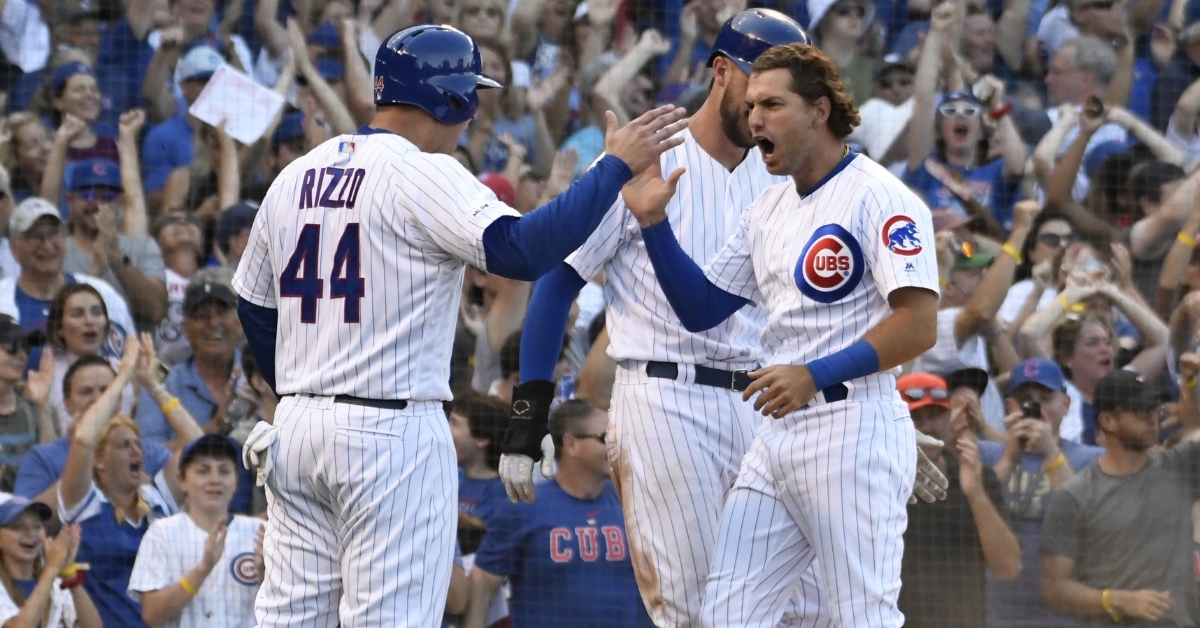 | | |
| --- | --- |
| Cubs News and Notes: Fly the W, Final Countdown, Javy Baez injury update, Contreras news | |
---
| | | |
| --- | --- | --- |
| Tuesday, September 3, 2019, 8:45 AM | | |
Next Game: Tuesday: LHP Jon Lester (11-9, 4.36 ERA) vs RHP Felix Hernandez (1-4, 6.02 ERA). Game information: 7:05 PM CDT; Televised on NBC Sports Chicago.
Monday's Game Recap:
After losing two consecutive home series (Nationals and Brewers), Chicago hoped to gain a little ground in the NL Central, as they began hosting the Mariners for a two-game set yesterday. Righty Kyle Hendricks would take the hill for Chicago, while rookie-righty, Justus Sheffield did the hurling for Seattle.
This game would begin with a familiar theme: The Cubs stranding runners in scoring position. In each of the first two frames, the Cubs had a runner at third with two away but couldn't get the run pushed across; in the third, they left a runner at second. There were a couple of brief highlights in the second and third, as Addison Russell hit his 100th career double, followed an inning later by Nicholas Castellanos' 47th double of the season. 0-0 after three.
The Mariners would finally hit pay-dirt in the fifth, tagging Hendricks for a run. Seattle leads 1-0. That score would hold up through the top of the seventh, but when the Cubs came to the plate in their half of the inning, all hell would break loose.
Back to back walks to Jason Heyward and Kris Bryant would get the Cubs moving. Nicholas Castellanos would fan, but Anthony Rizzo would drop a single into shallow center, scoring Heyward to tie it. An errant throw from Fraley (CF) would then allow both Bryant and Rizzo to advance one base. Albert Almora Jr. (pinch-hitting) would be intentionally walked, bringing up Kyle Schwarber who tripled to clear the bases. It wasn't necessarily pretty, but it was effective…
We spoil you.#EverybodyIn pic.twitter.com/Mdd1hzV1L7

— Chicago Cubs (@Cubs) September 2, 2019
With still only one away and the infield pulled in, Addison Russell hit a chopper to short, but Bam-Bam was running with contact. The throw came home, but not before Schwarber slid in safely. Cubs lead 5-1, with the inning-ending Victor Caratini hitting into a 6-4-3 double play. With these runs, Chicago finally snapped a 24.1 inning (home) scoreless streak.
Duane Underwood Jr. would handle the eighth, allowing just one hit, then newcomer, (LHP) Brad Wieck fan two of the three that he faced.
Fly the W, cue the music, and sing the song. Cubs snap their losing streak at the expense of Seattle by a final score of 5-1.
Kyle Hendricks would earn another quality start, lasting 6.0 inning, while allowing only one earned run on three hits and walk (7 strikeouts).
Five-run 7th propels #Cubs past Mariners.

Recap: https://t.co/epeWE2gfXS #EverybodyIn pic.twitter.com/wy8aWnyYdL

— Chicago Cubs (@Cubs) September 2, 2019
CUBS NEWS AND NOTES
Cubs/Brewers Probable Pitchers: Thursday: LHP Jose Quintana (12-8, 3.90 ERA) vs Chase Anderson (6-4, 4.58 ERA). Game information: 6:10 PM CDT; Televised on NBC Sports Chicago. Friday: LHP Cole Hamels (7-5, 3.69 ERA) vs RHP Zach Davies (8-7, 3.76 ERA). Game information: 7:10 PM CDT; Televised on NBC Sports Chicago. Saturday: RHP Yu Darvish (5-6, 4.25 ERA) vs LHP Gio Gonzalez (2-2, 4.14 ERA). Game information: 6:10PM CDT; Televised on WGN. Sunday: RHP Kyle Hendricks (9-9, 3.47 ERA) vs RHP Adrian Houser (6-5, 3.52 ERA). Game information: 1:10 PM CDT; Televised on NBC Sports Chicago.
Roster Moves: Yesterday, the Cubs recalled RHP Adbert Alzolay, bringing the roster to 34. It's highly unlikely that anyone will be demoted.
Adbert Alzolay is back with Cubs and said he feels 100% physically after the minor biceps issue earlier in the summer and he's ready to help the big-league club however he can out of the bullpen (or as a starter if needed).

— Tony Andracki (@TonyAndracki23) September 2, 2019
The final countdown: While the Cards continue to dominate the NL Central, the Cubs have a strong foothold on second, followed by the Brewers, who now sit 7.0 games back in third place. Cincinnati remains 13.5 games out, with Pittsburgh barely clinging to life (17.0 games back). Although the Bucs sat idle on Monday, St. Louis' win now has the Pirates elimination number in single digits (9). The Reds will be next, as theirs currently sits at 12.
Baez day-to-day: Javier Baez stole a base in Sunday's matchup with the Brewers, and it may have been costly- to the Cubs. After a throw to first that should have had Baez picked off, Javy broke for second, slid head-first and wound up jamming his left thumb. The ensuing collision with Brewers' shortstop, Orlando Arcia, also caused Javy to incur a neck injury.
Jammed left thumb for Javy Baez on that stolen base. Maddon said it locked up to the point where Javy was struggling to hold a bat, so they took him out of the game.

— Tony Andracki (@TonyAndracki23) September 1, 2019
Javy received x-rays after leaving the game, and fortunately, those came back negative. Baez will, however, remain on a day-to-day status for the time being.
Maddon on the standings: "I've been here before," Maddon said. "I understand the situation. You're not going to hear me cry about it. We just gotta come back and take care of our own business starting again (Monday) and moving it forward. We can win four in a row just as quickly as they can lose four in a row. I've been there, done that. Right now, they're enjoying this moment, and we're not. But moments change and the power of 24 hours is incredibly good sometimes."
Rizzo's Record: Somebody call Guinness! No, not the beer, you dolts, the people who write the Book of World Records. When Rizzo got beaned on Sunday, he tied the Cubs all-time record at 137. With his two plunks on Monday, he propelled himself into the lead at 139.
Rizzo now has the 3 baseballs he was hit with over last couple gms in cases in his locker. Franchise tying ball & 2 from today. Asked if he gladly takes congrats on record: "Absolutely! Are you kidding me? With this franchise and how long Cubs have been here. It's a record" #Cubs

— Kelly Crull (@Kelly_Crull) September 2, 2019
Cubs' Notes: Before yesterday's game, the Cubs had only 12 games left at Wrigley, and 14 on the road. Chicago's .652 home winning percentage (45-24) is 2nd in N.L., and 4th in the majors; however, their .418 road winning percentage (28-39) is 12th in the N.L. and 21st in MLB.
Robel Garcia gets a start: With Javier Baez injured in an on-field collision on Sunday, Joe Maddon shifted Addison Russell to short and elected to start Robel Garcia at second. Garcia was starting to show promise at second base before being demoted, but his waning bat seemed to be the ultimate cause behind his trip to Iowa.
I'm a little confused as to why Maddon would put the rookie in the fifth spot of the order, especially considering that Russell and Schwarber were buried behind him. Garcia went 0 for 2 with a walk on Monday. Javy could also be rested on Tuesday, according to Joe Maddon, who apparently feels that they'll have no issues with beating Seattle.
Darvish's arm: Reports from the Cubs' camp say that Yu Darvish was scratched yesterday due to forearm tightness- a condition which both Joe Maddon and Tommy Hottovy say has been plaguing Yu for almost a month.
Updates...

• Maddon said he's "anticipating good" for Darvish. Doesn't think it's serious.
• On Baez: "Nothing other than the fact that it's sore." Might also sit Tuesday.
• "A lot of playing time in Milwaukee" coming for Zobrist.
• No plans for Alzolay to start.

— Jordan Bastian (@MLBastian) September 2, 2019
When reporters tried to question Darvish about his arm and any prognosis, Darvish refused to comment. As for now, Darvish is still scheduled to start in Milwaukee on Saturday.
Yu Darvish declined to talk to reporters about his forearm. As of now, he's tentatively in line to start again Saturday.

— Jordan Bastian (@MLBastian) September 2, 2019
Maddon on Zo: Joe Maddon says that although Ben Zobrist has been available off the bench since Sunday, fans should expect to see him get a start today against Seattle.
Willy's getting close: The Cubs say that Willson Contreras could rejoin the team this weekend in Milwaukee, so long as everything goes well in his next couple of rehab starts. The official word is that Contreras is "getting pretty close."
Baseball Quotes: "I don't like to sound egotistical, but every time I stepped up to the plate with a bat in my hands, I couldn't help but feel sorry for the pitcher." -Rogers Hornsby
Coming into a game in the eighth or ninth inning is like parachuting behind enemy lines. And sometimes the chute doesn't open. You have to live with that. It's an occupational hazard. -Dan Quisenberry pic.twitter.com/cErMfHB63Z

— Baseball Quotes (@BaseballQuotes1) August 27, 2019
Cubs Birthdays: Celebrating yesterday, were ex-Cubs Jason Hammel (37) and posthumously, Gordon Massa (84), Len Rice (101), and Al Spalding (169).
THIS WEEK'S NL CENTRAL SCHEDULE:
(Wins in green, losses in red)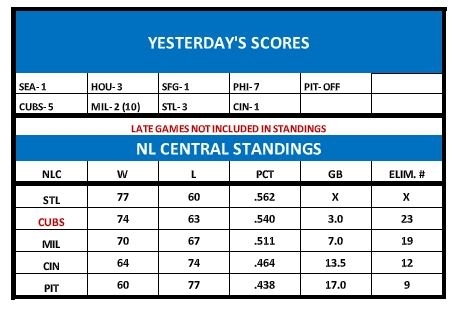 Upgrade Your Account
Unlock premium boards and exclusive features (e.g. ad-free) by upgrading your account today.
Upgrade Now

Tags: Cubs Baseball
,
,
Kyle Hendricks
,
Addison Russell
,
Jason Heyward
,
,
Anthony Rizzo
,
Albert Almora Jr
,
Kyle Schwarber
,
Victor Caratini
,
Duane Underwood
,
Jose Quintana
,
Cole Hamels
,
Yu Darvish
,
Adbert Alzolay
,
,
Robel Garcia
,
Ben Zobrist
,
Willson Contreras
,
Jason Hammel
,
Joe Maddon
,
Tommy Hottovy