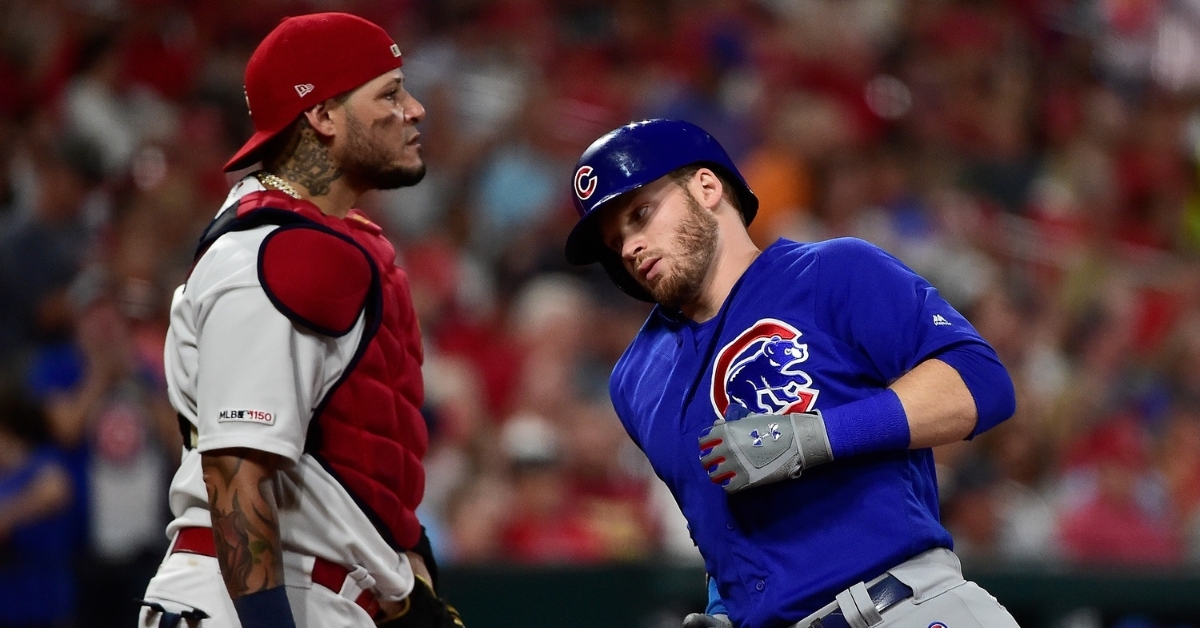 | | |
| --- | --- |
| Cubs News and Notes: Fly the W, Goodbye WGN, Maddon's plans, Marquee network, more | |
---
| | | |
| --- | --- | --- |
| Saturday, September 28, 2019, 8:16 AM | | |
Next Game: Saturday: LHP Cole Hamels (7-7, 3.92 ERA) vs RHP Miles Mikolas (9-14, 4.16 ERA). Game information: 6:15 PM CDT; Televised on FOX.
Friday's Game Recap:
With 159 down and only three to play, a weary Cubs team took the show to St. Louis to finish the season. Last night it was Alec Mills and a relatively strong Cubs lineup, taking on the Cards.
Other than giving up a home run to Matt Carpenter in the fourth, Alec Mills was brilliant through five, holding the Cardinals to a 1-0 lead, while fanning a total of nine. This lead would have been 2-0, had it not been for this home run-robbing play from Albert Almora Jr.
.@albertalmora out here stealing souls tonight. pic.twitter.com/Igvnh82BV3

— Chicago Cubs (@Cubs) September 28, 2019
After replacing Hudson with Gallegos to start the sixth, the Cubs would tie it on Ian Happ's solo shot to the right. Almora would take an at-bat in the inning but looked to suffer a cramp in his right calf, ending his night after reaching on a walk, then advancing to second on a walk issued to Robel Garcia.
Steve Cishek would replace Mills in the sixth, then Brad Wieck would replace Cishek, but the Cubs would escape damage. Tied 1-1 after six.
The Cubs compiled a massive seventh inning, batting around, and finally looking like they wanted to win. It started with Ben Zobrist's walk. With one away, Willson Contreras singled, moving Zo to third, then Zo would score on Happ's double. Miller would throw a wild pitch to Victor Caratini, scoring Contreras, then Caratini would take first after getting plunked. Helsley replaced Miller, but it wouldn't help matters for the Cards. Nico Hoerner singled, scoring Happ, then Robel Garcia delivered a three-run blast. Tony Kemp doubled; Zobrist singled, but that would end it, as Schwarber flew out to left-center. Cubs up 8-1. By this point, Brewers fans were undoubtedly cheering for the Cubs, as Colorado was manhandling Milwaukee by a score of 11-4 in the eighth.
The Cardinals managed to get one back in the seventh, but Rowan Wick held tough, pitching himself out of a jam. Cubs lead 8-2 after eight.
Pedro Strop would cover the eighth, Brandon Kintzler the ninth, and the Cubs would win for the first time in 10 games. Final 8-2. Fly the flag, sing the song (if you still remember the words).
Alec Mills hit a career-high in K's with 9? pic.twitter.com/kk7VN9vfHz

— Cubs Talk (@NBCSCubs) September 28, 2019
CUBS NEWS AND NOTES
Cubs/Cards Probable Pitchers: Sunday: Cubs TBD vs Adam Wainwright (14-9, 3.98 ERA). Game information: 2:15 PM CDT; Televised on ABC-7.
Bow to Baseball Prospectus: During the spring, Baseball Prospectus said the Cubs would win 82 games and finish third in the NL Central. Entering play last night, the Cubs had won 82 games and were in third place in the NL Central.
Goodbye, WGN: After 72 years, WGN carried their last Cubs game ever last night, almost a strange irony, as 720 AM is WGN's number on the AM dial. Long before cable and satellite, anyone close to my age (who grew up in Chicago) can remember coming home from school as a child, only to find that WGN (Channel 9) had preempted Scooby-Doo, Gilligan's Island or any one of a number of other shows, to broadcast the Cubs game. Let me tell you, that wasn't always fun- especially when you were six or so and didn't necessarily have the patience for a four-hour ballgame.
April 16, 1948: @WGNTV broadcasts its first #Cubs game.

Thank you for bringing baseball fans some of the most memorable Cubs moments over the last 72 seasons. pic.twitter.com/NLpSWZS6pt

— Chicago Cubs (@Cubs) September 27, 2019
It wouldn't be too long before I was hooked, watching in amazement as the players who became my childhood heroes talked to Jack Brickhouse, Jimmy West or Milo Hamilton on The Leadoff Man, the Cubs' 20-minute pregame show that aired at 1:00 PM sharp before the games. WGN would transform over the years, becoming a standard cable TV station, which would rival TBS in Atlanta, but for a long time, to us Chicagoans, it was just how we saw the Cubs games. Thanks for so many years, WGN, you were always at your best, even when the Cubs weren't.
Maddon on his future with Chicago: "I got to know by Monday. I'll be in Hazleton [Pennsylvania] relatively soon. I'll be at the golf course and seeing [my mom] Beanie and all that stuff. [My wife] Jaye and I are just trying to plot how to get there and when. But I'm not one to stick around a lot. When you don't win, man, just go. Just go, brother."
Maddon: "I'm still having a good time, and I will." pic.twitter.com/2KuYINEPzk

— Mark Gonzales (@MDGonzales) September 27, 2019
Maddon putting things in perspective: pic.twitter.com/s04xZwVlYY

— Mark Gonzales (@MDGonzales) September 27, 2019
Marquee Network: As WGN and NBC Sports Chicago step aside, the Cubs' new Marquee Network will be taking their places. Theo Epstein says that the Cubs won't feel the effects of their new network for at least a few years, so far as providing revenue that could help with player salaries. The network was supposed to launch later this year, but the latest word from the Cubs is that it will start on February 2020. Thus far, no information has been given as to how to obtain it (cable package, MLB TV, Roku, or other streaming services).
Ken Rosenthal: "It's easy to say now, but the Cubs waited one year too long on Joe Maddon." Rosenthal wrote an article for The Athletic yesterday morning (subscription only), discussing why the Cubs should have fired Maddon last year. There's a ton of insight in the article, but Rosenthal ends his piece by saying, "Of course, hindsight is 20-20. Only now, after a lost season, is everything clear. When is the right time for a team to part with a manager? For the Cubs and Maddon, the answer no longer is in question. The time is now."
Jersey sales: Despite an ugly year for Chicago, three Cubs players were still among the top-20 in jersey sales. Javier Baez ranked #4, while Anthony Rizzo ranked #10, followed by Kris Bryant, who's jersey was the 16th most popular this year.
Castellanos scratched: Nicholas Castellanos was scheduled to start last night, presumably so that he could pursue his quest to reach 60 doubles. Just a couple of hours before game time, Maddon removed him from the lineup, citing a groin issue.
Castellanos scratched from #Cubs lineup with right groin tightness. Almora in CF, Kemp to RF.

— Bruce Miles (@BruceMiles2112) September 27, 2019
Yu's stoked: Yu Darvish is already planning his off-season workouts, as he doesn't want to do anything that will disrupt his flow. Look at the confidence Darvish has gained- it's impressive.
Darvish looks forward to 2020 pic.twitter.com/5YfTbdk2zn

— Mark Gonzales (@MDGonzales) September 27, 2019
When Yu was asked about the ability to opt-out of his contract and become a free agent, Darvish says, "I haven't decided yet. I have to talk to my family and agent, too. My kids and my wife love Chicago, especially the kids. They only care about the Cubbies. So, I don't think [I will opt out]."
When asked about Maddon, Darvish replied, "He's a great person, not only a great manager. Especially last year and the beginning of the year, he was so patient for me. That's why I feel really good right now, because of him."
Farewell to a legend: King Felix Hernandez left the field to a standing ovation and tears pouring out of his eyes on Thursday, as he recorded the final out of his illustrious 15-year MLB career. Congratulations, Felix, good luck in your retirement, and thanks so much for the memories.
King Felix's Final Out in Seattle. ???? pic.twitter.com/Cn3cc4wuut

— Rob Friedman (@PitchingNinja) September 27, 2019
Baseball Quotes: "When Steve [Carlton] and I die, we are going to be buried in the same cemetery, 60-feet 6-inches apart. -Tim McCarver
Why does everybody stand up and sing "Take Me Out to the Ballgame" when they're already there? -Larry Anderson pic.twitter.com/4ncGsE0DMD

— Baseball Quotes (@BaseballQuotes1) September 26, 2019
Cubs' Birthdays: Celebrating yesterday, was ex-Cubs pitcher, Don Schulze (57).
THIS WEEK'S NL CENTRAL SCHEDULE:
(Wins in green, losses in red)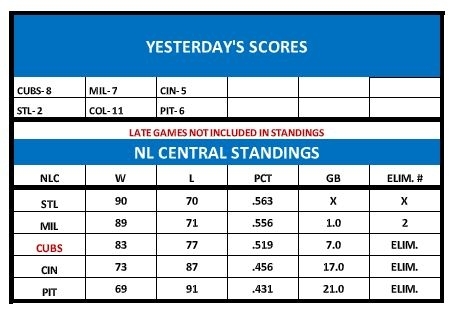 Tags: Cubs Baseball
,
Cole Hamels
,
,
Albert Almora Jr
,
,
Robel Garcia
,
Steve Cishek
,
Ben Zobrist
,
Willson Contreras
,
Victor Caratini
,
Rowan Wick
,
Pedro Strop
,
Brandon Kintzler
,
,
Anthony Rizzo
,
,
Yu Darvish
,
Joe Maddon
,
Theo Epstein