| | |
| --- | --- |
| Cubs News and Notes: Fly the W, Happy times, Cubs sign veteran catcher, El Mago dinged up | |
---
| | | |
| --- | --- | --- |
| Thursday, August 8, 2019, 7:54 AM | | |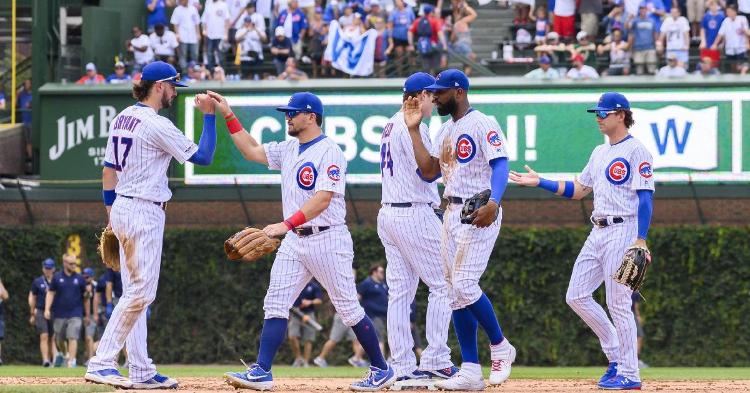 Next Game: Today: LHP Cole Hamels (6-3, 2.84 ERA) vs LHP Alex Wood (1-0, 3.18 ERA). Game time 6:10 PM CDT; NBC Sports Chicago.
Wednesday's game recap:
After suffering a brutally ugly loss on Tuesday, the Cubs set out to win the rubber-match with Oakland yesterday afternoon. Jose Quintana has been hot, and the Cubs have played well behind him, although Homer Bailey hasn't been kind to the Cubs' offense in the past.
Things would remain quiet until the fourth when Oakland broke the scoreless tie by capitalizing on Semien's leadoff double. A pair of flyouts would move him from second to home, putting the A's up 1-zip, but that's a far cry better than the 11-0 lead they had on Tuesday.
The Cubs half of the fourth looked quite different than it did Tuesday. The scoring would begin with Javier Baez's RBI single to right, which scored Kris Bryant (Anthony Rizzo was also on base after being hit by a pitch in the foot.) After Kyle Schwarber walked to load the bases, it would be Ian Happ's turn at-bat.
Happ was looking for a fastball all the way, and when Bailey dealt him one at 95 mph, Happ pounced, smashing it into the left-field bleachers. Cubs lead 5-2.
Happ & slams. #EverybodyIn pic.twitter.com/5Jqe0QDhkq

— Chicago Cubs (@Cubs) August 7, 2019
Happ does seem to be seeing the ball a lot better lately, and certainly, for the sake of the Cubs, I hope he can keep it up. His exit velocity has been insane the last couple of days, and he's making good contact- nobody could ask for more. I certainly don't expect a grand slam per day, but if he's going to remain in the lineup, I certainly hope he can produce even one hit per game.
After Jose Quintana dominated again in the top of the fifth, the Cubs' offense gave him a little more run support in the bottom of the frame.
It all started with Nick Castellanos' 43rd, MLB leading double with two away. Next, Rizzo would reach on a very odd-looking infield single, when he hit a squib off the bat that changed directions three times (Castellanos to third). This would also end Homer Bailey's day. Javy would get another RBI single to make it 6-1, then Bam-Bam would let loose with a three-run Schwar-Bomb to make it 9-1.
Wish you were here @DALLASBRADEN209. #EverybodyIn pic.twitter.com/NTcsb5zaZL

— Chicago Cubs (@Cubs) August 7, 2019
.@kschwarb12's home run just landed... in Oakland. @Cubs @MLB https://t.co/62SVMxsQ9H

— Oakland A's (@Athletics) October 13, 2015
Just for good measure, Victor Caratini added this gem in the eighth, making it 10-1 Cubs, which is how it would end.
One for the road. #EverybodyIn pic.twitter.com/EKCy9bOELv

— Chicago Cubs (@Cubs) August 7, 2019
Joes Quintana was a beast, as always (and the Cubs would be crazy not to pick up his option for next year, but more on that later).
?? @jose_quintana24!#EverybodyIn pic.twitter.com/8dVc8xFkaY

— Chicago Cubs (@Cubs) August 7, 2019
CUBS NEWS AND NOTES
Cubs/Reds Probable Pitchers: Friday: RHP Yu Darvish (4-5, 4.36 ERA) vs RHP Trevor Bauer (9-8, 3.85 ERA). Game time 6:10 PM CDT; NBC Sports Chicago. Saturday: RHP Kyle Hendricks (8-8, 3.06 ERA) vs RHP Sonny Gray (6-6, 3.25 ERA). Game time 6:10 PM CDT; WGN. Sunday: LHP Jon Lester (9-8, 4.46 ERA) vs RHP Luis Castillo (11-4, 2.63 ERA) Game time 1:20 PM CDT; NBC Sports Chicago.
Cubs sign catcher: In their effort to fill the void left by Willson Contreras, who will be out for the next month, the Cubs landed veteran catcher, Jonathan Lucroy, who'd just been released by the Angels on Wednesday.
Lucroy will be with the team tomorrow in Cincinnati. Taylor Davis optioned to Iowa.

— Sahadev Sharma (@sahadevsharma) August 7, 2019
Lucroy is currently taking part in his 10th big-league season and was previously named an All-Star as a member of the Milwaukee Brewers in 2014 and 2016.
Happ with the ha-ha: Ian Happ's post-game interview contained one of the funniest things I've ever heard him say, and, in my opinion, he even got a little dig in at Joe Maddon. When asked how he managed to stay sharp while not playing every day, Happ replied, "Well, I've had some experience with that."
.@ihapp_1 had himself a day, so he joins @Kelly_Crull ON THE DIAMOND to talk about it (@JandSJewelers) pic.twitter.com/ifhWtA2oK1

— Cubs Talk (@NBCSCubs) August 7, 2019
Nick Castellanos: When it comes to sabermetrics, the Cubs' newest outfielder doesn't pay much attention. "I'm not a guy that looks at video. I don't really know what my launch angle is. The only thing I'm trying to do is hit this ball really hard. And whatever is going to happen is going to happen."
The weakest link: After taking a beating for four innings, in the Cubs' 11-4 loss on Tuesday night, Jon Lester sounded just about as down as one can be.
"I'm pretty much the weakest link in the rotation right now, and I got to figure out a way to right that ship and flat out do better"- Jon Lester
Jon Lester Chicago Cubs 4-11 Oakland Athletics #postgame #jonlester pic.twitter.com/jXF4tFI1CM

— Yodeportes (@Yodeportescom) August 7, 2019
I understand injuries and the need for the starters to go deep, but for Joe Maddon to leave Jon hanging out to dry while taking that kind of beating, is beyond me. For whatever reason, Lester had a bad night, and those certainly happen.
Schwarbs catches: It's been two years, but Kyle Schwarber finally donned the catching gear in the ninth inning on Tuesday night- even if he was only catching Taylor Davis' 55 mph fastballs. I don't think Kyle is quite ready to replace Willson Contreras, but hey- at least it was a little practice if the Cubs get jammed up for another catcher.
Javy dinged up: Let's hope (pray) that this doesn't turn into anything serious, but Javy Baez fouled a pitch off of his shin yesterday, that laid him out flat from the pain. He was attended to by Cubs' assistant trainer, Nick Frangella, and wound up completing his at-bat, before being pulled for the day. Don't panic about Javy being removed, most likely just a precautionary measure, and with the Cubs up by eight runs, it only made sense.
Maddon also said Javy is fine after hitting foul ball just above the protective pad on his left leg. He came out of the game just 'cause Cubs were up big and it was late - no sense in pushing it.

— Tony Andracki (@TonyAndracki23) August 7, 2019
THIS is an offense: It's hard to fathom one guy making such a difference for the entire team, but I genuinely believe this is a whiplash effect from Nicholas Castellanos. Not that the Cubs hadn't been hitting or scoring runs before the trade that brought Nick to Chicago, but they'd do so very sporadically, and we won't even talk about the hitting with runners in scoring position.
Whatever the reason behind it- THIS is the sort of offense deserving of being in first place in the standings, and it denotes a team who is capable of making a valid run in October.
Schwarber 7-for-12 (.583) with a double, 2 HRs, 6 RBI and 5 walks in last 6 games. 26 homers match 2018. Baez 11-for-23 (.478) with 2 doubles, 1 triple , 3 HRs, 8 runs and 9 RBI

— Mark Gonzales (@MDGonzales) August 7, 2019
Castellanos has hit safely in his first 10 career games at Wrigley
Field (.405/17-for-42), 1st player to do so since Andrew McCutchen (2010-11). Castellanos leads majors with 43 doubles.

— Mark Gonzales (@MDGonzales) August 7, 2019
Add a single and ANOTHER 103 MPH lineout https://t.co/fNM0YkFZtk

— Michael Cerami (@Michael_Cerami) August 7, 2019
Girardi back to managing: Nope, not MLB- at least not yet, but Girardi has been tasked with leading Team USA. Who knows? Maybe MLB next year… maybe Chicago next year.
Joe Girardi will manage Team USA at the @WBSC Premier12 in November — a qualifying tournament for @Tokyo2020. Massive news for @USABaseball. Girardi's role with the team will be a major boost to U.S. efforts to attract the best players. @MLB @MLBNetwork https://t.co/lFL5MPvELD

— Jon Morosi (@jonmorosi) August 7, 2019
Baseball Quotes: "Do what you love to do and give it your very best. Whether it's business or baseball, or the theater, or any field. If you don't love what you're doing and you can't give it your best, get out of it. Life is too short. You'll be an old man before you know it." -Al Lopez
Cubs Birthdays: Celebrating yesterday, were ex-Cubs Marc Pisciotta (49), Don Larsen (90), and posthumously, William "Adonis" Terry (155).
THIS WEEK'S NL CENTRAL SCHEDULE:
(Wins in green, losses in red)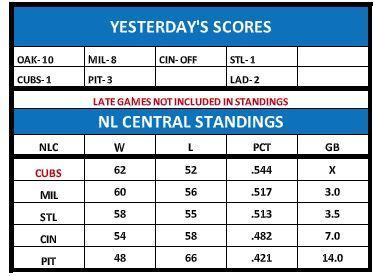 Tags: Cubs Baseball
,
Cole Hamels
,
Jose Quintana
,
,
,
Anthony Rizzo
,
Kyle Schwarber
,
,
Victor Caratini
,
Yu Darvish
,
Kyle Hendricks
,
,
Willson Contreras
,
Taylor Davis
,
Joe Maddon