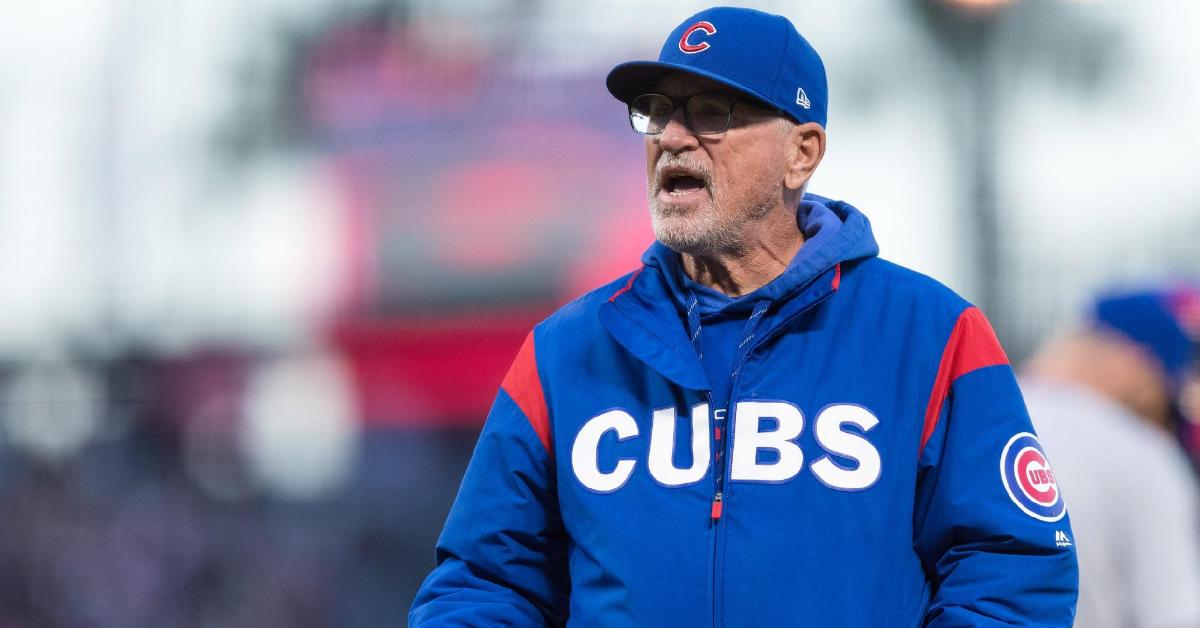 | | |
| --- | --- |
| Cubs News and Notes: Maddon talk, Yu's Sword, Cubs manager rumors, Wild-card race, more | |
---
Next Game: Tuesday: RHP Kyle Hendricks (11-9, 3.26 ERA) vs. RHP Mitch Keller (1-5, 7.74 ERA). Game information: 6:05 PM CDT; Televised on NBC Sports Chicago.
The Final Two Series:
The Cubs are finished at Wrigley for the year and have just two more series to play. They'll open up in Pittsburgh tonight for a three-game set, then fly to St. Louis for the final series of the season. As always, I'll have series previews for you.
I want to think the Cubs will chalk up at least a couple wins in Pittsburgh, but after this past weekend, anything's possible. I wish I could be as optimistic about the final series with the Cardinals, but they've been hotter than hot, and the Cubs have somehow fallen entirely apart over the last week.
It's hard to believe that the regular season is almost over, and for the first time in five years, the Cubs likely won't be part of the postseason landscape, but I guess there's always next year (been a while since we've said that).
CUBS NEWS AND NOTES
Cubs/Pirates Probable Pitchers: Wednesday: LHP Jon Lester (13-10, 4.51 ERA) vs RHP Dario Agrazal (4-5, 5.08 ERA). Game information: 6:05 PM CDT; Televised on WGN. Thursday: Cubs TBD vs RHP Joe Musgrove (10-12, 4.49 ERA). Game information: 6:05 PM CDT; Televised on NBC Sports Chicago and MLB Network (out of market only).
And for the final series of the year:
Cubs/Cards Probable Pitchers: Friday: LHP Jose Quintana (13-8, 4.55 ERA) vs RHP Dakota Hudson (16-7, 3.45 ERA). Game information: 7:15 PM CDT; Televised on WGN. Saturday: RHP Yu Darvish (6-8, 3.98 ERA) vs RHP Miles Mikolas (9-14, 4.16 ERA). Game information: 6:15 PM CDT; Televised on FOX. Sunday: Pitchers TBD. Game information: 2:15 PM CDT; Televised on ABC-7.
NL Wild Card Race: With the Nats win over the Phillies last night, the Cubs' elimination number for the second wildcard spot now stands at two. Even if the Cubs win their final six games (highly unlikely), they are at the mercy of Washington and Milwaukee, as any three wins by those two teams will eliminate the Cubs.
Washington is hosting the Phillies for four games, and then they'll finish by hosting the Indians, while Milwaukee travels to face the Reds for a three-game set, then ends with three against the Rockies in Denver.
Loretta, Ross or Girardi? First it was Joe Girardi who was rumored to be Joe Maddon's replacement, but former Cubs' catcher, David Ross' name always hovered in the background. Just the other day, Ross was reported as being the "Cubs' choice" for the next manager, but now all of a sudden, Cubs' bench coach, Mark Loretta's, name is being rumored to be the frontman. Jon Heyman, baseball insider extraordinaire, let that little tidbit fly yesterday on 670 The Score's Mully and Haugh Show.
Maddon on the season: "It's hard to pinpoint anything. A lot of guys are having really good seasons. We've lost a lot of one-run games. Is that the lack of a hit or is that lack of a pitch? I don't know."
Jesse Rogers wrote a great article yesterday, about the deterioration of the Cubs, and points out that, "It's a lack of everything, including the fundamentals of the game. Some numbers lie, but some don't: The Cubs lead the majors in outs made on the bases, are third in the National League in errors and have the worst save rate in the NL in the ninth inning or later, blowing an MLB-worst 15 of 50 opportunities. They do some things well, such as hitting home runs and shutting down the opponent during blowout wins."
Another infamous record: After being swept by the Cardinals over the weekend, the Cubs became only the second team in MLB history to be swept in a four-game series at home, while losing each game by only one run. The last team to do so was the 1919 Red Sox- exactly 100 years ago.
Some of my best career moments with the @Cubs at Wrigley Field were televised by @WGNTV and heard on @WGNRadio. There is the famous rooftop behind me on Waveland Avenue with the WGN TV & Radio ad. WGN will be missed. pic.twitter.com/fqQewPVGBx

— Fergie Jenkins (@31fergiejenkins) September 23, 2019
Maddon on the year: "I've had a blast this year. I'm not just saying that." One could only take that to mean that the Cubs' skipper has most likely accepted his future (or fate) while enjoying his last season with a team that he turned into World Series champions. Maddon hardly seems (at least outwardly) troubled about his future, leading many to believe that leaving the Cubs may have been his own decision. I will touch more on this in my upcoming series, "Maybe Next Year."
Harper on Nicholas Castellanos: "Shit, he's gonna get paid this season." That's an understatement, but I think the Cubs might be able to keep him if they jettison as many players as I think they will. Castellanos played for just under $10M this year, but rumors have his magic number at slightly over double that, with Nick looking for a 5-7-year deal.
The Yu K: Wanna know what makes Darvish so lethal when it comes to raking Ks? Watch the video below- it's four of his pitches overlaid, to exemplify just how area he can cover. Bear in mind, that this shows only four pitches, while Darvish's arsenal contains ten.
Yu Darvish, 4 Pitch Overlay (synced at release).

83mph Slider
81mph Curveball
96mph Fastball
92mph Changeup

All Swinging Strikes.

Just wanted to see how much space that would cover. pic.twitter.com/1iiwWO7ngK

— Rob Friedman (@PitchingNinja) September 23, 2019
Yu's sword: No this isn't some lousy attempt at a samurai joke, Yu wins the sword of the Week from pitching analyst, Rob Friedman (ESPN and MLB). Darvish raked 42% of the votes this week. Way to go, Yu.
??Sword of the Week Winner??

This week's Sword of the Week winner (42% of the 3422 votes) is...

Yu Darvish

Congrats @faridyu!

You win a PitchingNinja Sword T-Shirt from @RotoWear
????https://t.co/GuIeRD0nfN

Just let us know size/where to send. pic.twitter.com/yapijGSDFV

— Rob Friedman (@PitchingNinja) September 23, 2019
Good or bad? I'm honestly not sure if this is a good thing or a bad thing. Great for the I-Cubs, maybe not so much for the Chicago Cubs.
72 players suited up for Iowa this season. 31 also played for Chicago. pic.twitter.com/KkznEJyzOw

— Iowa Cubs (@IowaCubs) September 24, 2019
Baseball Quotes: "Rooting for the Cubs is not easy, but the best things in life never are." - Dennis Farina, actor
Lou! Can I have a word with you, here?

Sure.

See, I've got it right here in my contract. It says, "I don't have to do any calisthenics that I don't feel are necessary." So what do you think about that? pic.twitter.com/qdEHaiuI3D

— Baseball Quotes (@BaseballQuotes1) September 19, 2019
Cubs Birthdays: Celebrating yesterday, were ex-Cubs Gonzalez German (32), Chris Volstad (33), Willie Greene (48), Tony Fossas (61), Dennis Lamp (67), Óscar Zamora (75), and posthumously, Mack Stewart (105) and Joe Kelly (133).
THIS WEEK'S NL CENTRAL SCHEDULE:
(Wins in green, losses in red)