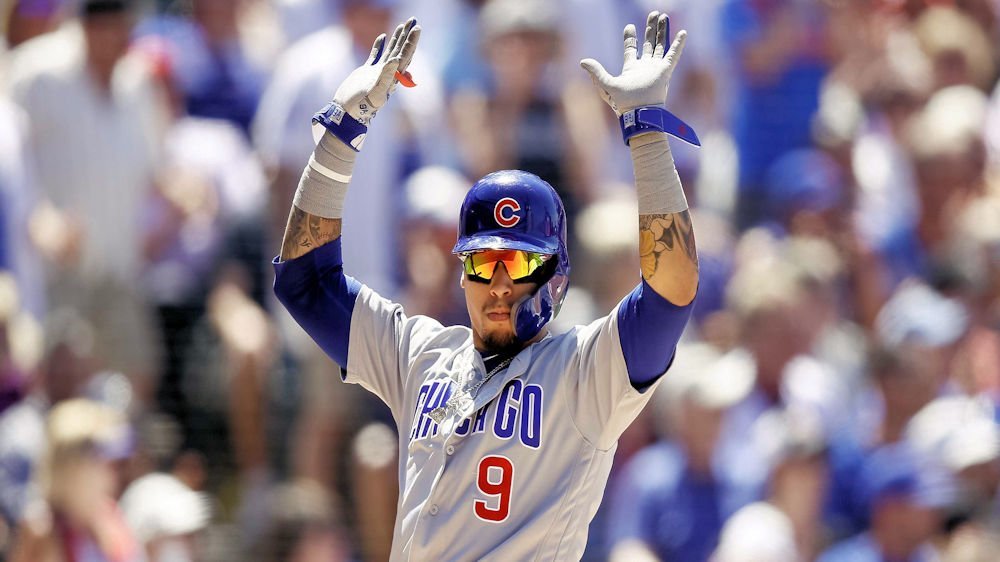 | | |
| --- | --- |
| Cubs News and Notes: Plunk-a-thon, Cishek injured, Arrests made in Ortiz shooting | |
---
| | | |
| --- | --- | --- |
| Thursday, June 13, 2019, 7:36 AM | | |
Next Game: Today, 9:10 PM CDT: Cubs @ Dodgers LHP Jon Lester (5-4, 3.56 ERA) vs RHP Clayton Kershaw (5-1, 3.14 ERA).
CUBS NEWS AND NOTES:
Wednesday's Game Recap:
Cole Hamels (5-2, 3.24 ERA) took to the mound for Chicago yesterday afternoon, hoping to be effective enough to help the Cubs win a game and avoid being swept for the second time in two weeks. Meanwhile, the Rockies turned to righty, Antonio Senztaela (5-4, 4.95 ERA) to try and keep the Cubs winless at Coors Field this season, while extending their home-game win streak to 11. Hamels succeeded in his mission; Senzatela got clobbered.
To recap this game for you, it took me three pencils, a legal pad, 2 Sharpies, a dry-erase board, an abacus, and had my wife approved one, I would have hired a secretary to take notes.
The Cubs let all hell break loose in the second to the tune of five runs, that went something like this (in order): Single (Carlos Gonzales), double (Victor Caratini), 2 RBI single (Jason Heyward), single (Cole Hamels), flyout (Addison Russell), 3-run home run (Kyle Schwarber- 432 feet).
In the fifth, there was a little more of the same, though not quite as dramatic. This time the Cubs managed three runs, with two of those coming courtesy of Hamels' second hit of the day, the other, on a Schwarber sac-fly (and who says he's no leadoff man?). Never one to miss a part, Javy hit a monster 2-run blast in the eighth to finish the Cubs' scoring for the day.
Credit to Brad Brach for blowing the shutout, which would have been the Cubs first ever against the Rox at either Coors Field or Mile High Stadium (104 games total). Brach plunked Wolters who then stole 2nd and 3rd unchallenged, scoring on a fielder's choice. Baez ALMOST came home with that throw, which, along with violating the unwritten rules of baseball, would have been priceless. Final score: Cubs-10; Rockies-1.
Cole Hamels: 7.0 IP, 0 runs, 6 hits, 1 walk, 9 K's.

Schwarbombs away at Coors Field! ??

STREAM for more at https://t.co/rWAh902RE5 pic.twitter.com/RGjJhtfs3j

— Cubs Talk (@NBCSCubs) June 12, 2019
HBP or 460' HR? pic.twitter.com/dEYpri5MuI

— Chicago Cubs (@Cubs) June 12, 2019
Cubs/Dodgers Probable Pitchers: Friday: RHP Kyle Hendricks (7-4, 3.00 ERA) vs RHP Rich Hill (3-1, 2.40 ERA). Saturday. RHP Yu Darvish (2-3, 4.98 ERA) vs RHP Walker Buehler (7-1, 3.35 ERA). Sunday: LHP Jose Quintana (5-2, 3.77 ERA). vs RHP Hyun-Jin Ryu (9-1, 1.36 ERA).
Today's question: Will the Cubs attempt to re-sign Cole Hamels and Jose Quintana after this season? (Both become free-agents this winter, although Q has a team option for 2020.)
Bean-ball time: Yesterday, it seemed for a while, that you were just as likely to reach base by getting plunked than you were by making contact. After Kris Bryant got beaned twice yesterday, today was designated "Retribution Day." Anthony Rizzo bought it in the backside. Cole Hamels took one in the ankle/foot area, Baez had his head buzzed, Arenado got one in the left elbow (which started the jawing), then Kyle Ryan blasted Tony Wolters.
This was the 13th game played between the Cubs and Rockies since the start of 2018 season (including last year's Wildcard Game). The Cubs batters have been plunked six times (Bryant has 4 of those), and the Rockies have been hit five times in those 13 games.
Vintage Joe Maddon on the back-and-forth with the Rockies: "We get hit a lot. Rizzo gets hit a lot. KB gets hit a lot. I've always (said): You got two options. Go to the mound or go to first base. But don't sit there and jabber. Make up your mind. Do one or the other."

— Patrick Mooney (@PJ_Mooney) June 12, 2019
Anthony Rizzo: "I don't really know what (happened). It kind of got out of hand. But Nolan's all right and everyone's good over here.

"I think you can ask both teams, it's annoying getting hit, in general. When you think it's intentional, it is what it is, and you just move on."

— Patrick Mooney (@PJ_Mooney) June 12, 2019
Cubs' Notes 6/12/2019: (1) Before yesterday's game, Cole Hamels was 9-5, with a 2.81 ERA in 25 starts, since joining Cubs on 8/1/18. This is the lowest ERA of any LHP & 5th lowest ERA in the majors (minimum 140 innings pitched) in that span. (deGrom 2.45, Buehler 2.51, Verlander 2.66, Hendricks 2.77). (2) Hamels is currently just 2 Ks shy of becoming 38th pitcher with 2,500 Ks.
Kris Bryant/Steve Cishek: Bryant was scratched from this afternoon's lineup. The decision was made partially due to an ankle injury which he incurred Monday night, while rounding first base, and partially due to being hit by two pitches on Tuesday. In addition, Steve Cishek was hauled off the field during yesterday's pre-game, after being hit in the shin with a baseball. Cishek says he expects to be out 1-2 games.
Cishek carted off, hit on shin by baseball pic.twitter.com/lLDPcFAnaq

— Mark Gonzales (@MDGonzales) June 12, 2019
Play of the day: Who says Victor Caratini isn't quick? I'm not sure that I have ever seen a catcher go full-extension behind home plate…
Dude...???? pic.twitter.com/l4hriSAzn4

— Cubs Talk (@NBCSCubs) June 12, 2019
Intriguing: All, nothing and sometimes in between seems to be Kyle Schwarber's mantra when at the plate. Schwarbs ranks 4th in all of MLB in plate appearances ending in a homer, walk or strikeout (46.5% of the time).
David Ortiz: Five suspects have now been arrested, and a sixth is being sought in connection with the shooting that left David Ortiz injured. Although initially reported as a failed robbery attempt, authorities now say that this was a planned murder-for-hire, with Jeff Passan (The Athletic) reporting that the would-be assassins were paid all of $7,800.00- to kill the superstar: Pathetic. Our continued thoughts, prayers, and well-wishes for a speedy recovery go out to the Big Man and his family.
Baseball quotes: "Above anything else, I hate to lose". -Jackie Robinson
Cub Birthdays: Celebrating yesterday, were ex-Cubs Dallas Beeler (30), Damon Buford (49), and posthumously, Bob Thorpe (84), Jack Cusick (91), Otto Knabe (135), and John Št?dronský (169).
NL CENTRAL SCHEDULE (June 9 – June 15, 2019)
(Wins are in green, losses in red)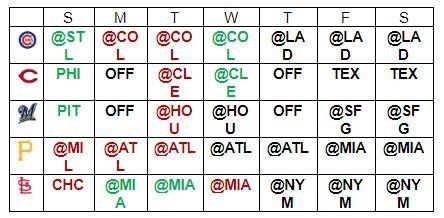 NL CENTRAL STANDINGS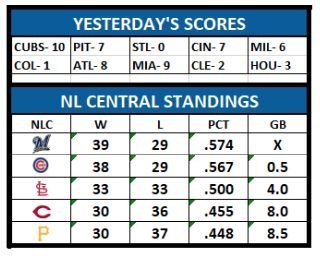 Tags: Cubs Baseball
,
Cole Hamels
,
,
Victor Caratini
,
Jason Heyward
,
Addison Russell
,
Kyle Schwarber
,
Kyle Hendricks
,
Yu Darvish
,
Jose Quintana
,
,
Anthony Rizzo
,
Kyle Ryan
,
Steve Cishek
,
Dallas Beeler
,
Joe Maddon