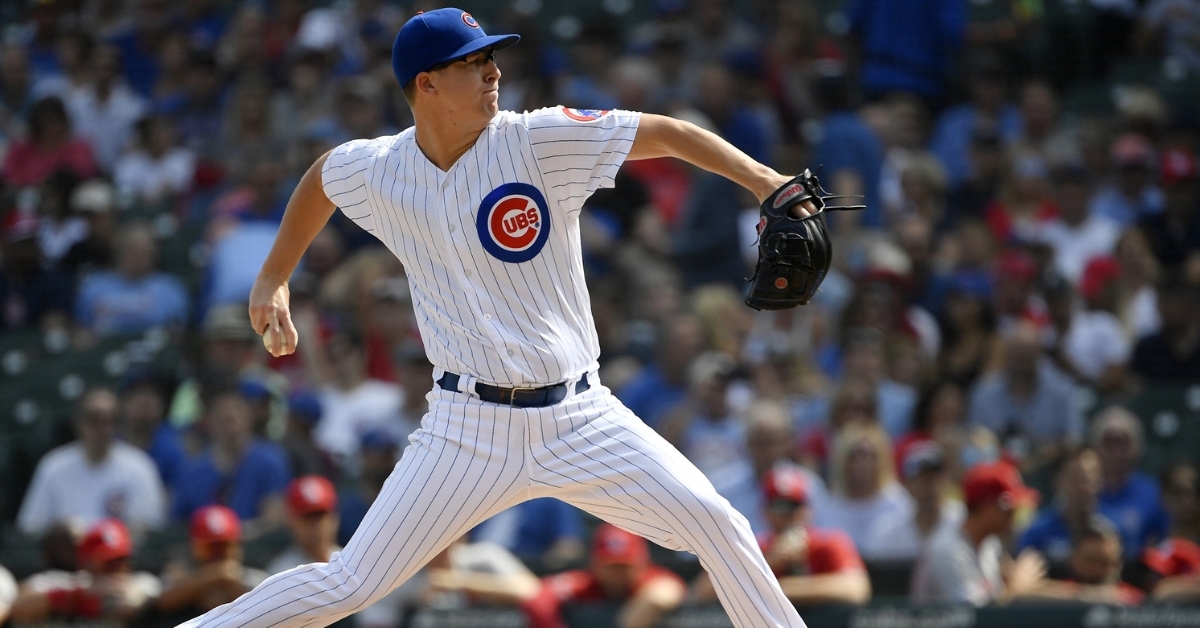 | | |
| --- | --- |
| Cubs News and Notes: Cubs 1-0 in spring, Battle for second base, Pitcher competition, more | |
---
CUBS NEWS AND NOTES
Next Game: This afternoon at 2:05 PM; Cubs vs Dodgers from Camelback Ranch
Opening Day: 32 days - Thursday, March 26, 2020: Cubs vs. Brewers (Miller Park).
Saturday's Game Recap: Well, this certainly wasn't the way the Cubs needed to start. Hours before game time, it was announced that Ross had come down with the flu and went home to rest. New Bench Coach Andy Green would take the reigns for the spring opener.
As expected, there was a mix-n-match roster, featuring a pitcher per inning and a defense/batting order which showed both old faces and new. The cast of characters on the mound would include Alec Mills, Jharel Cotton, Duane Underwood Jr, Rex Brothers, James Norwood, Tyler Olson, Jason Adam, CD Pelham and Dakota Mekkes. I know, I know, it's only exhibition ball, but Ross' plan certainly worked.
Baseball season's underway! pic.twitter.com/CKpC6Yto6S

— Chicago Cubs (@Cubs) February 23, 2020
Willson Contreras and Trent Giambrone each delivered bombs, but the Cubs (for a nice change of pace) didn't even need them, as the offense was busy with station to station hitting all night.
Willson Contreras absolutely tattooed that ball to the moon ?? pic.twitter.com/fqrSBRwQ6Z

— Dillard Barnhart (@BarnHasSpoken) February 23, 2020
Six RBIs tonight from the leadoff spot for the #Cubs. Four from @TrentGiambrone. pic.twitter.com/AKr1uWDlvT

— Marquee Sports Network (@WatchMarquee) February 23, 2020
Following Contreras' homer in the second, the Cubs would get Kris Bryant another at bat from his new leadoff spot which produced a two-RBI knock.
Kris Bryant has three career RBIs when he hits leadoff.
He drove in two on this single. pic.twitter.com/XaoMNAuWck

— Marquee Sports Network (@WatchMarquee) February 23, 2020
The offense wasn't the only thing to make an appearance last night, as Willson Contreras also opened up his season with a laser throw to second to retire a runner trying to swipe second on a breaking ball in the dirt.
Willson Contreras is a defensive wizard ?? pic.twitter.com/tEnqGWYqh4

— Dillard Barnhart (@BarnHasSpoken) February 23, 2020
In the eighth, Carlos Asuaje and Zack Short combined for a 4-6-3 putout, more reminiscent of the Harem Globetrotters than anything else.
Flashing the leather. pic.twitter.com/lGXci9fNWT

— Marquee Sports Network (@WatchMarquee) February 23, 2020
For a detailed breakdown of last night's game, check out my game recap.
Brandon Morrow: Well, you almost knew it was too good to be true. After missing over a season-and-a-half due to injury, Brandon Morrow returned to camp for a comeback attempt, but has already found himself sidelined. Morrow has been diagnosed with a "mild right upper chest strain," and will be out of action for at least a few days.
ICYMI: Brandon Morrow sidelined with injury: https://t.co/UuvDzhPrrQ pic.twitter.com/hf6uA2OEJg

— CubsHQ.com (@ChicagoCubsHQ) February 23, 2020
You have to feel sorry for the guy – he obviously wants to play, but enough is enough already. Yes, they're calling this "mild," but the point is, Morrow is unable to stay healthy. Not that he had a huge chance of cracking the roster, but the Cubs have got to consider the risk and financial implications ($1M + incentives) if they do elect to put him on the 26-man at any point in the season.
Second base race: I still hope Nico Hoerner wins the job at second base, but based on last night's results, the competition may be stiffer than I thought.
Jason Kipnis showed excellent mobility on a groundball up the middle last night, then handled the putout on Contreras' throw to second to nab the base stealer. Kipnis did go 0 for 1, striking out in his only plate appearance.
Carlos Asuaje looked even better, assisting on the 6-4-3 putout, but more importantly, he went 2 for three at the plates, scoring once and netting an RBI along the way.
David Bote served as the DH last night, but he went 2 for 2 in the box, scoring twice as a result. Bote looks like he's slimmed down, which could make a difference in his fielding ability.
I'd expect to see a mix of Nico Hoerner and Hernan Perez at second for this afternoon's game against the Dodgers.
The fifth starter: Although Tyler Chatwood is presumed to be the favorite to land the #5 spot in the rotation, David Ross is considering others, including Adbert Alzolay, Jharel Cotton and Alec Mills.
Two of those hopefuls got to pitch last night. Mills looked OK through his inning, but he did issue a walk, then had to grind to get his third man out, hurling 18 pitches total. I was impressed with Cotton, as he worked a 1-2-3 inning quickly and with no trouble spots.
Unless he made significant improvements in the offseason, I don't expect Alzolay to be ready this year – at least not as a regular starter. If his stuff looks good, you might expect to see him working out of the pen and perhaps earning some spot starts. I would expect you'll see Alzolay and Tyler Chatwood in action today.
We've still not seen any of the rotation locks, though that'll be a story in and of itself. There's no doubt Jon Lester, Yu Darvish, Kyle Hendricks and Jose Quintana will make up the Cubs' front-four, but the order in which they pitch is very much up for grabs.
I expect Darvish to grab the #1 spot, with Lester dropping back to third. If Chatty come out strong, it's also conceivable that he could replace Quintana in the #4 spot, but that'd have to require an almost perfect storm.
It shouldn't be too long before Rossy starts nixing players, and if last night was any indication, I'd almost bet Tyler Olson would be among the first to go. Olson struggled throughout the sixth inning, allowing two earned runs on three hits. Another new face – Jason Adam – showed a mixed bag during the seventh. He walked a pair but netted three strikeouts to end the frame.
For the Dakota Mekkes fans, he looked sharp, fanning two in the ninth while facing the minimum.
Cubs' Birthdays: Celebrating yesterday, were ex-Cubs Brian Duensing (37), Eric Yelding (55), and posthumously, Steve Barber (82).
Baseball Quotes: "When I was up there at the plate, my purpose was to get on base any way I could, whether by hitting or getting hit." - Shoeless Joe Jackson
The other guys, all they have to do is use their big butts and big python arms to hit homers. Me, I'm the little guy in the group. People always root for the little guy. -Ken Griffey Jr

pic.twitter.com/sELxndzimh

— Baseball Quotes (@BaseballQuotes1) February 21, 2020
MLB News and Notes:
The Grapefruit League had a 2019 World Series repeat matchup yesterday, as the Nats took on the Astros. I was waiting for the plethora of "boos," but the Astros were the home team. Altuve didn't play. No beanballs either. By the way, Mad Max looks good already.
Mad Max is in mid-season form pic.twitter.com/7wJhTz0NpM

— Baseball Quotes (@BaseballQuotes1) February 23,

Tags: Cubs Baseball
,
,
Jharel Cotton
,
Duane Underwood
,
Rex Brothers
,
James Norwood
,
Tyler Olson
,
Jason Adam
,
Dakota Mekkes
,
Willson Contreras
,
Trent Giambrone
,
Kris Bryant
,
Carlos Asuaje
,
Brandon Morrow
,
,
David Bote
,
Hernan Perez
,
Tyler Chatwood
,
David Ross
,
Adbert Alzolay
,
Jon Lester
,
Yu Darvish
,
Kyle Hendricks
,
Jose Quintana
,
Brian Duensing