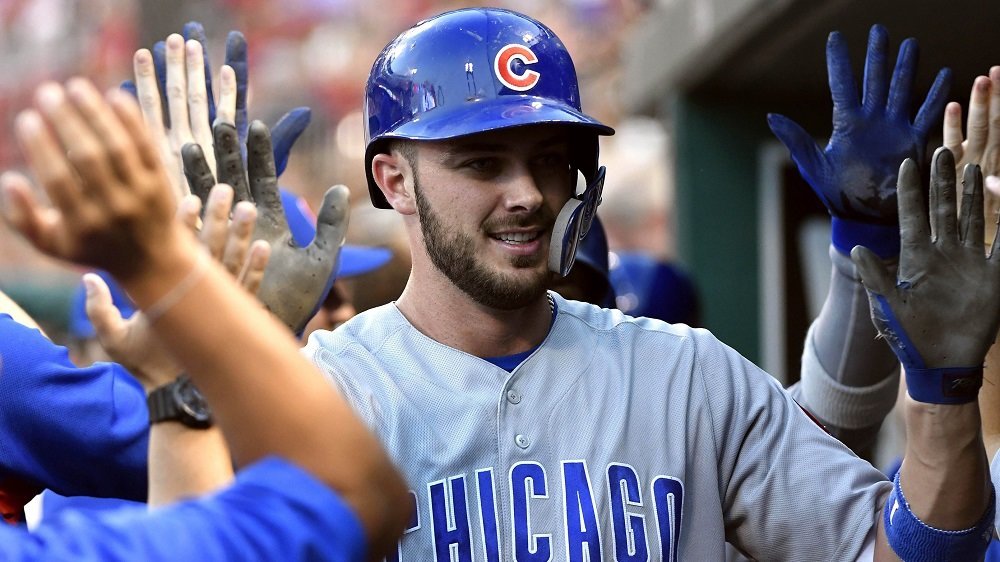 | | |
| --- | --- |
| Cubs Odds and Ends: Pitching and Hitting options, Moving Kris Bryant to left field, more | |
---
| | | |
| --- | --- | --- |
| Monday, January 25, 2021, 8:09 AM | | |
As the free agent market has suddenly heated up over the past two weeks, we continue to see more former Cubs ink contracts with new teams. In the process, the Cubs haven't done much to their roster to replace those who have departed. On top of that, you have Kris Bryant coming out and saying baseball isn't as much fun as it once was in a recent interview, and things have been a circus.
In all seriousness, Spring Training is officially underway in about a month, with pitchers and catchers set to report in three weeks. There is still so much about this team that fans don't know, and there is a lot of unsettling feeling surrounding the organization. Surely, the Cubs must have something in place in terms of a plan, or they simply are going to have to rely on prospects and unproven players to pick up the slack this season.
As the Cubs rotation entering spring is filled with Kyle Hendricks, Zach Davies, Adbert Alzolay, Alec Mills, and an open spot, where does the team go from there? Jon Lester, Tyler Chatwood, and Jose Quintana have all signed free-agent deals with new teams, and all of them were cheaper than what they made last season.
Should the Cubs have brought anyone of those three back this season?
Lester comes to mind as the one the Cubs should have brought back on a one-year deal. He wanted to return to Chicago and made it clear that he would have taken less to be here one more year. As a number five starter, Lester would have done just fine, and it would have allowed him to retire on his terms. Now the Cubs are behind the eight-ball as they are still figuring out their rotation for this season.
The Cubs are banking on top prospect Brailyn Marquez to contribute this season, but he is not ready to start opening day.
They need someone to, at the very least, fill the back end of the rotation for the first part of the season. Shelby Miller could be that guy if he has a good spring, but with Colin Rea now off to Japan, the Cubs need more organizational pitching depth.
Guys like Rich Hill, Rick Porcello, Chris Archer, Trevor Williams, Carlos Rodon, and Mike Foltynewicz are available and could be had for cheap. Whatever the Cubs decide to do this season, the future looks bright in pitching as lots of young arms are flying through the system.
A position that fans may have forgotten about this offseason is left field. What are the Cubs planning to do there? Ever since Kyle Schwarber was non-tendered, the Cubs have had a void in left field that not only needs to be added but filled with power.
Eddie Rosario and Joc Pederson make the most sense, but they are out of the Cubs' price range.
Right now, Ian Miller appears to be the favorite to open the season in left, but he is a far cry from Schwarber. Essentially, Ian Happ could move from Center to left, but that then creates an opening in center. Some have said that Nico Hoerner could get looks at center this season, which makes things interesting at the second base position.
Let's say the Cubs roster doesn't change from now until spring. If that is the case, and if I am the Cubs, Kris Bryant moves from third to left. He doesn't have a ton of playing time in left, but he has played out there enough to provide the Cubs adequate defense and a power bat. That would open the third base position for David Bote to become an everyday player and open up second for Hoerner.
A little unorthodox, yes, but it does allow the Cubs to plug some holes this season without spending money to do so. The team won't spend as much as fans want them to, and many of their prospects are not ready.
The organization knows what is coming, and they will do what they need to do until then.

Tags: Cubs Baseball
,
Kris Bryant
,
Kyle Hendricks
,
Zach Davies
,
Adbert Alzolay
,
Alec Mills
,
Jon Lester
,
Tyler Chatwood
,
Jose Quintana
,
Brailyn Marquez
,
Colin Rea
,
Miguel Amaya
,
Willson Contreras
,
Kyle Schwarber
,
Ian Miller
,
Ian Happ
,
,
David Bote