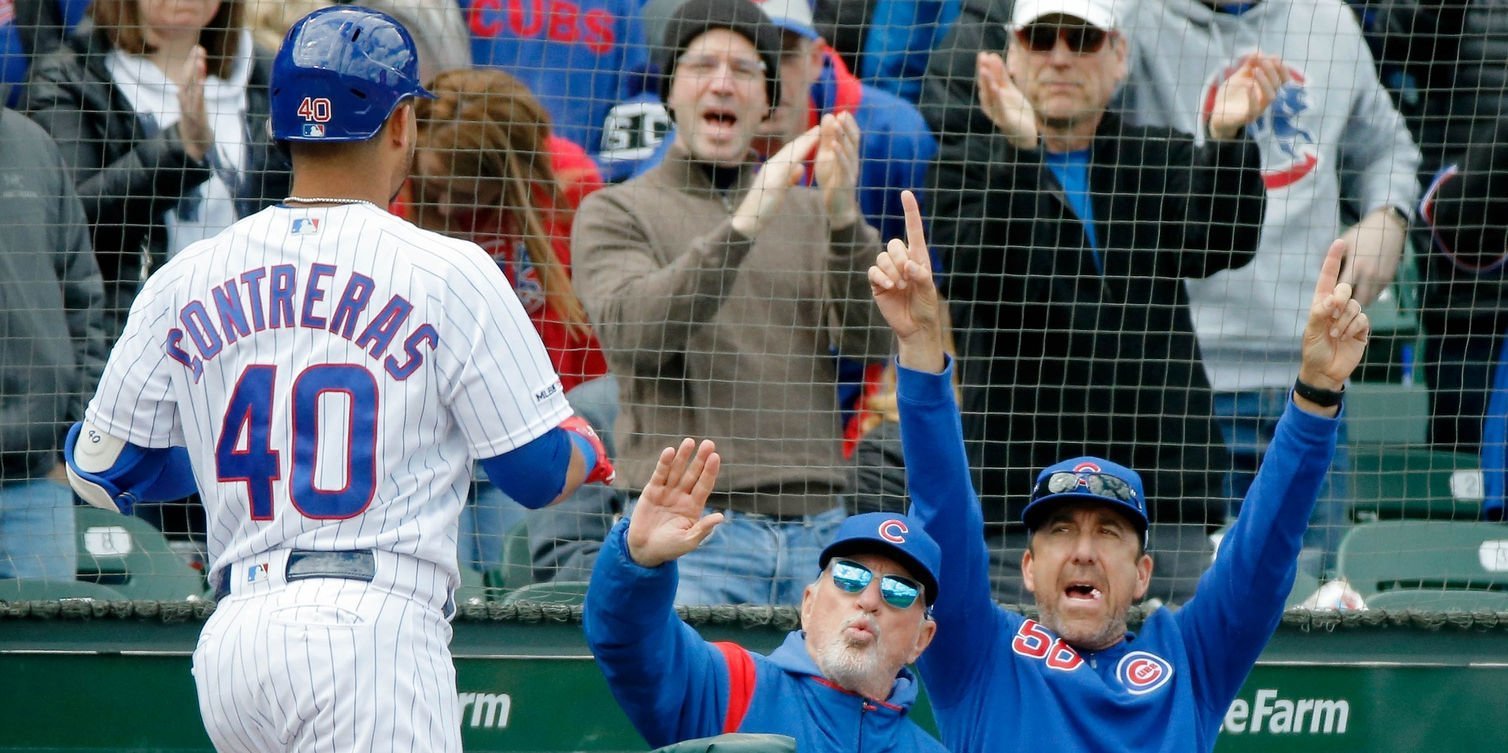 | | |
| --- | --- |
| Cubs Odds and Ends: Willson Contreras and Maddon, Kris Bryant rumors, Ken Giles, more | |
---
| | | |
| --- | --- | --- |
| Friday, January 8, 2021, 8:16 AM | | |
There hasn't been much to cheer about this offseason if you're a Cubs fan outside of maybe Jon Sciambi coming in. We are approaching the midway point of the 2021 MLB offseason, and there is still no clear direction on where this team plans to go next season.
Cutting payroll and making drastic changes were on the list as the Cubs certainly have done many of that in the offseason's early stages. Now it is time for them to make their mark and potentially start putting together the team they expect to have next year. For now, fans will continue to wonder what is going on and if the product on the field will be good enough to contend.
Despite not a ton of action happening on the north side, many rumors are swirling around what this team is planning to do in the coming weeks. Some may be rumors at best, but others are certainly decisions to not only watch but ones that could affect this franchise beyond this season.
Here are some of the latest rumors and news:
About a week ago, it was reported that not only were the Cubs looking to move Contreras, but they were actively engaging in talks to do just that. Jed Hoyer then went back to say those rumors were false and the team was doing no such thing.
While I won't disagree entirely that the Hoyer isn't shopping Contreras, I believe he is listening to offers. With the Angels now showing interest and the possibility of him reuniting with Joe Maddon, I am sure he will listen more. Back when the Cubs first called up Contreras, Maddon was one of the few that believed he could start right away. He showed his trust by putting him in left to get his bat in the lineup before moving him behind the dish for the postseason.
With Max Stassi on the shelf for Anaheim for at least a few months, the Angels are targeting a catcher, and adding a guy like Contreras to the middle of a lineup that features Anthony Rendon and Mike Trout would be huge. However, the Cubs already traded Victor Caratini, so unless they are trading for a catcher in return, would getting rid of Contreras make sense. We do know the expected haul he would bring back, but at what cost?
Are the Dodgers zeroing in on Kris Bryant?
As if the Dodgers needed another weapon, right? After hearing Kris Bryant mentioned with the Nationals a lot during the beginning of the offseason, trade talks have quieted down. Well, they may be picking up again as it looks like the Dodgers could be looking to acquire him.
The Dodgers are still trying to bring Justin Turner back into the fold as he has been a massive part of that team for seven years. The problem, the sides appear to be far apart, leaving an opening at third. That is where Bryant comes in, and you can bet LA will bounce on the chance should it happen.
Unlike the Cubs, the Dodgers have had a historically rich farm system, and they would be able to part ways with some key members to get a guy like Bryant. However, after the season he had and the past few years in general, what kind of return would Bryant bring back especially entering the final year of team control.
There is no question Bryant still can put up MVP numbers and would be an excellent replacement for Turner. I don't know if he will ever get back to that MVP form again. Regardless, the Cubs have a tough decision to make on him, whether it means trading him away now or losing him via free agency. Hoyer needs to talk to Bryant now so they can be on the same page.
There are also rumors with the Mets having an interest in Bryant as they try to go all-in in 2021.
There's been dialogue between the Mets and Cubs recently about Kris Bryant. The Cubs really like catcher Francisco Alvarez, one of the Mets' top prospects. Sandy Alderson indicated yesterday he isn't trading top prospects.

— Mike Puma (@NYPost_Mets) January 8, 2021
Cubs may be interested in signing Ken Giles:
Finally, some positive news for a change seems like the Cubs may be targeting a Ken Giles signing. This shouldn't shock anyone, as the Cubs have been linked to Giles for the better part of two years. Now that he is a free agent, why wouldn't they target him again?
Well, for starters, Giles is rehabbing from Tommy John, so most likely, the 2021 season is out of the question. That would mean the Cubs would be taking a gamble on him to become closer in 2022 when Kimbrel's deal is up. Giles can be one of the best closers in the game when healthy, and at just 30, he will be an appealing option for teams looking to save on cash this season.
Giles has saved 15 or more games every season since 2015, apart from last year when he got hurt. He also had a career-high 34 saves in 2017, which was the beginning of three straight 25 plus save years. Not only does his fastball look faster than the 94 range he shows, but his command is on point, walking barely three hitters per nine innings and striking out more than 14.
For a team desperate for a lockdown closer, Giles is exactly the reclamation project the Cubs have like for the past few years and comes with a considerable upside. He is younger than most available closers and has been lights out for a while. He won't be too expensive, and the Cubs could monitor his rehab before committing to the second year of a deal. Giles would be an excellent piece for this team to have.
Expect different Minor League Start Dates
If there is one thing we learned about 2020, it would be to expect the unexpected. That could once again hold true this season as the Minor Leagues could be suffering once again. After losing an entire season last year, it looks like things will be different in 2021.
As expected, the Minor Leagues will play baseball at some point but could be delayed from one level to the next. The way things look right now, not every team or every level should be expected to start on time, altering the plans of top prospects.
It appears that both MLB and AAA players will break for training camp at the same time, while AA and A level players won't start until well after spring training is over. That would ultimately mean that MLB would be followed by AAA starting their standard 12 days later if it starts on time. That only makes sense when you take into the call-up effect for injuries, so keeping those seasons aligned makes sense.
How that affects the rest of the minor leagues remains to be seen, but you could assume that AA, High A, and A ball wouldn't start until May 1 at the earliest, if not later. MLB informed all AA and A ball affiliations this information earlier this week that their seasons would have a delayed start.
This will allow for more social distancing and allow only a specific number of players to be at camp during a given time frame. Example AAA and MLB would coincide together with the rest of the systems following once they leave. The expectation is that spring training will start on time, meaning Minor League players wouldn't arrive at camp until mid-March, giving them three weeks to get ready.
The same pattern would follow for the lower-level teams as they would head to camp in early April when AAA leaves and then would need roughly 3-4 weeks to prep for the season. This may not be an ideal scenario for some teams starving to develop prospects, but it is a positive sign that Minor League baseball should be returning on some level.