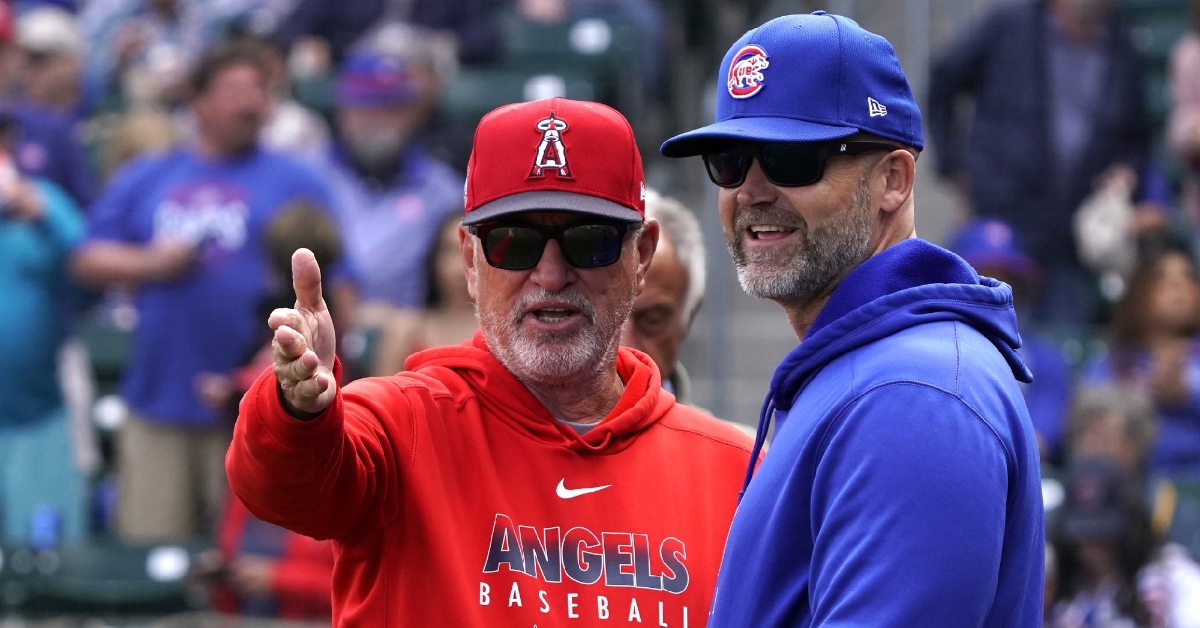 | | |
| --- | --- |
| Cubs outshine Maddon's Angels | |
---
Fresh off a 7-3 win over Seattle yesterday, the Cubs split the squad for dual action today. In the headliner, the Cubs (4-5) hosted Joe Maddon and his Angels (4-5), with the second game later tonight (@ Hohokam Stadium vs. Oakland, 8:05 PM).
Kyle Hendricks was tapped for this start, with Alec Mills starting the night game. Maddon elected to start righty, Julio Tehran.
For a little added entertainment, insight, and comedy, ESPN mic'd up Kris Bryant and Anthony Rizzo.
Kris Bryant and Anthony Rizzo are mic'd up during the middle of the game and the guys in the ESPN broadcasting booth had to tell them they are wearing two different hats in the field right now.

Kris Bryant: "We wear what we want" ?? (Via @TheBlogfines) pic.twitter.com/RnUwiY8rQ1

— Cubs Live (@Cubs_Live) March 2, 2020
T-1 Kyle Hendricks works a 1-2-3 frame, helped out by Ian Happ, who made a great diving catch to rob Tommy La Stella. A pair of groundouts ended the frame.
B-1 KB popup to third, Rizzo grounds to third, Javier Baez fans to end the inning. Score 0-0.
T-2 The Professor got back to work, starting the inning with a 3-1 groundball putout. Hendricks would then fan the next man before getting a grounder to end the frame (GO-4).
B-2 Kyle Schwarber (GO-4), Willson Contreras (K), Victor Caratini, long flyout to center. The game still tied 0-0.
T-3 The Professor keeps the no-hitter intact with a ground ball to third and a pair of K's, which featured some nasty breaking pitches.
Kyle Hendricks on his efficient start pic.twitter.com/AnwkaYoJ4W

— Mark Gonzales (@MDGonzales) March 2, 2020
B-3 Steven Souza (FO-8), Ian Happ's bomb to center would break up the Halos' no-hitter and put the Cubs on the board. Nico Hoerner singles to CF, KB (K), Rizzo with a quiet joke about cheating before singling to right-center (Hoerner to third). Mendoza asks, "What's he throwing here?" Rizz responds, "I have no idea. I wish someone would bang for me." Contreras grounds to the hole, but 3 AM is there. Cubs lead 1-0.
.@ihapp_1 puts a smile on Kyle Hendricks' face! pic.twitter.com/cx8uFLQxvM

— Chicago Cubs (@Cubs) March 2, 2020
Anthony Rizzo taking shots at the Astros mid game on live television is awesome. ?? (Via @brian_donley34) pic.twitter.com/qgqFNBKQut

— Cubs Live (@Cubs_Live) March 2, 2020
Kyle Hendricks: 3.0 IP, 0-R, 0-H, 0-BB, 3-K. Tremendous appearance.
T-4 RHP Jeremy Jeffress keeps the Cubs' perfect game: Tommy La Stella (GO-3), K, FO-8.
B-4 Schwarbs (K), Contreras (FO-9), Caratini (GO-4). Cubs lead by one.
T-5 Righty Jharel Cotton K, BB, FO-9, Line-out short. Perfect game is shot, but no-hitter still intact.
B-5 Nothing for Chicago: Souza singles to the right, Happ hits into a double play and Hoerner fans. Cubs still lead 1-0.
Substitutions: Zach Davis (CF), Alfonso Rivas (1B), Luis Verdugo (3B).
T-6 Cotton would give up a single, but then even worse, served up a home run ball to Tommy La Stella. Cubs trail 2-1. Cotton replaced by RHP Juan Gamez. (I have no idea who this is, he's not even on the spring roster…): (GO-4)(GO-6).
B-6 Verdugo and Rivas would both walk to start the frame. Baez singled to load the bases (Zack Short pinch runs), the Schwarbs come through with a 3-RBI double to center. Trent Giambrone runs for Schwarber, Miguel Amaya bats for Contreras, grounds out to short. Caratini hits a fair ball to the right side, but the inattentive ball-boy (aka60-ish-year-old man) picks it up, so it's ruled a ground-rule double, but Giambrone scores. Souza (K), Davis doubles (Caratini scores), Hoerner FO-8. Cubs lead 6-2.
Substitutions: Carlos Asuaje (2B), Noel Cuevas (RF), PJ Higgins (C), Miguel Amaya (DH), Trent Giambrone (LF), Zack Short (SS).
T-7 RHP Tyson Miller: Double, single (run scores), force play (6-4), K, infield single, foul-out to first. Angels trail 6-3.
B-7 Verdugo infield single, Rivas triples, Short walks, Giambrone (K), Amaya (K), Higgins grounds into a 6-4 force play. Cubs lead 7-3.
Alfonso Rivas has a walk and a triple today. Just pulled a liner down the right-field line and flew around the bases. Or maybe it just looked like he flew when comparing him to most other first basemen.

— Sahadev Sharma (@sahadevsharma) March 2, 2020
T-8 Tyson Miller: Homer, single, FO-7. Miller yanked, replaced by Craig Brooks: (FO-7). Cubs lead 7-4.
B-8 Cuevas homer, Davis singles, steals second, Asuaje GO-3, Davis advances, Verdugo sac-fly to left, Davis scores. Rivas FO-7. Cubs lead 9-4.
T-9 Craig brooks back for more: Pop-fly (short), K, FO-7.
Final Score: Cubs 9, Angels 4
Cubs' Offense: 12 for 34 (.353); 4 for 12 (333) with RISP.
Next Game: Tonight, 8:05 PM: Cubs at A's.
A #Cubs W at @SloanParkMesa! pic.twitter.com/WTXfpdEyY4

— Chicago Cubs (@Cubs) March 2, 2020
The Professor was working on his curriculum today against the Angels. pic.twitter.com/UOZci3Qx3D

— Cubs Talk (@NBCSCubs) March 2, 2020

Tags: Cubs Baseball
,
Kyle Hendricks
,
Alec Mills
,
Kris Bryant
,
Anthony Rizzo
,
Ian Happ
,
Tommy La Stella
,
Kyle Schwarber
,
Willson Contreras
,
Victor Caratini
,
,
Jeremy Jeffress
,
Jharel Cotton
,
Zach Davis
,
Alfonso Rivas
,
Trent Giambrone
,
Miguel Amaya
,
Carlos Asuaje
,
Noel Cuevas
,
Tyson Miller
,
Craig Brooks
,
Joe Maddon