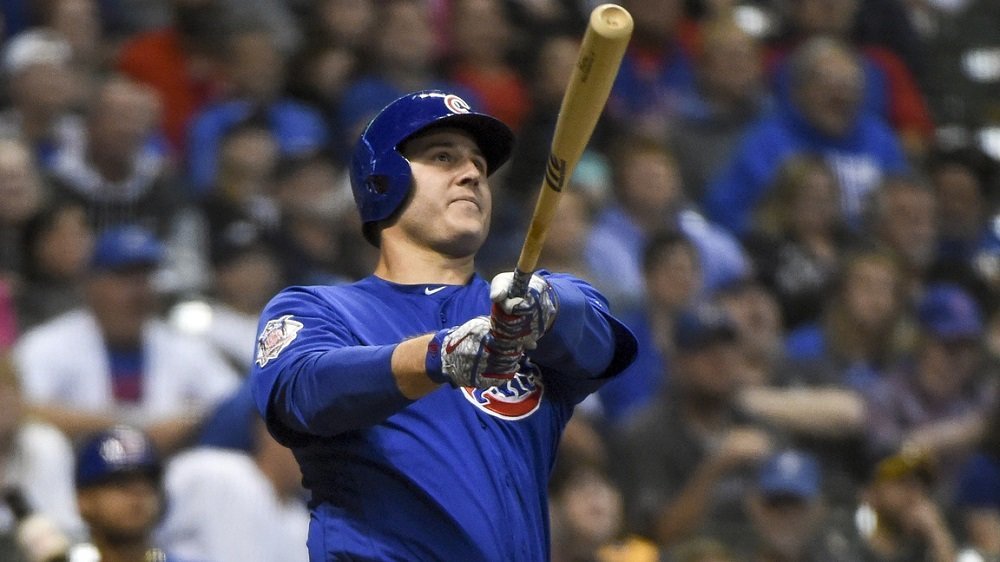 | | |
| --- | --- |
| Cubs split two games, injury updates, Rizzo talks Eloy, and MLB notes | |
---
| | | |
| --- | --- | --- |
| Saturday, March 23, 2019, 8:53 AM | | |
Upcoming Cubs games (CDT): Today: Cubs @ Rockies (Pitchers TBD). This game will be televised on MLB TV. Sunday, March 24, 2:10 PM: Cubs @ Padres. Mike Montgomery vs. TBD). Televised: Cubs.com, WGN, and MLB TV, with a Padres broadcast on Padres.com and FSSD.
Cubs' Opening Day: 5 days. March 28 @ Rangers; (Lester vs TBD). Game time: 3:05 PM Central. (WGN, MLB.TV).
Cubs' Home Opener: 16 Days. April 8 vs. Pirates: Game time: 1:20 PM Central. (ABC-7, MLB.TV)
Friday's Game Recaps:
GAME 1: Rangers @ Cubs: The Rangers (12-14) visited Sloan Park yesterday afternoon to face the Cubs, who are now 15-11-2. The pitching duel consisted of Rangers' righty, Zach McCallister (0-1, 3.27 ERA) vs. the Cubs' Jose Quintana (1-1, 2.00 ERA). Javy Baez contributes with a homer and four RBI, as the Cubs cruised to a 7-3 victory.

GAME 2: Cubs @ Indians: In the second game of a split-squad day, the Cubs (16-11-2 after the afternoon game) traveled to Goodyear, Arizona last night, to face the Indians (14-12). The Cubs sent right-handed prospect, Duane Underwood Jr. (0-0, 6.00 ERA) to the mound, to square-off against Cleveland's right-handed ace, Corey Kluber (0-0, 9.82 ERA). The Cubs would get an early 2-0 lead in the first, but the Indians would ultimately clobber Chicago both offensively and with pitching, by a final score of 8-3.

Final: Cleveland 8, Cubs 3. #SpringTraining pic.twitter.com/Prg6lAkVC9

— Chicago Cubs (@Cubs) March 23, 2019
Anthony Rizzo: Rizzo says he's not bitter about the team-friendly extension that the Cubs gave him among all of the mega-extensions now being signed. When asked about White Sox prospect, Eloy Jimenez's huge extension, Rizzo remarked, "He got a better deal than me without playing in the big leagues."
Cubs' Injury Updates: Pedro Strop and Yu Darvish threw bullpen sessions on Friday, Steve Cishek was reported as ill on Friday, and Alec Mills was reported to be having back issues, but both are scheduled to appear in tonight's game. Tony Barnette (right-shoulder) threw a 25-pitch bullpen session on Thursday.
Daniel Descalso (left shoulder) is progressing well and is expected to take minor league at-bats as early as today. The Cubs expect him to be game-ready by either Monday or Tuesday.
Priceless: What does Yu Darvish do to help his blister?
Because it needed to be a GIF. pic.twitter.com/jDdFmqQMFY

— Jordan Bastian (@MLBastian) March 22, 2019
Tyler Chatwood: He pitched just one inning (the 7th) on Friday afternoon, but he made the most of it. Sending the Rangers down in order on a trio of flyouts, Chatwood needed just seven pitches. Chatwood's ERA now stands at 2.77 for the spring (12.0 IP).
Mike Montgomery: The Cubs have announced that Monty will be the starter for the Cubs in tomorrow's game with San Diego.
Getting Wrigley ready: The grass is now in!
@WrigleyAerials pic.twitter.com/nWcOw1JiKP

— boomboom1180 (@boomboom1180) March 20, 2019
NY Times: For those who didn't know, the NY Times was prepared, in case the Cubs lost the World Series in 2016. Here's the picture they planned to use.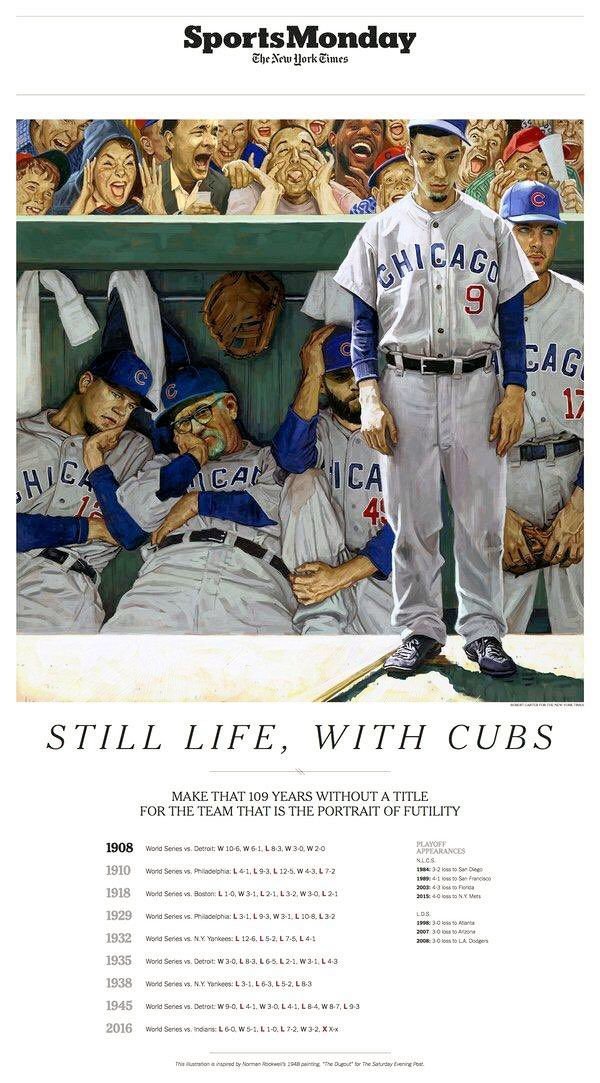 Cub Birthdays: Celebrating yesterday were ex-Cubs Dexter Fowler (33), Joe Smith (35), Glenallen Hill (54), Dick Ellsworth (79), Paul Schramka (91), and posthumously, Gene Oliver (84), Al Schroll (87), and Bill McClellan (163).
Friday's Scoreboard: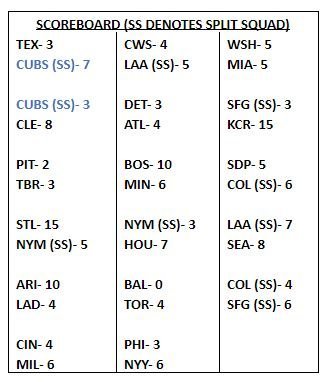 SATURDAY (EST): 1:05 PM: STL @ WSH, PHI @ PIT (SS), NYM @ ATL, TBR @ DET, TOR (SS) @ NYY, PIT (SS) @ BOS, CANADA JR. TEAM @ TOR (SS). 3:05 PM: MIL (SS) @ TEX, CWS @ LAD. 4:05 PM: ARI @ SFG, CIN @ CLE, KCR @ MIL (SS), LAA @ SDP. 6:05 PM: MIN @ BAL. 7:05 PM: HOU @ MIA. 9:40 PM: CUBS @ COL.
SUNDAY (EDT): 12:10 PM: WSH (SS) @ NYM. 1:05 PM: TOR @ DET, NYY @ MIN, MIA @ STL, BAL (SS) @ PHI, WSH (SS) @ HOU, PIT @ BAL (SS). 2:05 PM: TEX (SS) @ SOUNDS. 3:05 PM: COL @ CIN, KCR @ TEX (SS), CLE @ CWS. 3:10 PM: CUBS @ SDP, MIL @ ARI. 4:05 PM: TBR @ ATL, SFG @ OAK. 8:07 PM: LAD @ LAA.
News from around MLB:
Astros: Justin Verlander and the Astros are finalizing a two-year contract extension worth around $66 million.
Cardinals: St. Louis has announced that backup catcher, Matt Wieters has made the MLB roster.
Reds: The Reds have announced that RHP Tyler Mahle has been named the fifth start for Cincinnati, meanwhile, five relievers are still competing for just two bullpen spots: (RHP) Matt Wisler, (LHP) Wandy Peralta, (RHP) Robert Stephenson, (RHP) Matt Bowman, and former Cub, (RHP) Anthony Bass. Also, in Cincinnati, Scooter Gennett is expected to undergo an MRI after suffering a groin injury.
Reds Sox: Boston has reached a deal on an extension for pitcher, Chris Sale: 6-years, $160M.
White Sox: The Sox have released OF Brandon Guyer.

Tags: Cubs Baseball
,
Mike Montgomery
,
Jose Quintana
,
Anthony Rizzo
,
Pedro Strop
,
Yu Darvish
,
Steve Cishek
,
,
Tony Barnette
,
Daniel Descalso
,
Tyler Chatwood
,
Dexter Fowler
,
Joe Smith