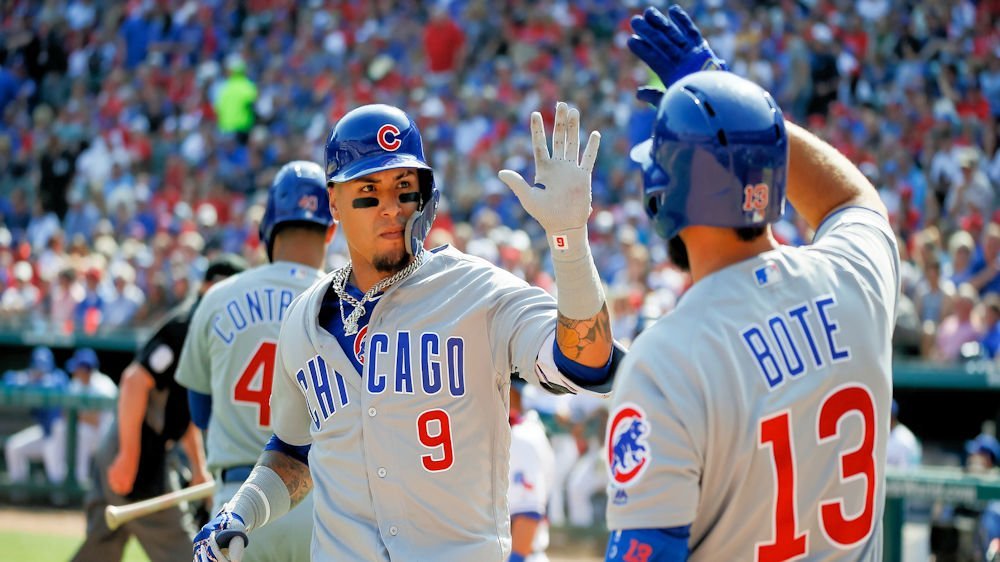 | | |
| --- | --- |
| Cubs vs. Padres Series Preview: TV times, Starting pitchers, Predictions, more | |
---
| | | |
| --- | --- | --- |
| Thursday, July 18, 2019, 7:25 PM | | |
The Cubs came out of the gate strong to start the second half, even if it was against the fourth and fifth place teams in the division. Chicago needed to do something to gain some team morale and winning five of their first six since the break undoubtedly helped. Winning two in this series with the Friars would be good; sweeping would be great, but losing this series could be tough, as the Cubs prepare to embark on a road trip.
It's almost hard to believe that in mid-July, the Cubs haven't faced the Padres yet, but this is the case. With a record of 46-49, the Padres seem to playing comparable to the Reds or Pirates, but those numbers may be a little skewed, especially when you consider that Los Angeles (Dodgers) and Colorado are their division mates.
Injury Report:
CUBS: Cole Hamels: 10-day IL (oblique strain); Carl Edwards Jr.: Rehabbing from shoulder injury; Willson Contreras: 10-day IL (foot).
PADRES: LHP Jose Castillo: 60-day IL (left flexor strain- forearm); RHP Franchy Cordero: 60-day IL (elbow sprain); Outfielder Travis Jankowski: 60-day IL (surgery to repair fractured wrist); RHP Brett Kennedy: 60-day IL (arm fatigue); LHP Aaron Loup; 60-day IL (left elbow strain); RHP Jacob Nix: 10-day IL (torn UCL- right elbow); RHP Robert Stock: 10-day IL (right biceps strain); RHP Adam Warren: 10-day IL (right forearm strain).
The Pitching
With one full-turn through the starting rotation complete, the Cubs have looked strong thus far, with Yu Darvish getting a second start since the break (and finally securing a win at Wrigley). I remain skeptical about Alec Mills, though his first outing went well after a botched first inning.
Rumors say Mills will remain in Chicago, possibly providing them with the ability to attempt using a six-man rotation again, once Cole Hamels returns, but that remains to be seen. Hamels is expected to be back around the first of August, and by that time, the trade deadline will have past, and Carl Edwards Jr. should have also returned. The deadline is looming, and the Cubs have expressed interest in a handful of pitchers, so I wouldn't expect Mills to remain with the major league squad, once trades start occurring.
The Padres don't have a lot going for them in the area of pitching, but the two things that they do possess are the ability to limit walks (ranked second in the NL) and the ability to save games (ranked first in the NL with 36). This is going to cause the Cubs to have to be aggressive at the plate, to get out to an early lead, and then protect it. With a strikeout rate that ranks eighth in the NL, these pitchers are putting a ton balls of balls over the plate, so hits (and the potential for contact) are there for the taking.
The Offense
The Cubs' offense is in full swing (pun intended), though they're still relying heavily on the long-ball. The good news is that they're getting some of that power from the bottom-third of the order, seeing Albert Almora Jr. and Addison Russell with homers over the last couple of games. Don't look for Martin Maldonado to contribute much from the batter's box, but I think you can continue to instill your faith in Robel Garcia.
The Cubs need to continue to attack early in the count and stay aggressive on the bases. So long as Joe Maddon is at the helm, the Cubs will never be a big base-swapping team, but heads-up baserunning with a ball in play serves almost equally as well. I've never seen a team that goes from first-to-third on such weak contact, but this continues to remain a staple in the Cubs' offensive diet.
The Friars' offense likes to go long, ranking fifth in the NL in home runs (146) and they'll take off on the basepaths in an instant as well. I'd almost guarantee that Maldonado will catch for Jon Lester Friday, as he's got a much quicker release and better accuracy than Victor Caratini.
Mound Matchups
Friday: LHP Eric Lauer (5-7, 4.04 ERA) vs LHP Jon Lester (9-6, 3.74 ERA). Game time 1:20 PM CDT; NBC Sports Chicago, MLB Network (out of market) and MLB TV.
Lauer has only faced a half-dozen Cubs, and even then, only for a total of eight at-bats. Lauer missed his first start following the break (bereavement list), but he did finish the first half with three starts consisting of only one earned run.
Big Jon has recovered nicely since his slump that seemed like it would never end. In his last five starts, Lester has gone 4-1 with a 2.97 ERA, while striking out 30 men and issuing only a half-dozen walks in 30.1 innings of work. Jon went 6.2 innings in his last outing, earning himself another W. In that appearance, he did allow three earned runs but also struck out six while walking no one.
Saturday: LHP Joey Lucchesi (7-4, 3.92 ERA) vs LHP Jose Quintana (7-7, 4.21 ERA). Game time 1:20 PM CDT; ABC-7 and MLB TV.
Lucchesi is another guy who' not seen much of the Cubs, and he's had mixed results from those he has seen. Along with his winning record, Lucchesi has already crossed the 100-inning mark in 2019, and barring injury, will easily beat his Career high of 130-innings, set last season.
Q has returned to his winning ways, having now logged three consecutive "quality starts' for the Cubs. In his last three outings, Quintana has posted a 3-0 record and a 2.84 ERA, while continuing to rack up the Ks and minimizing the walks. His velocity has been good, his control has been great, and he's getting run support- all part of the recipe for Ws.
Sunday: RHP Cal Quantrill (2-2, 4.21 ERA) vs RHP Kyle Hendricks (7-7, 3.46 ERA). Game time 1:20 PM CDT; WGN, SAP WGN and MLB TV.
Quantrill has never seen the Cubs so that this outing will be a bit of a mystery and adventure. Much like Tyler Chatwood, Quantrill has bounced back and forth between the pen and the rotation, but injuries have allowed him to pursue a more steady role as a starter. In Quantrill's last outing, he managed to toss six scoreless innings against the Braves.
I was worried some about Hendricks, as his first couple of starts back from the IL looked like he was still injured, but he did well last time around. His control seems much better, allowing a pair of runs in six innings vs. the Pirates last time out, in what would become a no-decision. The Professor has excelled at Wrigley this year, pitching to a 1.80 ERA with 50 strikeouts and only seven walks in his last eight home starts.
Series Prediction:
I think the Cubs will continue to hang tough, taking two of three from the Friars. The Cubs' starting pitching is hot, the bullpen seems a little more reliable, and the offense is starting to produce again. Lucchesi is the one guy who concerns me, but if the Cubs can get to him early, a sweep isn't out of the question.
Next up: The Cubs leave the Friendly Confines to see if they can start winning on the road, beginning with the Giants. The first game, Monday night, 8:45 PM CDT.

Tags: Cubs Baseball
,
Cole Hamels
,
Willson Contreras
,
Adam Warren
,
Yu Darvish
,
,
Albert Almora Jr
,
Addison Russell
,
Robel Garcia
,
,
Victor Caratini
,
Jose Quintana
,
Kyle Hendricks
,
Tyler Chatwood
,
Joe Maddon