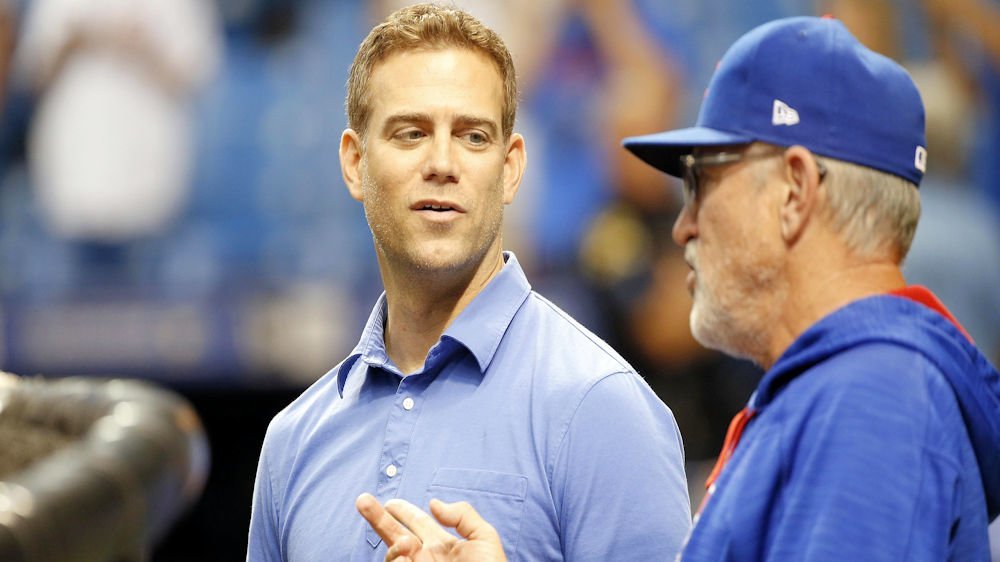 | | |
| --- | --- |
| Fly the W, Cubs injury updates, Epstein pleased, and MLB Notes | |
---
| | | |
| --- | --- | --- |
| Saturday, March 16, 2019, 7:19 AM | | |
Upcoming games (Central): Today, 3:05 PM (Central): Cubs at Diamondbacks (Cubs TBD vs Koch- 1-0, 0.00 ERA). March 17, 3:05 PM (Central), Rockies @ Cubs
Cubs' Opening Day: 12 days. March 28 @ Rangers; (Lester vs TBD). Game time: 3:05 PM Central. (WGN, MLB.TV).
Cubs' Home Opener: 23 Days. April 8 vs. Pirates: Game time: 1:20 PM Central. (ABC-7, MLB.TV)
Thursday's Game Recap: The Cubs would tally 18 hits, including a leadoff home run by Albert Almora, Jr. in yesterday's see-saw battle with the White Sox. The Cubs' pitching saw rough spots, but in the end, the Cubbies would fly the W with an 11-9 win.

Theo Epstein: According to reports coming out of Mesa, Theo says that he's been pleased with Joe Maddon's resolve and level of work. "Him taking over the situational hitting has been great for everybody. Players have really enjoyed having him engaged that intensely in something and being that hands on."
Shifting his comments to the players, Epstein says, "There was no mandate. I have been really impressed with the players' attitudes. I think our players had a really productive offseason. There was nobody that was happy with the way it ended last season. They have shown up with a real seriousness about their work."
Daniel Descalso: The Cubs new utility man says that he hopes to test his shoulder in a couple of days with range-of-motion activities, with the goal of resuming baseball-related tasks within the near future. There is still no timetable for his return.
Tony Barnette: The Cubs took another lump today, as Tony Barnette is dealing with right shoulder soreness. He hasn't pitched in a game since March 3. He's shut down for now and is questionable for Opening Day. As it stands now, the Cubs' pen is down Morrow, Strop, Cedeno, and Barnette.
Brandon Morrow: The Cubs' closer, rehabbing from an elbow injury, had his final day of long-toss yesterday. So far, there's been no setbacks, and he's on target for his first bullpen session on Monday.
Willson Contreras: Cubs catcher is raising funds with a t-shirt sale to help support those affected by political unrest in his home country of Venezuela. If interested in helping, here's the link:
Here's the link to get your own shirt my people let's keep helping my Country ??????
Now online! https://t.co/ou7ISd1Qgq

— Willson Contreras (@WContreras40) March 15, 2019
Pitchers beware: With the new 3-man minimum rule for pitchers, MLB intends to have protocols in place to discipline clubs if a pitcher tries to fake an injury to avoid having to face three batters. MLB has also announced that the 3-batter rule will be used in the minors this year.
Cub birthdays: Celebrating yesterday were ex-Cubs Jay (34), Freddie Bynum (39), Bob Locker (81), Dick Scott (86), and posthumously, Bobby Bonds (73), James "Doc" Casey (149), and William "Roscoe" Coughlin (151).
Condolences: Long-time Wrigleyville bartender, Floyd Saunders, has passed away from complications involving his dementia; he was 92. Mr. Saunders worked at the Wrigleyville Tap from 1984 until 1999, until he retired.
Friday's Scoreboard: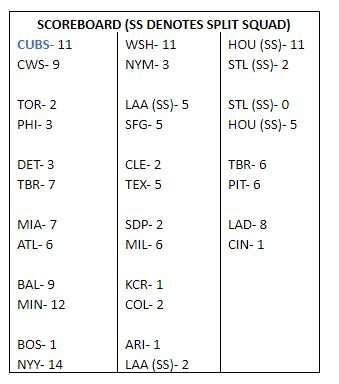 SATURDAY (EST) 1:05 PM: ATL @ BOS, MIN @ TBR, STL @ WSH, NYM @ MIA, PIT @ DET, TOR (SS) @ NYY, HOU @ PHI, BAL @ TOR (SS). 4:05 PM: TEX @ CIN, MIL @ KCR (SS), SDP (SS) @ SFG, LAD @ CHW, COL @ MIL. 4:10 PM: CUBS @ ARI, CLE @ LAA, KCR (SS) @ SDP (SS). LATE GAME (11:05 PM Eastern): The Mariners will visit the Tokyo Dome to play the Yomiuri Giants of the Nippon Professional Baseball League. Seattle will play against their opening series against the A's in Japan.
SUNDAY (EST) 6:05 AM: Oak @ Fighters (Tokyo Dome). 1:05 PM: NYM @ WSH, STL @ MIA, BOS (SS) @ PIT, ATL (SS) @ DET, NYY (SS) @ BAL, TBR @ BOS (SS), HOU @ ATL (SS), NYY (SS) @ PHI, MIN @ TOR. 4:05 PM: COL @ CUBS, CLE @ CIN, KCR @ SFG, ARI (SS) @ TEX, MIL @ LAD, LAA @ SDP, CWS @ ARI (SS). 11:05 PM: OAK @ FIGHTERS (Tokyo Dome).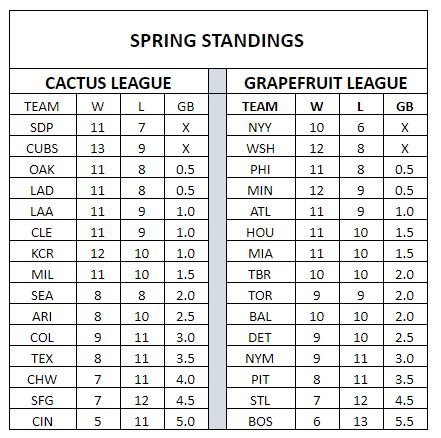 News from around MLB:
Bryce Harper: In the Phillies game against the Blue Jays yesterday afternoon, Bryce Harper got nailed in the ankle with a 96 mph fastball. Reports say he has been diagnosed with an ankle contusion (bruise) and that it isn't suspected to be anything serious. Sure looked painful.
Ouch.

Bryce Harper exits today's game after being hit in his right ankle. pic.twitter.com/RIZHGluHQM

— NBC Sports Philadelphia (@NBCSPhilly) March 15, 2019
Blue Jays: Toronto has reassigned top 3B prospect, Vladimir Guerrero Jr., to minor league camp.
Rockies: Colorado has lost RHP Antonio Senzatela due to an infected blister on his right heel. Manager, Bud Black said, "he'll be out for a while."
White Sox: After clearing waivers, Chicago has outrighted RHP Juan Minaya to Triple-A Charlotte
Yankees: NY is reporting that RHP Luis Severino is likely going to be out until sometime in May, following issues with his shoulder.