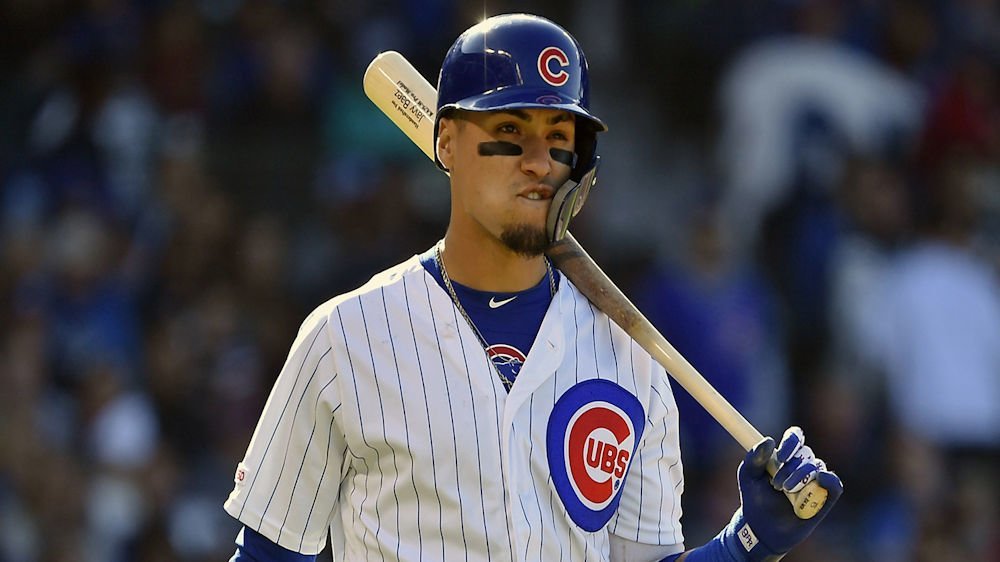 | | |
| --- | --- |
| Fly the W, Descalso injured, Cubs wins projection, Bad chilli, standings, more | |
---
| | | |
| --- | --- | --- |
| Sunday, May 5, 2019, 8:26 AM | | |
Next Game: Today: 6:05 PM CDT: Cards vs Cubs. Adam Wainwright (2-2, 3.96 ERA) vs LHP Jose Quintana (3-1, 3.48 ERA).
Feel free to visit CubsHQ.com during the game as we will have a live game thread covering the ballgame with one of our writers. If you haven't joined our 100% free site, REGISTER HERE. It takes only 30 seconds to get a full membership.
CUBS NEWS AND NOTES:
Saturday's Game Recap: The Cubs (17-12) took another step towards recapturing first place on Friday, with their 4-0 win over the Cards (20-12). Yesterday afternoon it was Yu Darvish's opportunity to shine, as he faced-off against righty, Michael Wacha for the Cards.
Darvish didn't have a good day at all today, giving up a ton of hits, most of which were doubles, along with a homer to Martinez in the second. The day was accentuated with a handful of walks and a wild pitch, though he did tally four strikeouts. Darvish only lasted 4.0 innings, although he began the fifth frame before being pulled. The bullpen was solid again, collecting seven strikeouts in 5.0 scoreless innings. Brandon Kintzler got the win, and Pedro Strop collected his fourth save.
The Cubs' offense is what saved the day, buying the Cubs their sixth straight W, and helping them to clinch their eighth series win in a row. An unlikely candidate led the most significant part of the offensive charge; Taylor Davis. Down 5-1 in the fourth, Davis hit his first major league homer and a grand-slam at that, tying the game. The teams would stay deadlocked until the eighth when Javier Baez launched his 11th homer of the season into the right-field bleachers. Final score: Cubs-6; Cards -5.

Kris Bryant: KB continued his hot streak yesterday, going 1 for 2 with a pair of walks. Bryant has now raised his batting average to .234.
Yu Darvish notes: Yesterday was Yu Darvish's first career appearance against the St. Louis Cardinals, leaving the Dodgers as the lone team Darvish will have yet to face in his career. Darvish's 2.48 ERA (18 ER/65.1 IP) in 11 career starts against N.L. Central teams is his lowest among any division in baseball ... he's held the opposition to a .183 average in those outings.
Daniel Descalso: Hopefully nothing serious, but Descalso hurt his left ankle yesterday while rounding first. Descalso singled on the first pitch offered to the Cubs in the bottom of the first, and subsequently wound up at third, as Dexter Fowler misplayed the ball (error), allowing Danny D two extra bases.
The Cubs announced Saturday that Descalso has left ankle soreness and listed as day-to-day.
Dexter Fowler: Congrats to former Cub, Dexter Fowler who started his 1,300th game yesterday at Wrigley. Fowler went 0 for three but reached base twice on a pair of walks.
Terrible umpiring: As per the norm, the home plate umpiring was lousy yesterday, seeing pitchers and batters from both teams left guessing as to where the strike zone was. The ultimate umpiring injustice came in the top of the ninth, when Cardinals' right-fielder, Juan Martinez, requested a timeout, before Strop's first offering to him. Martinez stood there, arm in the air (requesting time), for a good 5-10 seconds, before stepping out of the box. Strop pitched, time was never granted, and to add even more insult to injury, an extremely inside pitch was called a strike. Certainly, a good break for the Cubs, but c' mon! These same calls could very easily adversely affect the Cubs, so I'm all for the umps calling a proper game.
The record: Going into yesterday's game, Chicago was 17-12 through 29 games after starting both 2017 and 2018 with records of 16-13. Since April 11, the Cubs have posted a major league-best .778 winning percentage, going 14-4 in that span- the Yankees are second with a 13-6 mark (.684).
Addison Russell: When asked about when Russell would return to the major league version of the Cubs, Joe Maddon said, "Not far off from what I understand. I've heard some good things. Typically, everybody wants to rush things. When you don't have to rush things, it's a better method, I think.''
Marlins/Cubs Probable Pitchers: Monday: RHP Sandy Alacantra (1-3, 4.86 ERA vs LHP Cole Hamels (3-0, ERA). Tuesday: LHP Caleb Smith (3-0, 2.00 ERA) vs LHP Jon Lester (2-1, 1.73 ERA). Wednesday: RHP Jose Urena (1-5, 5.45 ERA) vs RHP Kyle Hendricks 2-4, 3.93 ERA).
Lester on Hendricks: "The craziest part (about Kyle's complete game) was the only threw 18 balls. That's (an average of) two an inning. That stat is more impressive than the 81 pitches."
PECOTA said what? Remember when PECOTA predicted the Cubs would win 82 games this season? Remember when they revised that projection to reflect 79 wins? Well… based on the records of the NL teams through May 3, the Cubs are on pace to win 102.62 games, followed by the Cards- 98.42, the Reds- 83.01, the Brewers- 77.51 and the Pirates- 63.15.
Bad Chili: Looks like the Cubs dodged a bullet when they fired former hitting coach, Chili Davis. The Mets picked up Davis over the winter, and their offense seems to be paying the price. Pending yesterday's game results against the Brewers, the Mets were 26-32 and had scored just 151 runs this year- that ranks 9th in the NL and 15th in all of MLB.
Look-alikes: I noticed this on Twitter yesterday and thought I'd share. I definitely see a resemblance with two of the Cubs' greats.
maybe I'm crazy, but does anyone else see the similarities between Anthony Rizzo and Ron Santo that I'm seeing? pic.twitter.com/aj5fvbkHcP

— Ben Trainor (@bennyt94) May 4, 2019
Yesterday's Cub Birthdays: Happy birthday to ex-Cubs Ben Grieve (43), Miguel Cairo (45), Manny Aybar (47), Joe Borowski (48), and posthumously, Cy Blöck (100), John "Ox" Miller (104), Ted Turner (127), Vic Saier (128), and John Malarkey (147).
NL CENTRAL SCHEDULE (May 5 – May 4, 2019)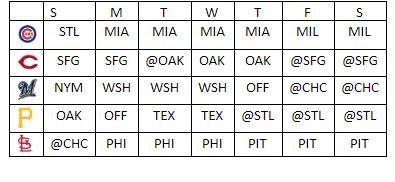 YESTERDAY'S NL CENTRAL SCOREBOARD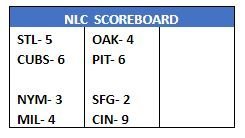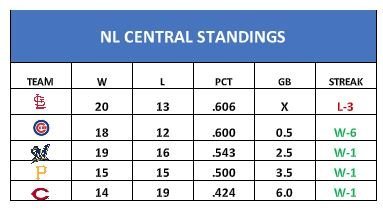 Tags: Cubs Baseball
,
Jose Quintana
,
Yu Darvish
,
Brandon Kintzler
,
Pedro Strop
,
Taylor Davis
,
,
,
Daniel Descalso
,
Dexter Fowler
,
Addison Russell
,
Cole Hamels
,
Caleb Smith
,
,
Kyle Hendricks
,
Anthony Rizzo
,
Joe Maddon
,
Chili Davis