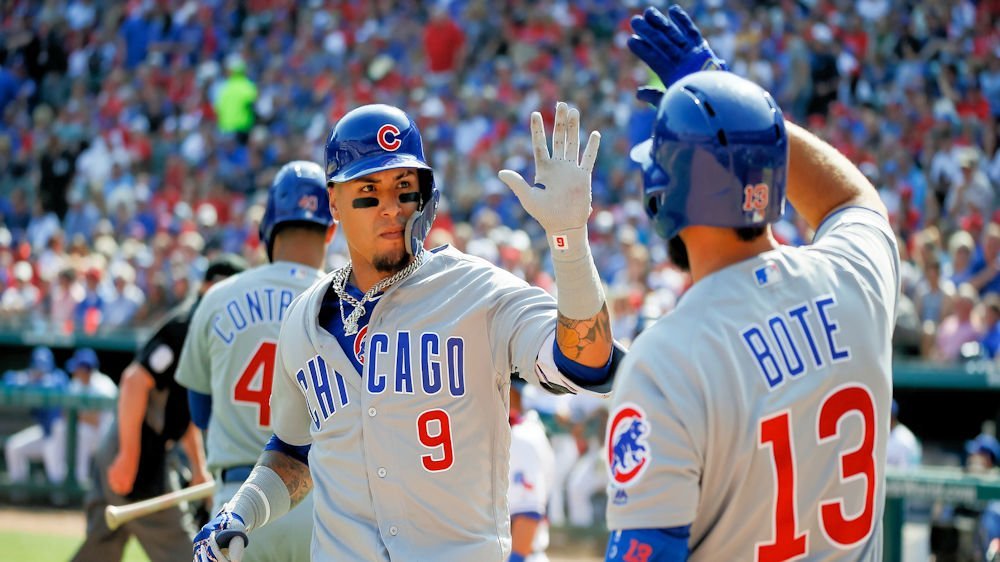 | | |
| --- | --- |
| Fly the W, Javy homers twice, Hoerner news, Opening Day scoreboard, and MLB news | |
---
| | | |
| --- | --- | --- |
| Friday, March 29, 2019, 8:10 AM | | |
From me to you: As this new season gets underway, always remember to embrace the game of baseball, to seek out the positives (even on losing days), and still to enjoy the games. I'm an overly competitive guy and one that believes that there's always room to improve, so when I point out the bad, don't think that I don't recognize the good.
Next Game: Cubs @ Rangers, Saturday, March 30 @ 7:05 PM: Yu Darvish (0-0, 0.00 ERA) vs Volquez (0-0, 0.00 ERA).
Cubs' Home Opener: 13 Days. April 8 vs. Pirates: Game time: 1:20 PM Central. (ABC-7, MLB.TV)
Opening Day Lineup: Here's the lineup that Joe Maddon penciled out for the season opener: (1) Almora-CF, (2) Kris Bryant-3B, (3) Anthony Rizzo-1B, (4) Javier Baez-SS, (5) Willson Contreras (C), (6) David Bote-2B, (7) Ben Zobrist-DH, (8) Jason Heyward-RF, (9) Mark Zagunis-LF. (I was admittedly surprised that Zagunis bumped Kyle Schwarber and not Heyward).
Game Recap: In an odd, inter-league Opening Day, Jon Lester took the mound for Chicago, while Texas sent lefty, Mike Minor to the hill. Lester got tagged for a pair in the third, but Javier Baez would cut into the lead with his first homer of the year, then add to it with his second (total 4 RBI): Kris Bryant would also homer (total 3 RBI). When the smoke finally cleared, the Cubs walked out with an easy win, by a final score of 12-4.
New year, same Javy.

El Mago's teammates aren't surprised either. pic.twitter.com/Z72keqTbcd

— Cubs Talk (@NBCSCubs) March 29, 2019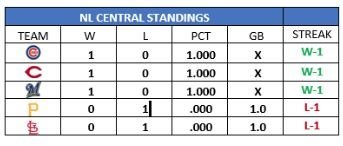 Cubs News & Notes:
One word: Determined:
#FromLeftField: Describe the 2019 @Cubs' mindset in ONE WORD.#OpeningDay (@KIA) pic.twitter.com/fUlFIj4xt0

— Cubs Talk (@NBCSCubs) March 28, 2019
Cubs' Opening Day Roster: I'm happy for Mark Zagunis and Tyler Chatwood.
Here is your 2019 Cubs #OpeningDay roster!#EverybodyIn pic.twitter.com/HUGzeN18GQ

— Chicago Cubs (@Cubs) March 28, 2019
Mark Zagunis: Happy to make the roster, Zagunis didn't disappoint, contributing with a go-ahead, RBI-double in the sixth. This would have been the game-winner, had Texas not homered in the ninth. (I told you guys this kid would be money this year.)
Joe, Joe, Joe: Here we go again. Pedro Strop came on in the bottom of the ninth and retired the first two men quickly, then gave up a single. With a 10-run lead, and in full Maddon panic-mode, Joe replaced Stroppy with Mike Montgomery, to play the match-up game. First batter: 2-run homer to the right. Not that it mattered in the end, but Strop looked as surprised as anyone that he was getting lifted.
Yu Darvish: According to Darvish, he has no restrictions for his start against Texas on Saturday, and will be allowed to go over 100 pitches, if necessary.
Theo Epstein: "The sense of urgency is something (our players) developed as a reaction to falling short of our standards. They took it to heart this offseason. They all looked in the mirror. "Now that the season's starting, we have to prove it. We have a special group of players. This is a special era of Cubs baseball. Each year, we want to make sure we leave nothing undone in our pursuit to make the most of it and win. This group has won. And I believe they'll continue to win. But we want no regrets."
Nico Hoerner: The Cubs up-and-coming prospect (SS) has been moved up to Double-A Tennessee. Theo Epstein says, "It is an aggressive placement, but he is uncommonly mature and advanced for his age. We believe he can handle it. But we expect him to be at Double-A for – if not the whole year – then the great, great majority of the year." (I bet that he sees Chicago before Ian Happ does.)
Rob Zastryzny: After being released from the Cubs last weekend, pitcher, Rob Zastryzny, has found a new home with the Dodgers.
Thank you Chicago @Cubs.

I'm excited to continue my career with the Los Angeles @Dodgers organization. #nextchapter pic.twitter.com/1yzZlXkRBM

— Rob Zastryzny (@RobZastryzny_8) March 28, 2019
Jon Heyman: MLB Network's Jon Heyman has made his MLB playoff predictions, and they don't include the Cubs. (Heyman has also included his thought on the Cy Young, MVPs, and Rookie of the Years) NL: Phillies, Brewers, Dodgers. Wild cards: Mets, Cardinals. AL: Red Sox, Twins, Astros. Wild cards: Yankees, Indians. World Series: Dodgers over Astros, seven games MVPs: Juan Soto, Mike Trout. Cy Young: Jake deGrom, Justin Verlander Rookies: Fernando Tatis Jr.,
Vlad Guerrero Jr. (I like Jon, but I'd love to be able to see him fall flat on these predictions.)
Brian Duensing: After being designated for assignment last weekend, Duensing has cleared waivers and has been outrighted to Triple-A Iowa.
Jason Heyward: Nothing like a game of 20-questions, even if it is only 10. Here's a little from Heyward about Heyward:
Can you guess what TV show Jason Heyward has lined up in his Netflix queue?

Get to know the @Cubs right fielder even better with our latest "Hello, My Name is..." (@KIA) pic.twitter.com/Z4Y3ceiwCh

— NBC Sports Chicago (@NBCSChicago) March 28, 2019
Top jersey sales: It's no surprise that Bryce Harper has helped rake in the bucks on sales of his jersey, placing number 1 in the top-20, but Javier Baez, Anthony Rizzo, and Kris Bryant also made the list (7th, 9th, and 15th, respectively)
Cubs birthdays: Celebrating yesterday were ex-Cubs Ryan Kalish (31), Julio Zuleta (44), Shawn Boskie (52), and posthumously, Lon Warneke (110).
Note: Thanks to @Poppytown for the suggestion on the stats. I tweaked the idea a little, but I think this will work (just so long as MLB can record the right stats- they've already managed to short Zagunis an RBI). Because Baseball-Reference doesn't always update stats immediately, some days, the following graphic may be a day behind in some of the data.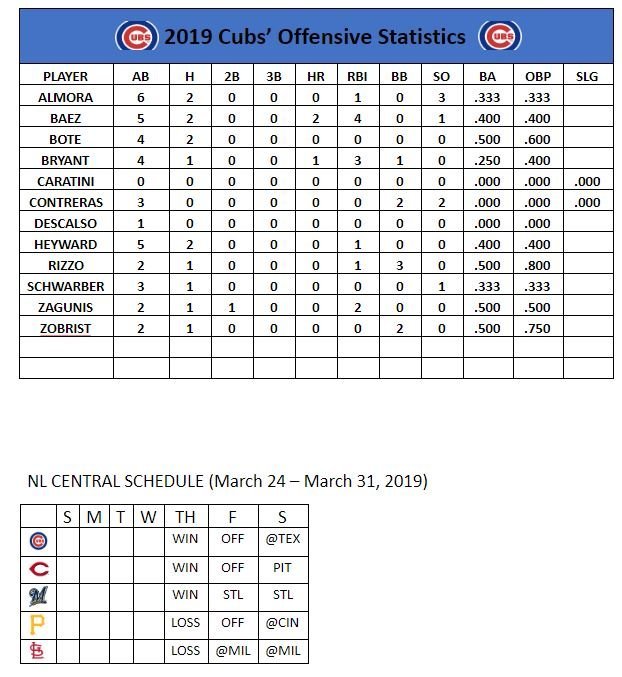 OPENING DAY SCOREBOARD: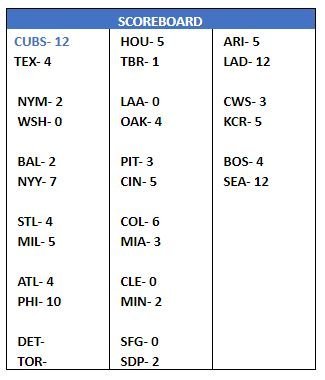 MLB News:
Anomaly: Yesterday marked the first Opening Day in Major League history in which both of the defending Cy Young Award winners squared off against fellow Cy Young Award winners who finished second in voting the previous season.
Ichiro Suzuki: Mariners' veteran IF/OF, Dee Gordon, took out a full-page ad in the Seattle Times yesterday, thanking the recently retired, Ichiro Suzuki.
Dee Gordon took out a full-page ad in the Seattle Times today. pic.twitter.com/PN4NQhSqtc

— Ken Rosenthal (@Ken_Rosenthal) March 28, 2019
A's: Oakland has added veteran DH, Kendrys Morales, to the roster. Toronto is covering more than $10M or Morales' $12.5M contract.
Padres: SD has designated RHP Bryan Mitchell for assignment; optioned INFs Ty France, Jose Pirela, Luis Urías, RHP Gerardo Reyes, LHP Brad Wieck to Triple-A El Paso; and has placed RHPs Miguel Diaz, Brett Kennedy, Jacob Nix on 10-day IL.
Pirates: Pittsburgh has reported that OF Lonnie Chisenhall has suffered a broken hand, after being hit by a pitch earlier this week, and will be out 4-6 weeks.
Rangers: Texas has selected the contracts of RHP Jeanmar Gomez, INF Logan Forsythe, OF Hunter Pence; and has designated RHP Connor Sadzeck for assignment. They have optioned OF Zack Granite to Triple-A Nashville; placed LHP Yohander Mendez on 10-day IL; and placed RHP Luke Farrell on 60-day IL, in addition to placing LHPs Danny Duffy, Brian Flynn on 10-day IL, retro to 3/25; placed RHP Trevor Oaks on 60-day IL; selected INF Frank Schwindel from Triple-A Omaha.
Reds: Cincinnati selects contracts of INFs Derek Dietrich, José Iglesias; place INFs Scooter Gennett, Alex Blandino, LHP Alex Wood on 10-day IL; designate RHP Matt Wisler for assignment.
Yankees: NY has placed RHPs Dellin Betances, Luis Severino, Ben Heller, OFs Aaron Hicks, Jacoby Ellsbury, INF Didi Gregorius on 10-day IL; LHP CC Sabathia put on MLB's Suspended List.

Tags: Cubs Baseball
,
Yu Darvish
,
,
Anthony Rizzo
,
,
Willson Contreras
,
David Bote
,
Ben Zobrist
,
Jason Heyward
,
Mark Zagunis
,
Kyle Schwarber
,
,
Daniel Descalso
,
Tyler Chatwood
,
Pedro Strop
,
Mike Montgomery
,
,
Rob Zastryzny
,
Brian Duensing
,
Joe Maddon
,
Theo Epstein