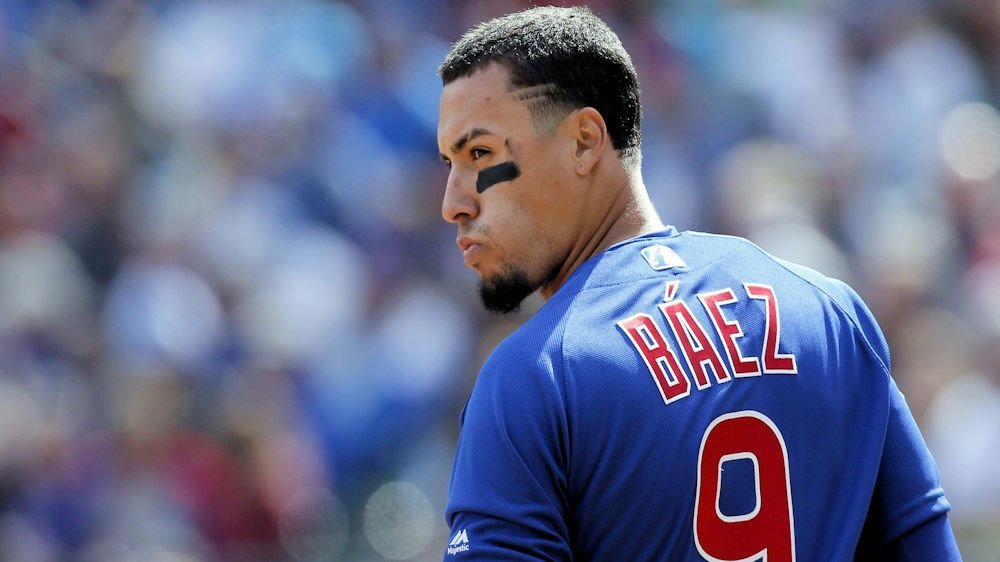 | | |
| --- | --- |
| Maybe Next Year- Part 1: Where the Cubs Went Wrong in 2019 | |
---
"Maybe next year." I've heard those words uttered over and over, for all but one year of my life. We all know what 2016 meant to the Cubs, to Chicago, and to millions of fans- it signified the end of a drought that had lasted 108 years- it signified that the Cubs were the best that MLB had to offer. It also seems to have signified the unofficial end to the Cubs' dominance.
Things started going south in 2017, but the Cubs were able to pull the nose up, making it to the NLCS- a series that they lost to the Dodgers in five games; in 2018, things started looking bleak for the Cubs, as far back as June. When I said the Cubs were in trouble early in 2018, the majority said I was nuts, while telling me how "April and May didn't matter," but while they scoffed at me, I maintained my position, silently scoffing back at their naivety. I didn't want it to be true, but deep down, I knew the Cubs were in trouble. Then, 163 games later, the Cubs settled for the right to play as a wildcard team. On October 2, 2018, Chicago was done for the year.
Theo Epstein proclaimed the offense had "somehow broke" in 2018. He claimed that as the Cubs moved forward, the team would be taking the stance of "production over talent," and that the Cubs would play every game as though it were another game-163. Those speeches offered several fascinating sound bites, but unfortunately, very little of it came to fruition.
Where did it all go wrong for Chicago in 2019?
A Failure to Spend Where Necessary Last Winter
In my opinion, it started with Tom Ricketts closing his checkbook. No, I'm not suggesting that Ricketts should have (or could have) paid Bryce Harper $300M+, but he went to the other end of the extreme, spending next to nothing on a team that screamed for improvements. The Cubs took on very little in the way of free-agent signings and trades over the winter months, putting them at a disadvantage from the time the national anthem played in Arlington, Texas on Opening Day.
In November, they traded away Tommy La Stella for "future considerations," and they grabbed Rowan Wick from the Padres, in exchange for a third-base prospect. They signed Daniel Descalso in mid-December, and then picked up righty, Kendall Graveman, from the free-agent pool. Graveman would sit out for the season, recovering from Tommy John surgery, but he may yet prove to be a decent investment, as the Cubs are bound to be down at least one starter in 2020 (much more on that later).
In January, the Cubs signed free agent righty, Tony Barnette, but after becoming disgruntled over being passed up for a promotion, Barnette packed his bags and went MIA from Iowa; he is still on the restricted list. The Cubs also grabbed free-agent lefty, Xavier Cedeno, but Cedeno injured his wrist in spring training. He'd eventually show up in Chicago, but after just a handful of appearances, Cedeno returned to the 60-day IL for the same issue. That was it for the pickups. Yes, some minor leaguers came and went, but no one who'd have really made a difference. For the most part, the highlight of the winter was signing Daniel Descalso- and we all know how that turned out.
Finally, in late-March- the 24th to be exact, it looked like the Cubs were finally going to get serious about 2019, starting with Brian Duensing being designated for assignment. Shortly after that announcement, there came word that Ian Happ would be heading to Des Moines when the Cubs broke camp in the spring. It was a move that was necessary, and one that would prove to be at least somewhat beneficial, when Happ finally rejoined the team in late-July.
That was it for the Cubs. No superstar signings, no significant trades, and the same offensive core that had broken just six months before would be taking the field to start 2019. Opening Day came on March 28, and the Cubs were hardly changed in any way that would catapult them back to the top of the standings.
No Consistency in the Lineups or Batting Orders
In 2018, Joe Maddon used 152 batting orders (160 when counting pitchers) in 163 games. Not counting the pitchers, this equates to one new batting order every 1.07 days. While I admit that I like to try things until you find something that works, Maddon failed to find a resolution to the offensive woes, despite changing the order nearly every game.
Several players began howling over the winter, about never knowing ahead of time what the batting order was- or for that matter when they would play. Although Theo addressed this in one of his press conferences, Joe Maddon managed to acknowledge the concern but replied in a way that would leave him an out. He proposed to set the lineups before each series, allowing the players to have advance notice of when they'd be playing- there was just one problem- he never promised the batting orders wouldn't be jumbled daily. Maddon used 139 batting orders in 2019 (158 when counting the pitchers)- enough to average a new batting order every 1.17 days, which was only slightly better than the 152 batting orders (160 including pitchers) in 2018. Interesting when you consider that for nearly three months, the order consisted (almost every day) of Jason Heyward (or Kyle Schwarber), Nick Castellanos, Kris Bryant, Anthony Rizzo and Javier Baez in the 1-5 slots.
The one trouble spot for the Cubs remained that ever-elusive leadoff man. Maddon tried eleven different players in that spot, but nobody seemed to produce with any consistency. The more Maddon wanted to find himself a leadoff man, the more the rest of the order got shuffled, never allowing anyone (other than Nicholas Castellanos) to settle into a regular position in the order. Interestingly enough, Castellanos was the one guy who continued to hit consistently. Hmm.
A Weak Bullpen that was Mismanaged
The Cubs knew that the bullpen was an issue in 2018, yet they did very little to shore it up over the winter. Losing Justin Wilson to free agency wasn't the end of the world and letting Eddie Butler walk may have been a blessing in disguise, but the Cubs let way too much talent walk away from the 2018 team, and they did next to nothing to replace it.
Let's start with losing Jesse Chavez who wanted to stay in Chicago but wanted a two-year deal- nobody knows if the Cubs offered even one year. They let 28-year old righty, Justin Hancock, (and his 1.46 ERA) go to Japan, they released Anthony Bass (in August), who'd pitched to a 2.93 ERA in his 16 appearances as a Cub, and they failed to re-sign Luke Farrell, who despite having a rough year in 2018, showed promise.
Going forward with who they had (and the few that they'd acquired over the winter), the bullpen was a disaster from day one. A total of 22 relievers (not counting position players) took the mound for the Cubs in 2019, as the shuffle continued to find guys who could pitch effectively consistently.
Further muddying the waters, returning players such as Mike Montgomery and Carl Edwards Jr., crashed and burned, finally winding up as trade bait, while Pedro Strop failed to find his groove, costing the Cubs several games in the process. Others, like Steve Cishek, remained sporadic, leaving only Tyler Chatwood (who Maddon seldom used) and Brandon Kintzler as the only stabilizing forces in the pen for nearly three months.
Even when Maddon got reasonably solid reinforcements in the form of Craig Kimbrel, Rowan Wick, Brad Wieck, and Kyle Ryan, his desire to play the matchup game often cost the Cubs a win. By pulling relievers after an out or two, Maddon undoubtedly created situations where he'd go from bad to worse, depriving the reliever of a potentially dominating performance, while slipping an overworked arm onto the mound in an attempt to get that one out.
Maddon seemed to mismanage the bullpen daily, as he micromanaged things into the ground. In some cases, pulling relievers after attaining one out is a smart thing to do, but the way that Joe went through the bullpen was insane. I remember a game against the Cards a couple of weeks ago when Maddon had to use James Norwood in the 10th inning because he'd depleted his bullpen; chalk up another loss for Chicago.
Joe mismanages the bullpen on a daily bases...

I agree with Joe, nothing is wrong with the bullpen, just the manager.

— Ransom (@Ransomtlp) September 21, 2019
Another of Maddon's great weaknesses appeared to be mishandling the starters, causing the relievers to be forced into action prematurely, something that should never be done when one has a weak bullpen. Barring any complaints from the starter, when you have a guy who's thrown 8.0 innings on 95 pitches, you let him go. The stats for a complete game be damned, you have a quality pitcher in the game who's determined to get that last out. Like my dad used to say, "If it ain't broke, don't fix it."
The (Still) Broken Offense
The Cubs failed miserably at hitting with runners in scoring position this year, and the concept of playing short ball fell by the wayside, with the Cubs scoring just about 50% of their runs via the use of a home run. That bodes well for the player trying to pad his stats as he gets ready to enter free agency, but it does little for the greater good of the team, especially when stranding runners inning after inning.
Chicago's strength- young sluggers who tend to hit for power- may also shine brightly as one of their greatest weaknesses. You expect guys like Kyle Schwarber, Anthony Rizzo and Javier Baez (maybe even Willson Contreras) to belt multiple home runs season after season, but the remainder of the team is not comprised of guys who can (or should) rely solely on the long ball. Still, how could they possibly resist, knowing that something was obviously different about the baseballs being supplied by MLB?
From the beginning of MLB history through 1990 -- around 115 years -- only 22 teams total finished a season with at least 200 home runs.

In 2019 alone, 23 teams have hit 200 or more home runs -- and Cardinals this week will make 24.

Yet another reminder: This year is abnormal.

— Jeff Passan (@JeffPassan) September 23, 2019
Small ball can win games, but the Cubs have continued to have problems with that concept. Bunting is an art form, and it isn't a skill that many on this team have mastered, while the concept of using sac-flies has also suffered.
An inconsistent Chicago offense hindered the ability to hit and run, something that undoubtedly cost the Cubs some runs this year, and a steady decline in stolen base attempts over the last couple of years has certainly not helped. I said at the beginning of the season that the Cubs needed to reintroduce the concept of being aggressive on the basepaths, but instead of increasing that assertiveness, even the unstoppable Javy Baez seemed more restrained.
No question changes need to be made, both in terms of strategy and the personnel who'll be charged with employing it.
Check out Part-2 of this series (tomorrow), which will begin to cover what I believe to be the changes that the Cubs are about to endure.

Tags: Cubs Baseball
,
Tommy La Stella
,
Rowan Wick
,
Daniel Descalso
,
Kendall Graveman
,
Tony Barnette
,
Xavier Cedeno
,
Brian Duensing
,
,
Jason Heyward
,
Kyle Schwarber
,
,
Anthony Rizzo
,
,
Justin Wilson
,
Eddie Butler
,
Mike Montgomery
,
Pedro Strop
,
Steve Cishek
,
Tyler Chatwood
,
Brandon Kintzler
,
Kyle Ryan
,
James Norwood
,
Willson Contreras
,
Joe Maddon
,
Theo Epstein