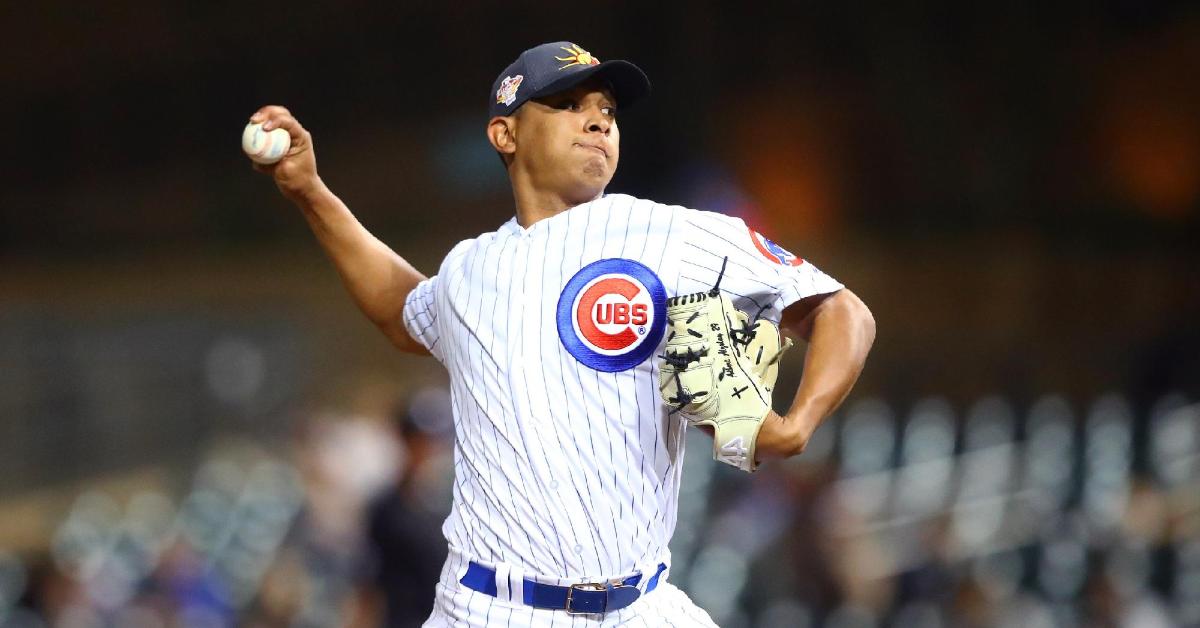 | | |
| --- | --- |
| Past due time for Cubs to develop home-grown pitching | |
---
When Theo Epstein came to Chicago, he had one vision in mind. TO take the Cubs to the promised land and turn them into a dynasty. After countless trades, high draft picks, and spending big-time money in free agency, and his vision became a reality in 2015.
After losing the NLCS in 2015, the Cubs went on to win the World Series in 2016. They then went back to the NLCS in 2017. It looked like the dynasty talk was in full force. Until 2018, the Cubs began to fade in September, which was followed by two subpar seasons. The so-called championship window the Cubs appeared to have is slammed shut, and there is no telling when it will open again.
The best and fastest way to get back to that window is developing some home-grown pitching. That has haunted this team since Theo Epstein took over, and now Jed Hoyer is left with that issue. The Cubs did an excellent job drafting when it came to hitters, as they reached their peak sooner than expected. The problem is the hitters they fell in love with have regressed in recent seasons, and things haven't been good offensively the past two seasons.
Along the way, the Cubs traded away some pitching prospects to acquire more talent and traded away some of their best prospects to win their coveted goal. Not only did they gut the system, but they had no long-term solution for pitching, forcing their hand to sign through free agency or trade for arms. Granted, Jon Lester worked out exceptionally well as did others, but many arms have not panned out. The Cubs rotation is now in a state of flux as they have Kyle Hendricks and Zach Davies as their only proven arms with Alec Mills and Adbert Alzolay as other options.
Looking at the past eight years, I can't help but wonder what could have been if the Cubs would have been able to develop some pitchers to help them along the way. The first name that comes to mind is that of Rob Zastryzny. Not only was he the first home-grown starter to take the bump during the Cubs championship season, but the only one.
He was a second-round pick in 2013 had a rough minor league career going 26-30 with a 4.78 ERA across 146 games and 98 stars. The Cubs still felt he was ready for the show and called him up in September 2016. He started that season and pitched in eight total games compiling 16 innings and going 1-0 with a 1.13 ERA. In 18 career games with the Cubs, Zastryzny went 2-0 with a 4.41 ERA and is no longer with the team.
Following the world series title, the Cubs didn't have a single pitcher drafted by the team throw an inning during the 2017 season. That was a significant cause for concern, and fans started to get a sense that pitching was nowhere to be found. 2018 saw the next home-grown starter make his big-league debut in Duane Underwood Jr.
Another second-round pick, Underwood, was taken in 2012 and took a while to develop. Much like Zastryzny, Underwood bounced around between starter and reliever, going 35-42 with a 4.03 ERA in the minors. Underwood posted a 4.88 ERA as a starter in 2018 and 19 compared to a 3.56 ERA as a reliever. He made his lone start in 2018, allowing 1 ER in four innings of work. Since then, the Cubs have used Underwood strictly in relief, going 1-1 with a 5.20 ERA in 30 games.
2019 gave Cubs fans a glimpse of what hopes to be the future. That is when Alzolay made his big-league debut as he made two starts that year. He returned to the Cubs in 2020 and bounced around between South Bend and Chicago but ended up putting together a strong season. Now ticketed for the rotation this year, Alzolay is hoping to show the Cubs what made him a top prospect years ago.
Sticking with 2020, the Cubs saw the arrivals of starting pitchers Tyson Miller and Brailyn Marquez, who struggled in their MLB debuts. Each of them made one start during the year and showed they need more work before being MLB ready. Looking back on things, since 2015, the Cubs have registered a total of nine MLB starts from home-grown pitchers. That makes things extremely hard to contend if you can't have impact pitching on your side.
Trades and free agents can be useful, but they can also be a disaster for the longevity of success. For the Cubs, I think it is safe to say that it has become a disaster. The Cubs gutted their farm system to acquire pitchers either as a rental (Aroldis Chapman) or to bring in guys like Jose Quintana, who never lived up to the trade.
You then look at the free-agent market. Lester certainly worked out wildly, but Tyler Chatwood, Brett Anderson, and others didn't. Jake Arrieta and Cole Hamels worked out well for the Cubs, considering what they gave up getting the deal done, but still, this team has been hampered by a lack of home-grown arms.
Looking at what the future holds for this team and you can see there is plenty of intriguing pitching help on the way. The only question is, are they worth it? Most of their top pitching prospects have posted substantial minor league numbers, which is promising. Both Underwood and Zastryzny struggled in the minors, so to have so many arms showing promise is a pleasant sight.
The only issue with that is how far away are they and can they continue to get better. Not only do the Cubs have pitchers in the system, but they have a lot of starters. They also have pitchers who are still trying to figure out where they fit long term. Fans know the Cubs can develop hitters to a point. Now it is time for them to develop home-grown pitching. Until that happens, this team will never be able to consistently contend with the Dodgers or anyone else for that matter because they will not keep spending on free agents.

Tags: Cubs Baseball
,
Jon Lester
,
Kyle Hendricks
,
Alec Mills
,
Adbert Alzolay
,
Rob Zastryzny
,
Duane Underwood
,
Tyson Miller
,
Brailyn Marquez
,
Aroldis Chapman
,
Jose Quintana
,
Tyler Chatwood
,
Brett Anderson
,
Jake Arrieta
,
Cole Hamels
,
Theo Epstein