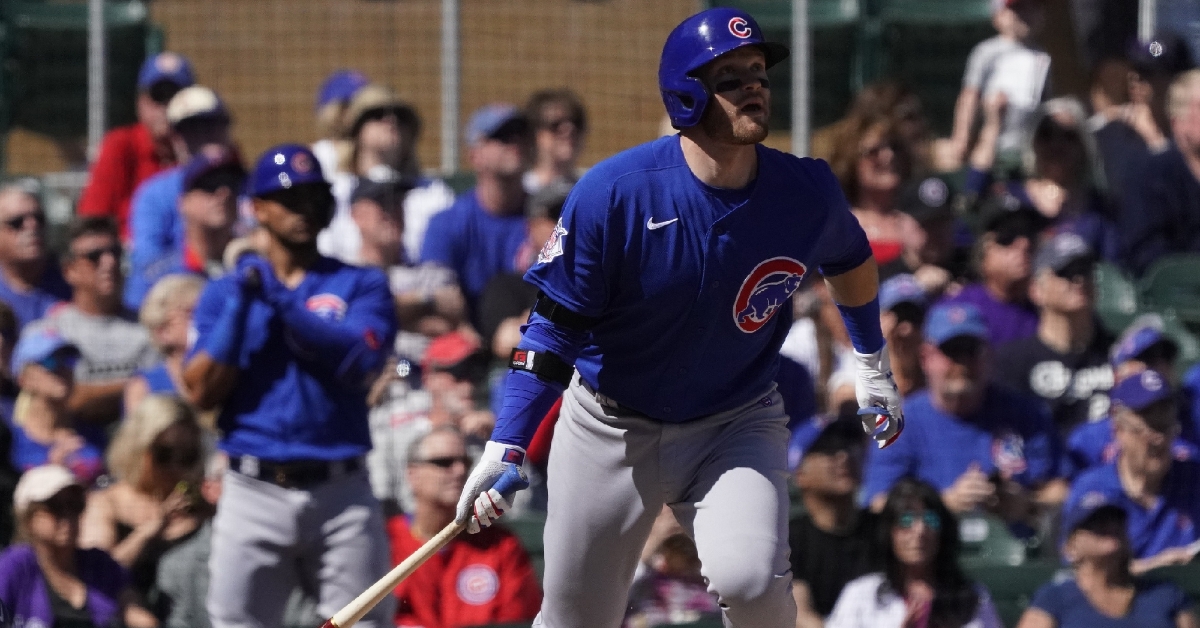 | | |
| --- | --- |
| Rockies win despite homers by Happ, Dewees | |
---
| | | |
| --- | --- | --- |
| Tuesday, March 3, 2020, 6:51 PM | | |
After splitting games with the Angels (Cubs won 9-4) and the A's (Cubs lost 5-2), Chicago – now 5-6 this spring – headed to Talking Stick yesterday to face the Rockies. Jose Quintana made his spring debut, squaring off against RHP Ashton Goudeau, who's posted an 0-1 record and a 2.25 ERA this spring.
The Cubs lined up this way: Ian Happ (CF), Willson Contreras (C), Kyle Schwarber (LF), Steven Souza Jr. (RF), Jason Kipnis (2B), Nico Hoerner (SS), Alfonso Rivas (1B), Noel Cuevas (DH), PJ Higgins (3B).
Quintana definitely needs a good season this year, but it would start rough for him today.
T-1 Well, the Cubs started off with a bang, when Happ belted a leadoff homer to right. Contreras GO-6, Schwarber GO-4, Souza doubled. Kipnis GO-4. Cubs lead 1-0.
Second home run of the spring for Ian Happ. pic.twitter.com/8LQg8jMB3a

— Marquee Sports Network (@WatchMarquee) March 3, 2020
B-1 FO-8 (nice diving catch by Happ), back to back doubles (Schwarber had a glove on the first one, Happ had a glove on the second), Arenado homers. Murphy fans, the GO-6. Cubs trail 3-1.
Not shocked. His first start...he's behind. D not very good either https://t.co/gcKFcs5jUi

— Jesse Rogers (@ESPNChiCubs) March 3, 2020
T-2 Hoerner and Rivas single, Cuevas grounds into a 5-3 double play. Higgins walks, Happ singles to left, run scores. Contreras grounds to second. Cubs trail 3-2.
B-2 Quintana had a perfect second with three groundouts to Kipnis.
T-3 Schwarber GO-1, Souza walks, Kipnis FO-9, Hoerner FO-8. Cubs down 3-2.
B-3 RHP Colin Rea: GO-4, GO-6, FO-8.
T-4 Rivas GO-4, Cuevas walks, Higgins singles to right, Happ walks, then Contreras hits a single up the middle to score a pair. Schwarber fans, Souza walks. Kipnis GO-4. Cubs lead 4-3.
.@WContreras40 back up the middle. pic.twitter.com/EDleBcYne6

— Marquee Sports Network (@WatchMarquee) March 3, 2020
B-4 Colin Rea gets a second quick inning: K, FO-7, GO-6.
T-5 Hoerner doubles, Rivas singles to right, Hoerner scores. Cuevas GO-5, Higgins walk, Ian Miller FO-7, Donnie Dewees homers, making it 8-3 Cubs. Schwarber doubles, Souza walks, Kipnis FO-7. Cubs lead 8-3.
Former @SBCubs CF Donnie Dewees just homered for the @Cubs in Spring Training. He's now 3-6 with a 3B, HR & 4 RBI with the big club this spring. pic.twitter.com/lmtFX4Y0rF

— Pete Byrne (@PeteByrneWSBT) March 3, 2020
B-5 RHP Rowan Wick: Two strikeouts and a groundout.
T-6 Cubs get nothing: Still 8-3.
B-6 LHP Rex Brothers: Double, double, walk, sac-fly, run scores. Murphy singles, FO-8, K. Cubs lead 8-5.
T-7 Andy Weber GO-6, Ian Miller GO-3, Dewees singles to left. Trent Giambrone doubles off the right field wall, scoring Dewees. Miguel Amaya line
out to center to finish the frame. Cubs up 9-5.
B-7 RHP Duane Underwood: K, K, FO-7.
T-8 Asuaje infield single, Zack Short singles to center. Corban Joseph FO-7. Jhonny Pereda hit an infield single, followed by Weber who grounded out to second, scoring Asuaje. Miller FO-8. Cubs lead 10-5.
B-8 RHP CD Pelham: Homerun, FO-8, single, walk, pop out to short, GO-3. Rockies trail 10-6.
T-9 Dewees fans, Giambrone fans, Amaya ground out to short. Cubs carry a 10-6 lead into the bottom of the ninth.
B-9 RHP Dakota Mekkes: K, HBP, BB, single, single (two runs score), single (tying run scores). Scott Effross replaces Mekkes but gives up a single allowing the Rox to win.
Final Score: Cubs-10; Rockies-11.
Cubs Offense: 17 for 42 (.405); 5 for 16 (.313) with RISP.
Next Game Tomorrow, 2:05 PM: Cubs at Reds

Tags: Cubs Baseball
,
Jose Quintana
,
Ian Happ
,
Willson Contreras
,
Kyle Schwarber
,
,
Alfonso Rivas
,
Noel Cuevas
,
Colin Rea
,
Ian Miller
,
Rowan Wick
,
Rex Brothers
,
Andy Weber
,
Trent Giambrone
,
Miguel Amaya
,
Duane Underwood
,
Corban Joseph
,
Jhonny Pereda
,
Dakota Mekkes
,
Scott Effross