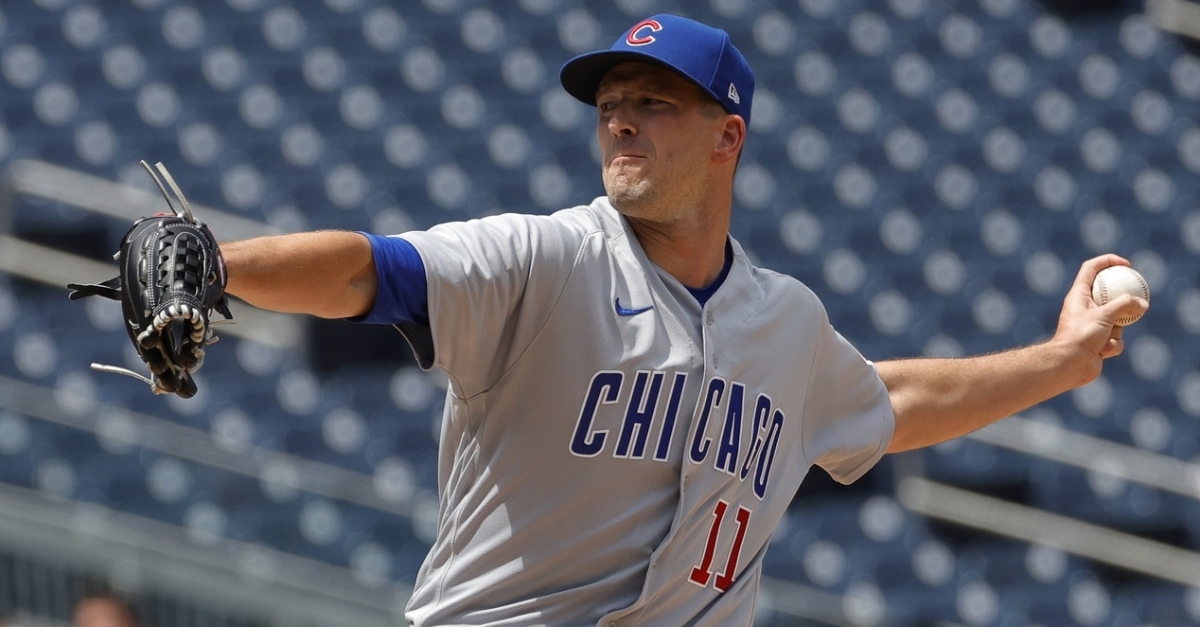 | | |
| --- | --- |
| Smyly impressive as Cubs win four straight series | |
---
| | | |
| --- | --- | --- |
| Wednesday, August 17, 2022, 4:45 PM | | |
WASHINGTON D.C. - Things haven't been easy for the 2022 Chicago Cubs (49-67), but things could be way worse. After taking two of three from the Cincinnati Reds last weekend, the Cubs had a chance at another series win and a winning road trip Wednesday when they faced the Washington Nationals (39-80) at Nationals Park.
With Drew Smyly on the hill against former Chicago Cubs Top 30 prospect Corey Abbott, it was Smyly and the Cubs who came out on top as they managed to hold off the Nationals 3-2 to claim the series win. Whatever version of Smyly this is, the Cubs will have to take a long look at bringing him back next season as he has been brilliant the last few times out.
Although he accumulated 100 pitches in 5 1/3 innings, Smyly was tough on hitters once again, allowing just two runs on four hits while striking out four. His ERA is 3.67 and under 3.00 across his last four starts. The Cubs needed a strong showing from him as Abbott put together the best start of his professional career.
Granted, he has only started a handful of games at the major league level, and most of them didn't last long, but this was one of those games that earned him the 2019 Organizational Pitcher of the year honors in the Cubs system. Not only did he get through six innings for the first time, but he allowed just two runs while striking out five to show everyone what he can be when given a shot in the rotation.
Even after allowing a leadoff single to Zach McKinstry in the first and a leadoff double to Franmil Reyes to begin the second, Abbott was off to a strong start as he kept the Cubs off the board. That allowed the Nationals to take the lead in the second, with Keibert Ruiz smoking a one-out double before racing home on the Cesar Hernandez single to put Washington in front 1-0.
That would be all the scoring until the fifth inning as Abbott was dialed in on his side of things, while Smyly allowed a Lane Thomas third inning double as his last baserunner to that point. As frustrating as it was for the Cubs to see Abbott pitching this well against them, you had to feel happy for him, knowing he was once a massive part of the future of the franchise.
His luck finally ran out in the fifth when Rafael Ortega led off the inning with a walk, but was still left standing on first base with two outs. That is when Abbott's former battery mate from Tennessee, PJ Higgins, made him pay as Higgins unloaded for his sixth homer to give the Cubs a 2-1 lead and had Smyly in line for the win if he could finish off the fifth.
PJ Higgins wins the battle! pic.twitter.com/7q37WWU7WP

— Chicago Cubs (@Cubs) August 17, 2022
Following a dominating fifth inning, Smyly was back on the mound to begin the sixth, but after allowing a one-out double to Joey Meneses, it was the end of the road as David Ross went to Erich Uelmen and the bullpen. Uelmen was greeted rather rudely by allowing a Luke Voit single to begin his outing, while an RBI fielder's choice from Nelson Cruz brought things back to even and took Smyly away from grabbing the win.
As tough as things have gone for the Nationals this season, their bullpen has looked great in this series, and David Martinez was hoping that would continue in the seventh. With Jake McGee on in relief of Abbott, it was Reyes getting things started in the right direction as he led off the inning with a double.
Since coming to the Cubs on a waiver claim, Reyes has been hitting the ball exceptionally well and could be playing himself into a contract next season. Following a pair of strikeouts by McGee to put him on the verge of getting out of the inning, Yan Gomes came through when the Cubs needed him the most as his RBI single put Chicago in front for good 3-2.
A go-ahead knock from @Yan_AGomes! pic.twitter.com/n5XqKooeD9

— Chicago Cubs (@Cubs) August 17, 2022
Freshly called up, Steven Brault was chosen to not only pitch the seventh, but also came out to pitch the eighth as he allowed just one hit over two scoreless frames to set things up for Rowan Wick to close things out in the ninth. Wick was coming off a horrible outing on Tuesday, but has been very good over his last 15 appearances.
He picked a perfect time to get back on track as the right-hander induced three groundball outs to close out the game as he earned his eighth save. Chicago had five hits in the ballgame, with Reyes leading the way with two. Gomes, Higgins, and McKinstry had the remaining three as the Cubs will finish this road trip with a winning record.