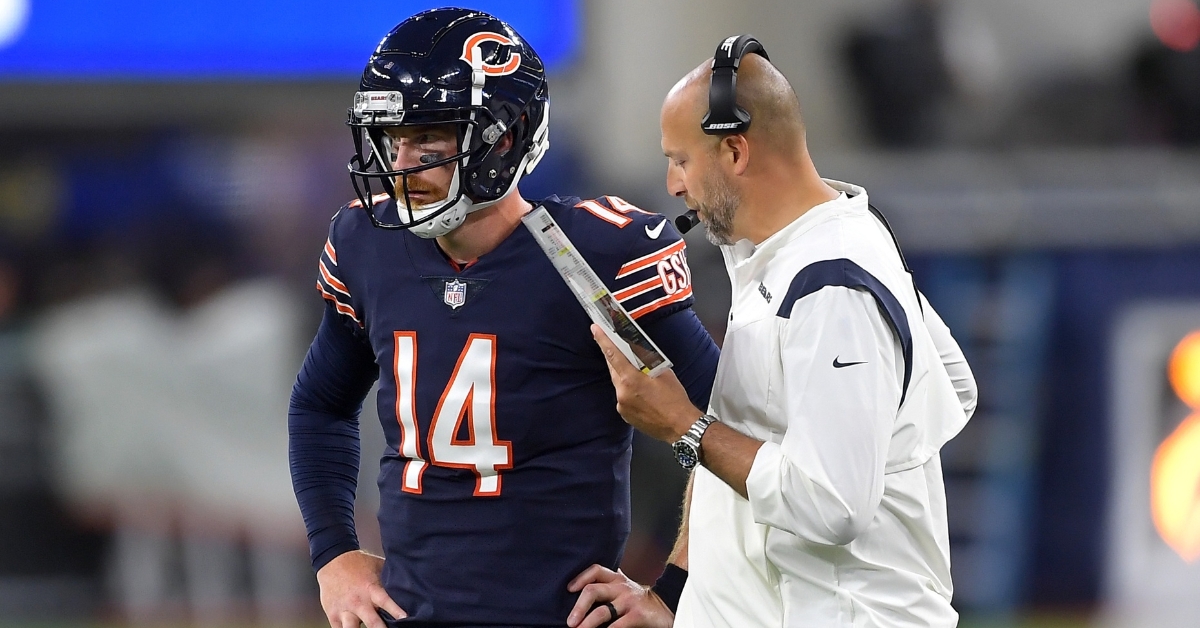 | | |
| --- | --- |
| Bears vs. Lions Prediction: Will Bears feast on Detroit? | |
---
Things have gotten interesting at Halas Hall this week, which we will touch on in just a little bit. In the meantime, the Bears are coming off another loss as things worsen by the minute. Even without Lamar Jackson, the Ravens still did just enough to win 16-13, sending the Bears to their fifth consecutive loss.
That was not only a missed opportunity for Chicago, but a game that the Bears had to win especially coming off the bye week. Instead, Chicago not only dropped another game, but now they have a short week as they get the Detroit Lions on thanksgiving looking for their first win in over a month. If it were any other team, I wouldn't like the Bears chances, but the Lions are the one team that Matt Nagy and the Bears have handled, so there could be some good coming to your holiday season.
Despite the Bears dealing with their fair share of injuries right now, they are still a better team than the Lions and absolutely need to win this game. If they don't, things will get very ugly in Chicago in the final month of the season, and it will be interesting to see how things are handled.
Here are three things to look for and predictions for Thanksgiving Day with Detroit:
The QB carousel is back
One of the biggest mistakes the Bears made last year, in particular Nagy, was going with a QB carousel last season. Mitch Trubisky had a great first couple of games to the season, but was then benched in favor of Nick Foles. Despite getting off to a 5-1 start, Foles was not the answer, as the Bears followed that start-up by losing five-straight games.
In the process, Foles suffered a back injury and saw Trubisky take over as the team finished the season 8-8. Had Trubisky started the entire season, I believe the Bears were a playoff team last year as he played exceptionally well down the stretch. The Bears have at least committed to one guy this season, but the QB carousel may be coming back once again.
Andy Dalton entered the season as the starter and played in just two games before injuring his knee. Justin Fields took over in week three and was announced the starter a few weeks later. Although he has shown some great moments this season, Fields is still a rookie and has made plenty of rookie mistakes this season.
During Sunday's second half of the Ravens game, Fields suffered a rib injury and was replaced by Dalton, who had a tremendous second half. Given that this was a short week, Dalton will start as they let Fields heal up. The question now becomes, what happens after this week? Do the Bears go right back to Fields, or do they stick with Dalton? That is something that the team will have to answer as they will need to figure out a lot more than that after this week.
How will this team respond?
Frustrations have been boiling over all season long, but they have reached a breaking point after their loss to the Ravens. Several players have gone on record saying they want Nagy fired, and Allen Robinson says he has lost the locker room. I am not willing to say that, but the team is frustrated with Nagy.
Many of them are sick of the ra-ra speeches every week because, at the end of the day, wins are all that matters. The bottom line is this team is not winning, and they are leaving games out there that they should have.
Given that this is a short week against a winless Lions team, this is a game the Bears should win. However, they know they can't take this Lions team lightly, as they have played exceptionally well in recent weeks only to come up short. The Bears need to come out strong and punch Detroit right in the mouth to send a message.
Has Nagy been fired?
The big story in the NFL came from Chicago this week, where news broke that Nagy will be out on Thursday. That means win or lose, Nagy and his tenure as Bears coach have come to an end as the front office and ownership finally have seen enough. However, that may not be the case, or at least some sources make it seem that way.
If you talk to the Bears higher-ups and reporters around the team, they have not only been informed of the situation but have been told that Nagy was told that Thursday would be his last game. On the other hand, Nagy denies the reports and has said that he has not had discussions like that of any sort and plans to finish out this season.
We may never know what part of the story is accurate, but I have to side with Nagy on this one. If the Bears did tell him that Thursday would be his last game as coach, what would be the point of him coaching? That is like a job telling you that you are fired, but can finish out the week. That is not how things work, and something doesn't seem right about this story.
I will agree that if the Bears lose, that Nagy will be terminated. I also agree that he will be fired once the season comes to an end, as the Bears have wasted too much talent during his tenure. This organization has been around for more than a century and has never fired a coach midseason. What have they done that makes you believe this will be the first time that happens?
Prediction: BEAR DOWN
Looking at the rest of the Bears schedule, and I don't see a scenario where this team will win more than two or three more games this season. However, this is one of those games that the Bears not only should win, but need to win. The Lions are the lone winless team in the league, but they are without starting QB Jared Goff and went with Tim Boyle last week.
As the Bears prep for Detroit on Thanksgiving, it looks like Boyle will be back under center once again going up against a defense that can make life miserable for him. Look for Chicago to finally put an end to the skid topping the Lions 24-13 as the offense breaks the 20-point barrier.

Upgrade Your Account
Unlock premium boards and exclusive features (e.g. ad-free) by upgrading your account today.
Upgrade Now