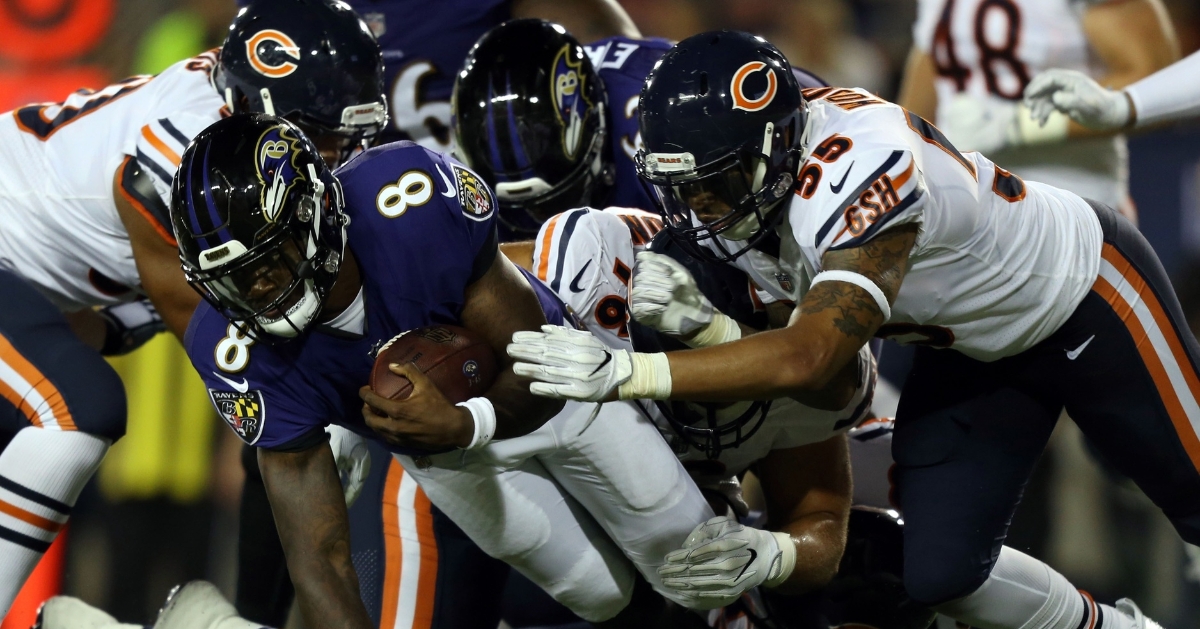 | | |
| --- | --- |
| Bears vs. Ravens Prediction | |
---
Now the Bye week is over, it is back to business for the Chicago Bears as they have eight weeks remaining in the regular season. Sporting a 3-6 record at the moment, things do not look great in terms of a postseason berth, but there is still plenty of time to turn it around with plenty of winnable games on the horizon.
For the Bears to get back on track and turn things around, it starts this week with the Baltimore Ravens team leading the AFC North by .5 games over the Pittsburgh Steelers. Baltimore is coming off a horrible Thursday night loss to the Dolphins, so in a sense, there are coming off a mini-bye week and should be well-rested and ready to go.
This is a relatively new series when you look at history, with the Bears holding a 4-2 lead since the series began in 1998. Baltimore has outscored Chicago by four points, but that was because of one blowout game. Outside of that, most of these games come down to the wire, with the last two games going to overtime in which the Bears won on field-goal tries. Here are three things to look for heading into week 11.
Contain and get after Lamar Jackson
The NFL is a passing league, but one QB continues to defy the odds in Lamar Jackson. In his fourth season, Jackson has evolved into a much more consistent passer while still using his legs better than any QB in the game. Not only has he surpassed 1000 yards on the ground in seasons past, but he continues to be the teams leading rusher when all is said and done.
That makes it very difficult to defend and prepare for him as you often have to gameplan for two different options instead of one. Despite being one of the toughest QBs to go against, Jackson also tends to take plenty of sacks, given how long he likes to hold onto the ball. For the Bears to have any chance in this one, they need to get after him like the Dolphins did and take him out of his rhythm early.
It's time to go streaking
Chicago went from being in second place in the NFC North a month ago to losing four straight games as things haven't been great. That shouldn't surprise anyone when you look at Matt Nagy's track record and how the Bears have played both offensively and defensively this season, but that could all change with one victory.
When you look at Nagy during his Bears tenure, he has been nothing better than a .500 coach at best apart from his 12-4 season during his first year. Being a .500 coach means that you go through plenty of steaks, some good, some bad. While losing four games in a row is bad, Nagy has also put together seven winning streaks of three games as a coach averaging two such streaks a season.
It would be a great time to start that kind of streak for the eighth time, as Chicago needs as many wins as they can get. Should Nagy put together another streak like that, Chicago would be sitting at 6-6. The playoffs would look like a real possibility, considering the Panthers are 5-5 and occupy the final spot for the time being. Chicago feels they have the players that can turn the season around. Now it is time to go out and deliver.
The Bruce Irvin addition could be big
It has been no secret that the Bears defense hasn't been great this season, but a big reason for that is the average age on that side of the ball. Not only has Chicago had to deal with injuries to Eddie Jackson, Khalil Mack, and Akiem Hicks, but the defense is the second oldest in the league in terms of average age. That is something that needs to be addressed this offseason.
Despite that, the Bears still have some young stars who continue to play well. Jaylon Johnson has evolved into a shutdown corner, Robert Quinn is having a Quinn type of season, and Roquan Smith is on pace to record 200 tackles to once again rank near the top of the league. In hopes of improving the defense down the stretch, the Bears made a surprise move by signing veteran Bruce Irvin.
Irvin is not what the Bears needed in terms of age as he is 34 years old. Add in that he hasn't played much football over the past two years, and this is almost certainly a gamble to sign a player of his age this late in the season. However, there is also some upside with the deal should he prove he is healthy.
Irvin is not only a veteran player who will make this defense better, but with more than 50 career sacks, he will aid a Bears pass rush that has been suffering since the loss of Mack. He will not be ready for this week's game, but the long-term outlook on this deal could benefit the Bears and this defense as they need to get better.
Prediction
BEAR DOWN
The Bears need a win in the worst way, not only to end their losing streak, but to jumpstart their second half of the season. Why not do it against a team that seems to be destined to make the playoffs. The Ravens are a great team loaded with offensive talent that love to run the ball and a defense that continues to be one of the best units in the AFC.
Things won't come easy for Chicago in this one, and they know that. However, if there is one silver lining to take away from all this, it would be that the Bears typically play well against this team, and it should be a great game. This is the first time the Bears will see Jackson, but considering Justin Fields is on their team, they see similar QB play every week at practice. I like the Bears chances in this one as they win a tight 20-17 contest at home.