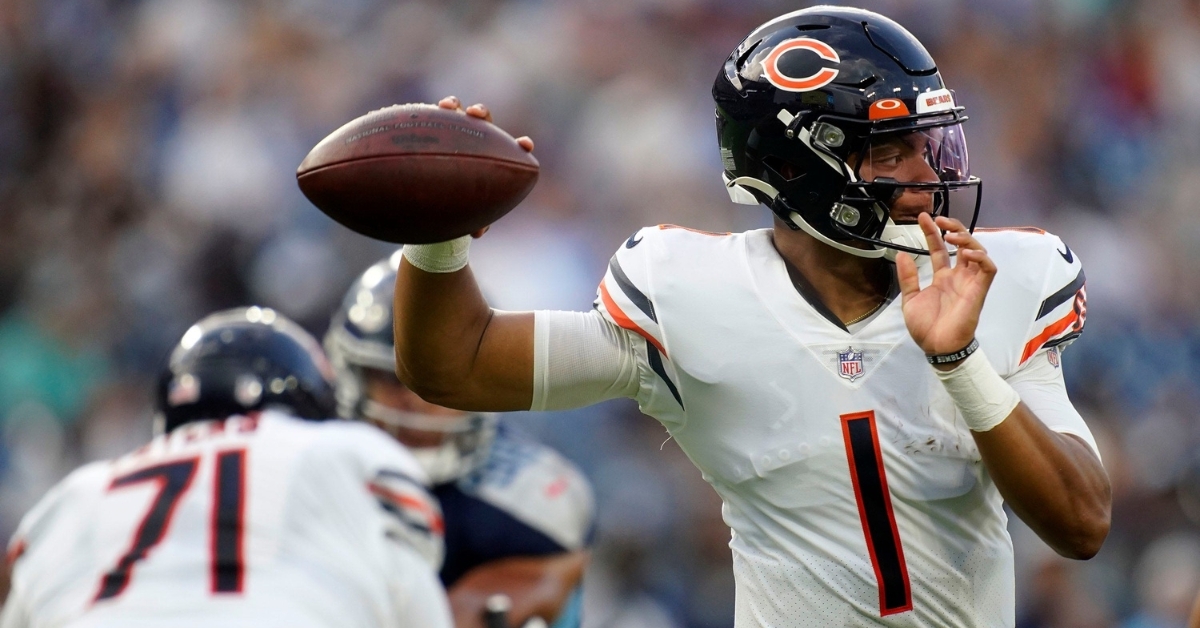 | | |
| --- | --- |
| Position-by-Position Breakdown for Bears vs. Browns | |
---
| | | |
| --- | --- | --- |
| Friday, September 24, 2021, 9:19 AM | | |
The Bears travel into Cleveland for week three to play against one of the best rosters in the NFL. Let's dive into each position group and see where Chicago may have an advantage.
Quarterback: Justin Fields is making his first start against the 2018 first overall pick, Baker Mayfield. Fields has high expectations and most people do think he will live up to them, but Mayfield still gets the nod here for the quarterback matchup. Mayfield definitely has raised some concerns with his play, but he still is a good starting quarterback and more than capable of winning his team a game.
Advantage: Browns
Running Backs: David Montgomery is having a great start to his season and is arguably the biggest positive to come from the entire team through the first two weeks of the year. He has established himself as a great back in this league and will continue to get better. That being said, Cleveland has a top three running back in the league with Nick Chubb. They also have Kareem Hunt as their second back, who would start on a lot of other teams in the league and gets a lot of touches each game. The Browns' offense is led by and runs through their running backs, and they have two good ones.
Advantage: Browns
Wide Receivers: Cleveland has two big names at WR with Odell Beckham Jr. and Jarvis Landry, but there is a chance neither of them will be suited up on Sunday. OBJ is still working on returning from his torn ACL last season and has not played yet this year. Landry will not be playing for at least the next 3 games, as he just was put on IR with a knee injury after last week's game. The Bears are healthy at wide receiver and have been performing well thus far. Led by Allen Robinson and Darnell Mooney, they have been productive even with all the noise around the quarterback position.
Advantage: Bears
Tight Ends: Cole Kmet was expected to have a big role in the offense this year after not being used much at all in his rookie year, but has had a disappointing start. Jimmy Graham is obviously getting up there in age and is essentially limited to a red zone weapon at this point of his career. Hopefully with Fields starting it allows for Kmet to get more involved. Cleveland runs out two solid tight ends in Austin Hooper and David Njoku. Both are great receiving options and capable blockers. They get a lot of looks in play action off their top tier running game
Advantage: Browns
Offensive Line: The Bears came into the season with the o-line being a big question mark, and injuries have made that even tougher on them. Tevin Jenkins and Larry Borom wee both selected in this year's draft, and both are unable to play due to injury. Jason Peters has played well at the young age of 39 and is proving to be a good pickup late in the preseason. The Browns on the other hand have one of the better offensive lines in football. They have dedicated a lot of money and draft capital into the line and it is paying off. The Browns rushing offense is ranked third in league through the first two games.
Advantage: Browns
Defensive Line: Akiem Hicks, Bilal Nichols and Khyris Tonga have played well through the first two games. Getting back Mario Edwards Jr. this week and hopefully Eddie Goldman soon after that will help a lot, but the Browns have a loaded defensive line. Led by one of the best pash rushers in the game with Myles Garrett, they also have former first over pick Jadeveon Clowney as the opposite defensive end.
Advantage: Browns
Linebackers: Roquan Smith is turning into one of the best inside linebackers in the league, and made the biggest play of the game last week against the Bengals that ended up being the deciding factor to bring the Bears the win. Khalil Mack picked up his first sack of 2021 last week and will always demand a ton of attention and game planning solely on him. Robert Quinn is still underperforming his terrible contract but is already putting together a better 2021 campaign than his entire 2020 one. Cleveland's biggest hole on the roster is with the linebacker position. They have some solid players, but they do not have any big names are studs here.
Advantage: Bears
Secondary: The Browns have a lot of talent in their secondary, led by two first round picks in Denzel Ward and Greg Newsome II. Ward has been great since he was drafted 4th overall in 2018, and Newsome II was considered a steal in this year's draft taken 26th out of Northwestern. They also have 2 athletic safeties in Ronnie Harrison Jr. and John Johnson III. The Bears secondary bounced back in a big way against Cincinnati after struggling in LA week one. Jaylon Johnson has been fantastic and make great strides early in his sophomore campaign. Eddie Jackson and Tashaun Gipson Sr. had solid performances last week too.
Advantage: Browns
Special Teams: Khalil Herbert has been good in the return game for the Bears. Cairo Santos continues to (finally) bring stability to the kicking position, and Pat O'Donnell has been fine punting. Chase McLaughlin has made his only attempt FG attempt on the year for Cleveland. No clear standouts here for either team.
Advantage: (slightly) Bears

Tags: Cubs Football
,
Justin Fields
,
David Montgomery
,
Allen Robinson
,
Darnell Mooney
,
Cole Kmet
,
Jimmy Graham
,
Larry Borom
,
Jason Peters
,
Akiem Hicks
,
Bilal Nichols
,
Eddie Goldman
,
Roquan Smith
,
Khalil Mack
,
Robert Quinn
,
Jaylon Johnson
,
Eddie Jackson
,
Khalil Herbert
,
Cairo Santos