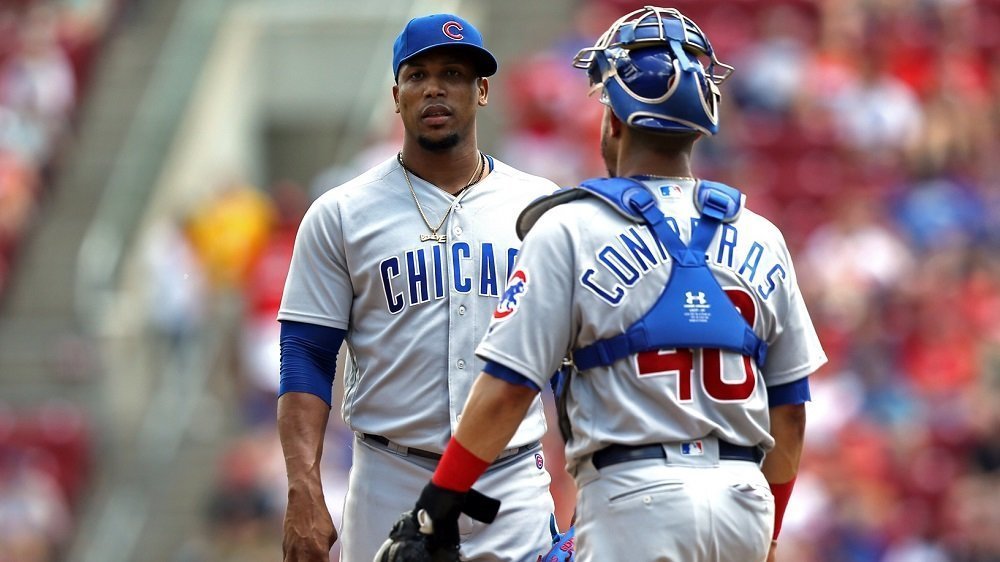 | | |
| --- | --- |
| Breakdown of Cubs Bullpen: Who gets last bullpen spot? | |
---
| | | |
| --- | --- | --- |
| Friday, February 22, 2019, 9:04 AM | | |
Coming off a 95 win season and another playoff appearance in 2018, most teams would be looking at that as a positive moving forward to the 2019 campaign. That is not the case for the Cubs who lost the division in game 163 before being ousted by the Rockies in the NL Wild Card game just one day later.
2019 couldn't have come soon enough for the Cubs as they have been eager to get last years sour taste out of their mouths after dealing with an unusually long off-season, which is something they have not been used to over the past four years. Despite 95 wins, the team did have their fair share of troubles that need to be corrected this season if they hope to make another postseason run.
From a broken offense during the second half to injuries from core players, the Cubs never seemed to get on the run we all know they are capable of showing as the hunger just never seemed to be there. This led fans to believe that this would be a rather busy offseason for the team in hopes of improving the overall team. However, that has not been the case as only a few minor moves have been made to the roster this year.
In all fairness to the front office, they knew they were on the hook for a lot of money this season especially after picking up the 20 million dollar option for Cole Hamels so they needed to be careful where the rest of the money went. The Cubs are also taking into consideration, that if Yu Darvish and Kris Bryant can bounce back to where they have performed in the past, that is in reality like acquiring two free agents at no cost which automatically makes the team better going forward.
The one spot on the Cubs that has seen the most recent changes has been the bullpen as they look to find more consistency this season. Despite being one of the top pens in all of baseball in 2018, it never felt that way as a constant influx of arms made their way through the minors and majors all year long. Although the numbers were good, the Cubs know they need to be better in that area which is why they focused on that part in free agency this offseason.
With the first spring training game set to get underway in two days, the bullpen competition will be at full force as everyone will be looking to solidify their role with the current club. The only question is who will get those spots and how many will be up for grabs. The way I see it, six players are a lock for the bullpen leaving one or two spots to be fought over by ten plus arms. This is how I see the bullpen shaping up for opening day 2019.
LOCKS
RIGHT HANDERS:
PEDRO STROP: This trade is looking better by the minute as the 33-year-old is quickly becoming the most valuable arm in the bullpen After being mostly a middle inning guy in Baltimore, Strop has become the stopper for the Cubs for over six seasons filling every spot in the bullpen at one time or another. Not to mention his ERA has never been above 3.00 in the process with a 2.91 his high mark in 2015 with a 2.21 his low mark in 2014. Even after battling some injuries in the second half of 18, Strop went on to produce his second best era at 2.26 while converting 13-17 saves in place of injured Brandon Morrow. The 21 bbs and 57 k's is also a good sign as his command continues to improve.
With Morrow most likely on the shelve for the first month of the season, expect Strop to continue to handle the closer duties until further notice. Based on how he performs may determine if he sticks in that role or goes back to set up duty.
CARL EDWARDS: Say what you want about the string bean fireballer in terms of command and composure, but CJ has been strong since being called up. After taking some lumps in 15 and 16 with an ERA over 3.8, Edwards has responded by posting two straight sub three era seasons with a career-best 2.60 last season. Armed with a mid-90s heater with natural cutting action and a sharp mid 80's breaking ball, Edwards has an arsenal that no one wants to see in this league.
The only problem with him is the lack of command and confidence he shows at times. When CJ is on his game, he makes some of the best hitters in this game look silly. On the flip side, when he is not on his game things unravel rather quickly making it hard for Joe Maddon to trust him in high leverage situations. Edwards will always have his fair share of walks solely based on the stuff he has, but if he can find a way to control the emotions and stay confident he has the stuff to be an elite reliever in this league.
STEVE CISHEK: The veteran submarine righty proved to be a valuable assist to the Cubs pen a year ago and will look to do the same in 2019. After signing a two year deal with the Cubs last offseason the veteran brought with him a 2.65 era with 125 career saves which happens to be the more than almost the rest of the roster combined.
Although he only went 4-7 in save chances last year, it was what he did throughout the season which makes him stand out. Not only did he lead the team with 80 appearances last year, but he also posted the second-best ERA in the pen with a sparkling 2.18 in 70 plus innings. Pair that with 28 walks to 78 strikeouts and his ability to get hitters out in huge situations, Cishek will look to anchor down the back end of the bullpen once again this season in both situational and high leverage situations.
BRANDON KINTZLER: After being traded from Washington to the Cubs in July, things couldn't have gone worse for Kintzler as he was never his old self in pinstripes. With 66 saves and a 3.48 era for his career, the Cubs were hoping they were getting the ground ball specialist that helped the Brewers, Twins, and Nationals get out of countless jams numerous times. Instead, the Cubs got a version they never hope to see again as he went on to post an ERA of 7.00 in 25 games with nine walks and 12 strikeouts in 18 innings.
Despite that, Kintzler had a player option for the 2019 season which he decided to use keeping him in pinstripes one more year. I firmly believe that the 18 version with the Cubs was just a fluke and that we will be getting a version of him the most people expect out of him. Don't expect many high leverage situations from him early in the season until he proves himself, but if the Cubs need a huge double play, Kintzler may get the call.
BRAD BRACH: After missing out on Jesse Chavez, who was a godsend for the Cubs last season, Brach is the big name free agent added to the bullpen for the 19 season. This is an intriguing signing with a ton of upside, and it did not break the bank. Much like his pen mates, Brach has had a strong MLB career compiling a 3.08 era and 33 saves with 30 of those coming the last two seasons filling in for Zach Britton in Baltimore.
What makes this a strong signing for the Cubs is this could become Jesse Chavez 2.0. A veteran guy who was on a last-place ball club going nowhere got traded to a playoff contender last season and began to find his grove yet again. The Cubs are hoping he can build off that playoff atmosphere this season which gives Chicago another potent weapon to use all over the later innings of games.
Part 2 we will cover the lefties and who gets the final roster spot out of the bullpen.
LEFTIES
MIKE MONTGOMERY: The 29-year-old swingman has quickly become one of the most valued arms for the Cubs and don't expect that to change this year. Even though Monty has expressed his desire to start, he knows with the state of the rotation as it is, he will enter the season as the No. 6 starter and will be an anchor in the pen.
The good news with that, however, is when/if an injury in the starting rotation happens he will be the first one up as he showed great potential last season. In his three-plus months filling in for Darvish, Montgomery posted an ERA right around four while giving the Cubs five-plus innings per start on average. With him in the bullpen, not only do they have a guy who can be used in situational spots, but they have someone who can eat up innings in blowouts or extra-inning games further saving the bullpen in 19. He will be looking to improve his command a bit this season while getting his velocity back in the 93 mph range.
LEFTY SPECIALIST
BRIAN DUENSING/XAVIER CEDENO:This will be one of the battles to watch in camp as both of these pitchers will be fighting for the same spot. After signing a great 17 season that saw Duensing post a career-best 2.74 era in 68 games, he inked a 2-year extension before last season. Early on it appeared to be a good signing as he went one month into the season before giving up an earned run. It was all downhill from there as injuries, and lack of command did him compiling 7.65 and 29 walks to go with 24 strikeouts.
That was partly due to ongoing back and shoulder issues throughout the season, but earlier this offseason, Duensing revealed the diet plan he was on last season was not as good as he would have liked and felt continuously fatigued all year. Now fully healthy and feeling better than ever with a new diet in place, Duensing is ready to show the Cubs he is the 17 version of himself and not 18.
Cedeno, on the other hand, signed late in the offseason and will be fighting to earn a spot. It is entirely possible that both these arms could land on the big league roster until Morrow comes back, but don't see that happening. Cedeno is not overpowering by any means but knows how to get batters out especially lefties.
In 48 games last season between the Brewers and White Sox, Cedeno was sparkly posting an era right around 2 and a 2/1 bb/k ratio. If he can pitch anywhere close to this in spring, it will extremely hard leaving him off the roster once the season starts in Texas.
FINAL ARM SPOT
This spot will be taken up by Morrow once he is healty enough to pitch, but until then the cubs have many options to go about a final bullpen arm. From prospects like Dillon Maples, James Norwood and Randy Rosario who have a combined 65-70 games of big league experience. To free agent pickets George Kontos, Junichi Tazawa, Christian Bergman, Collin Rea, and Tony Barnette, the Cubs have many choices that they could go to finalize that final spot. Each one of them bring some sort of big league experience to the table and know their roles on the team.
However, three other players to keep an eye on would Alec Mills, Tyler Chatwood and Dakota Mekkes. Mills, a 27 year old was viewed as a high prospect for the Royals for quite sometime. After being dealt to the cubs, Mills has flashed his potential both as a starter and in the pen.
Should he open the season up in AAA, Mills will most likely be a middle of the rotation guy hoping to break through. In two starts with the Cubs last season he showed that potential going 1-1 with a 3.75 Era in 11 plus innings. Although just 21 innings under his belt, Mills has done both and would be a nice righty addition to the pen.
Mekkes is a name that keeps popping up as scouts continue to rave about his ability and improvements so far. At an imposing 6-7 and 250 pounds, Mekkes will be hard to miss if he breaks camp in Chicago this season. The 24-year old may not have any big league experience, but his numbers in the minors show that he is ready to contribute now.
Through 94 games and 147 innings of work, Mekkes has gone 13-3 with a microscopic 1.16 ERA walking 67 and punching out 190. Not to mention the 14 saves added to his resume, and you can see why people rave about him. Despite his large frame and stature, he will not overpower you all the time. Instead, he uses a unique arm angle to help create deceptiveness in his delivery, and for a team that has been looking for pitching help for quite some time, he could be the answer.
Finally, that brings me to Tyler Chatwood. A 28 year old starter with nasty stuff, but cant seem to learn command of his pitches. He reminds me a little of Jake Arrieta when he came to Chicago expect with less command. The problem with him that comes to mind is his salary as he is still owed 26 million over the next two years.
He wants to be a starter, but after leading the league in walks with 95 in 103 innings, his command issues could be a liability to put him back in the rotation. So that brings the question of. My thoughts on this would be that with Morrow shelved for a minimum one month with a shoulder injury; Chatwood will break camp in the bullpen as the final arm. He may not get a chance to pitch much, but consider that a one month audition to find his worth on this team.

Tags: Cubs Baseball
,
Cole Hamels
,
Yu Darvish
,
,
Brandon Morrow
,
Dillon Maples
,
James Norwood
,
Randy Rosario
,
Tony Barnette
,
,
Tyler Chatwood
,
Jake Arrieta
,
Joe Maddon