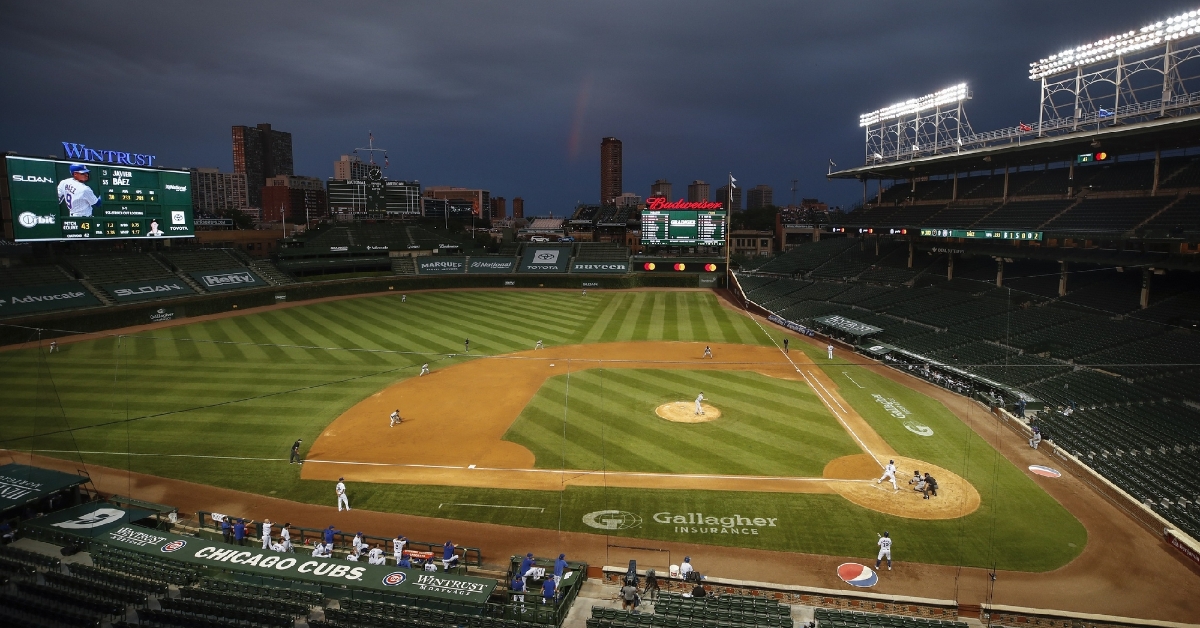 | | |
| --- | --- |
| Commentary: Cubs still have more questions than answers | |
---
As if entering an offseason with a ton of questions wasn't hard enough, the Cubs are now entering unprecedented territory. After releasing both Albert Almora and Kyle Schwarber, the Cubs left fans wondering what their plan was for the outfield or, at the very least, outfield depth. Now add the Yu Darvish trade for Zach Davies and a slew of prospects, and it appears that the Cubs may have thrown in the towel to a point for this season.
Jed Hoyer indicates that he plans to put a competitive team on the field this season, but after the moves the team has made thus far, is that possible.
Everyone knew that this would be a season of transition for the Cubs, but no one expected this kind of turnover without bringing in additional pieces. Despite entering the offseason with already many questions, I think it is safe to say that the Cubs have more questions now than they had two months ago.
Many of these questions may not get sorted out until spring training or later, but they have questions that need to be resolved before that point. The longer they go without addressing some of these needs, the harder it will be for this team to compete this season. Fortunately for them, the NL Central hasn't done much to improve, so maybe the Cubs are still in a division contention window.
Here are some of the questions this team has yet to answer.
Is anyone from this CORE safe?
When the Cubs won it all in 2016, there was talk of becoming a dynasty. When you had a core group of young players in Addison Russell, Javy Baez, Anthony Rizzo, Kyle Schwarber, and Kris Bryant, how could you not like the chances? However, since the end of 2017, things have not been pretty on the north side, and the team is feeling it.
Russell got involved in a domestic violence issue and was shipped out to the KBO. Rizzo is nearing the end of his deal, Bryant is in the final year of his contract and continues to hear trade talks. Schwarber has signed with the Washington Nationals. The once envious core has already been broken up, and there could be more on the way.
It seems like Baez may be the only safe at this point, as the Cubs still plan to talk an extension for him. However, should they, or will they? At this point, I don't think there is one player on this roster safe. The question is who stays and who goes beyond this season?
All offseason long, and even going back to last offseason, two players have garnered tons of trade conversations. Those players have been Willson Contreras and Bryant. Here we are, in the middle of another offseason, and those rumors have been in full force.
At some point, enough is enough, and the Cubs are going to have to resolve this. Whether that means they hang on to both players, trade both, or decide one way or another, something needs to be done. Trade discussions are never easy for anyone, and the more they hear about it, the more it affects them. The Cubs need to decide what to do sooner rather than later or expect another long offseason.
Where is the pitching help coming from?
Heading into the offseason, the Cubs already knew they would be down Tyler Chatwood, Jon Lester, and Jose Quintana in the rotation. That left only Kyle Hendricks and Darvish as trusted starters, but now that Darvish has been dealt, Hendricks is the lone returning starter from last year's rotation.
The Cubs did bring in Davies in the Darvish deal to help, but he is not close to the CY Young level Darvish brought. Internal options like Alec Mills and Adbert Alzolay are expected to land in the rotation this season, but that still leaves an opening. Where will that opening be filled from? Some people expect the Cubs to try and bring Lester back for one more season, but I don't see him coming to a rebuild.
There are some intriguing pitching options in free agency, but all of them may be out of the Cubs price range except for guys like Rick Porcello or Chris Archer. Internally, the Cubs could ultimately use guys like Tyson Miller, Cory Abbott, or Brailyn Marquez, but Abbott may be the only MLB ready option out of this group. Colin Rea was another internal option to have before they released him.
Chicago will have a rotation filled with unproven guys in the back end and anchored by durable starters in the front.
What can be done to change the offensive philosophy?
There is no secret, this Cubs offense is broken. It has been broken for quite a while now, but no one wanted to admit it until this year. After being one of the most potent offensives in 2015-17, this team has gone south every year since the trend is alarming.
Not only are they not hitting for averages, but their home run power has gone way down, especially in the core players. Their strikeout numbers are going up, and their overall contact is going down. Not to mention a putrid average with runners in scoring position, and it is a miracle this team won as many games as they did.
However, they still take walks, so their on-base percentage is on the higher side, but when you can't drive guys in, what good does that do. This team needs not necessarily an offensive makeover but a new offensive approach. Honestly, I don't think they make up this team to sustain this team's strategy.
This team was built on power first contact second. That is who these hitters are, and who they will always be.
While that philosophy worked for a while, it is time to change things as the Cubs need to go with more of a contact-first approach. The players on this roster will hit homers, but they need to worry about putting the ball in play first.
Maybe acquiring a true leadoff hitter to show them how it is done will be the solution. All I know is until this team adopts the small ball approach more into their game plan, they will never compete for another deep postseason run.
Have Cubs fans lost trust in Jed Hoyer?
Let's be real for a minute here? The first few months of the Hoyer regime have not been pretty. You could even say it has been downright disappointing as the team has been dumping salary and is further away from contending now than they were. While I understand the thought process in the Darvish deal, I don't think it was a deal that should have been made with three years left on his contract.
Add in releasing Schwarber when he came at a decent price, and I find it difficult to fathom what Hoyer is planning. I always trust the process when it comes to the Cubs, but only to a point. There comes a time when you can see a team dumping assets, which is getting dangerously close for this season.
Hoyer knows he needs to make moves, but he needs to make moves that not only help the team long-term but immediately too. So far, I haven't seen one move that is helping the team in 2021. Many fans are losing faith in Hoyer just two months on the job, and that doesn't bode well if they enter another multi-year rebuild.
Hoyer needs to make some moves to earn some trust back from certain fans, whether a trade or free agency. He needs to show he is putting a competitive team on the field this year. Until that happens, look for fans to be complaining a lot this season.

Tags: Cubs Baseball
,
Albert Almora
,
Kyle Schwarber
,
Yu Darvish
,
Addison Russell
,
Javy Baez
,
Anthony Rizzo
,
Kris Bryant
,
Willson Contreras
,
Tyler Chatwood
,
Jon Lester
,
Jose Quintana
,
Kyle Hendricks
,
Alec Mills
,
Adbert Alzolay
,
Tyson Miller
,
Cory Abbott
,
Brailyn Marquez
,
Colin Rea