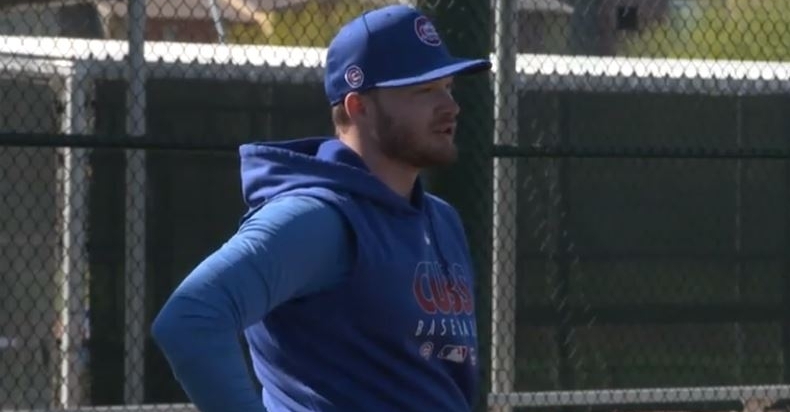 | | |
| --- | --- |
| Cubs News and Notes: Spring training photos, highlights, Anthony Rizzo loves Chicago, more | |
---
| | | |
| --- | --- | --- |
| Monday, February 22, 2021, 5:51 PM | | |
Hello, Cubs fans out there! I hope everyone is having a blessed day and excited for the upcoming baseball season.
Check out the latest news, photos, and tidbits from spring training with the Cubbies with our latest edition of Cubs News and Notes.
We will try to have this feature a few times a week so everyone gets a summary of what is happening regularly at Cubs camp.
Let's get right to the Cubs tidbits!
The Cubs got right back to it on Monday morning as players arrived at camp including Kris Bryant, Javy Baez, Kyle Hendricks, and more in the following photos:
???? pic.twitter.com/2ZDx98j9ya

— Chicago Cubs (@Cubs) February 22, 2021
Anthony Rizzo is all smiles as he is getting to play baseball again under second-year manager and his friend David Ross:
Tony's in town! pic.twitter.com/fcU2gtGahc

— Chicago Cubs (@Cubs) February 22, 2021
Rizzo spoke with the media on Monday and was asked about a possible contract extension with the ballclub as contract talks continue this spring.
"Just go out and be me, and play well, and I know the money aspect and business side will take care of itself," he said.
All negotiations he said going forward will be between him and his agent, which is pretty standard protocol.
"We control the narrative in here. We control how we go about our business every day," he continued. "We're going for it, and we're going to be right in that mix this year, and we're excited."
Rizzo has nothing but love for the city of Chicago.
"Everything that I love about this city, I kind of wear on my sleeve. I still love it. I still love our team. I still love what we have going on here," he added.
Rizzo won't have any regrets during his playing days.
"I'll look back with no regrets because just every day, you just enjoy it. It's too short. Life's too short. The game's too short. All the cliches. But, I really do live my life that way."
Anthony Rizzo on a possible contract extension with #Cubs: https://t.co/9p0Rfdq4fw pic.twitter.com/CEAqWMhREl

— CubsHQ.com (@ChicagoCubsHQ) February 22, 2021
Rossy talked to the media about how excited some of the players ready to get some work in including Kris Bryant, Jason Heyward, Kyle Hendricks, Shelby Miller, and more:
Cubs balancing intensity with caution in 'unique' spring training

More: https://t.co/yBIOHqFlGU pic.twitter.com/QLJCCpm1rM

— Marquee Sports Network (@WatchMarquee) February 22, 2021
A few shots of the action at Sloan Park on Monday afternoon:
February 22, 2021
Here is a few batting practice photos:
February 22, 2021
More photos:
A few shots from this morning's workout: Alzolay during live BP, Bryant chats with HC Anthony Iapoce, bench coach Andy Green hitting grounders, Rizzo and Napoli heading off Field 1. pic.twitter.com/v9ww6mbolU

— Jordan Bastian (@MLBastian) February 22, 2021
A clip of Javy Baez fielding a simple groundball and another video of Willson Contreras:
If you're thirsty, here's Javy Báez fielding a groundball. pic.twitter.com/AfPfDAwTvu

— Russell Dorsey (@Russ_Dorsey1) February 22, 2021
You hear that? ?? pic.twitter.com/oDdAjHX4Rp

— Marquee Sports Network (@WatchMarquee) February 22, 2021
Kris Bryant looks locked in early at Cubs camp:
Kris Bryant: Chicago Cubs third baseman. pic.twitter.com/EngkDpHipO

— Cubs Insider (@realcubsinsider) February 22, 2021
Check out the full Cubs camp highlights from Sunday's workout session, courtesy of the Cubs:
If you are a fan of Cubs bobbleheads, check out this sneak peek of two giveaways for the 2021 season:
SNEAK PEAK: Here's two of the Cubs bobblehead giveaways for the upcoming season. pic.twitter.com/nAi8tOxWcY

— Cubs Live (@Cubs_Live) February 22, 2021
It should be interesting to see how well new Cubs pitcher Zach Davies does this year donning the Cubbie blue:
DYK: New #Cubs SP Zach Davies' changeup tied for MLB's 6th-best pitch type across the last 2 seasons, per @tangotiger's run values metric.

It was MLB's 4th-most valuable pitch in 2020. Kyle Hendricks, whose locker is now right next to Davies', knows a little about changeups, too pic.twitter.com/XPR45ef8Qq

— Matt Kelly (@mattkellyMLB) February 21, 2021
One year ago, the Cubs were already playing a spring training game as Willson Contreras went deep:
One year ago, the @Cubs played their first spring training game of 2020!@WContreras40 put on a show ?? pic.twitter.com/G4fU8pC6gz

— Marquee Sports Network (@WatchMarquee) February 22, 2021
Former Cubs reliever Jeremy Jeffress signed a one-year minor league deal worth $1.25 million with the Washington Nationals.
The contract has another $1.25 million in performance bonuses. Best of luck to Jeffress as another former Cubbie goes to Washington.
Former #Cubs pitcher signs with Nationals: https://t.co/hiBmid0AW4 pic.twitter.com/dKopGUVxt4

— chicagosportshq (@chicagosportshq) February 22, 2021
Wrigley Field looks beautiful as always:
Wrigley in February. pic.twitter.com/cnJY0hXNZE

— Wrigley Aerials (@WrigleyAerials) February 22, 2021
This is just a really cool retro pick of Cubs legend Ernie Banks and iconic Jackie Robinson. RIP to both of these legends!
Ernie Banks leaps over Jackie Robinson in attempt to turn two. pic.twitter.com/lNb4lRpNWS

— BaseballHistoryNut (@nut_history) February 22, 2021
Another retro pic of a young Lou Brock in a Cubs uniform.
"Old Days"A Young Lou Brock gets ready for a 1963 Cubs-Mets game at the Polo Grounds.#Cubs #chicago #LGM? ? #Mets #nyc #hof #1960s pic.twitter.com/TV2vviIYdi

— Tom's Old Days (@sigg20) February 22, 2021