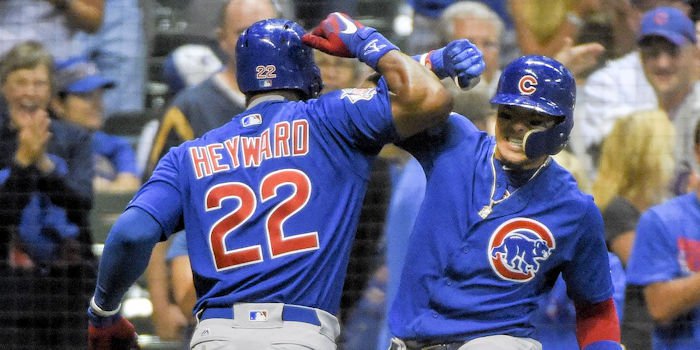 | | |
| --- | --- |
| Way-too-early 2021 Prediction: Cubs will win around 85-88 games | |
---
| | | |
| --- | --- | --- |
| Monday, February 22, 2021, 12:05 PM | | |
For the first time in six years, the Chicago Cubs went through an organizational overhaul this offseason with their future in mind over the present. The last time we saw a drastic change like this was in 2015 when the Cubs were putting together the final pieces of what was the beginning of their championship run.
This year may have been the opposite, but the finishing touches are being put together for what looks to be a bright future. Many big names have come and gone; new faces are walking through Cubs camp as the 2021 season is almost here. Despite all these changes and moving parts, how different is this team? I think you could argue that the team is nearly the same team we saw last season despite its moves this year.
Let me explain this for a minute.
No one will replace the production from some of these players who have been with the organization the past five years, but the Cubs replaced them with the same type of players hoping to be competitive this season. Let's start with the front office where former President Theo Epstein stepped down with one year left on his contract. In his place comes Jed Hoyer, who has been his right-hand man since 2011, so things should continue to operate the way fans expect.
Offensively, most of the players that fans have fallen in love with continue to wear the pinstripes, but we will see some new faces. Out goes Victor Caratini, Kyle Schwarber, Albert Almora, and Steven Souza Jr, and in comes several players who appear to be close to those players' ability. From a catching standpoint, Austin Romine has been brought in to fill Caratini's need as backup catcher and first baseman. Caratini is younger and is a better player, but Romine is precisely what comes to mind when you think of a defensive-minded backup catcher.
The outfield is where the most significant changes will occur, with Schwarber now playing in the nation's capital. After leading the team in homers in 2019, Schwarber endured a horrendous 2020 and has played his last game with Chicago. No one will argue that it will be nearly impossible to replace his production, but adding a guy like Joc Pederson is about as close as you can get. Pederson is the same type of player Schwarber is, just with a little bit more speed. He has also never been an everyday player, and yet he still puts up similar numbers.
Losing a guy like Almora Jr will undoubtedly hurt this team in defense, but his bat never came to fruition. Knowing they needed a defensive-minded player, the Cubs signed Jake Marisnick to a one-year deal. Not much of a career hitter, Marisnick will be used primarily for his defense and baserunning abilities. He will get some chances to start here and there, but nothing like Almora.
Souza Jr. was signed to be the team's fourth outfielder last season but never could get things going. Marisnick most likely sealing that spot right now. Guys like Ian Miller and Cameron Maybin will be fighting for a roster spot in camp. Maybin, who recently signed a minor league deal with the Cubs, saw time with the team down the stretch last season. He has proven to be an asset in playing all three outfield positions and has shown he can handle any role given to him. He is the perfect bench player for this team and may find himself earning the final roster spot.
While the lineup is the same thing we have seen in the past, the rotation is where the most significant changes have taken place. Only Kyle Hendricks and Alec Mills return to the rotation this season, and Mills isn't guaranteed to be in the rotation as of now. That doesn't mean he won't earn a spot, but right now, nothing has been decided on his future.
Last year's ace and Cy Young runner-up Yu Darvish was dealt to San Diego, while Tyler Chatwood, Jon Lester, and Jose Quintana all hit free agency and signed with new teams. Replacing that many innings and overall experience was never going to be easy, but the Cubs did a decent job without spending a ton of cash.
The toughest pitcher to replace will be Darvish, especially when you look at the year he had last season and the second half of the season before. Zach Davies was sent to the Cubs in return for Darvish, and he is coming off his best season as a pro. Davies will never have Darvish displays' overall abilities, but he is certainly a good enough pitcher to have some success.
Losing Lester certainly hurts this rotation as they no longer have a veteran innings-eater who can be a clubhouse leader. Looking to replace that side of things, the Cubs signed a familiar face in Jake Arrieta. In his five seasons with the Cubs going back to 2013-17, Arrieta was one of the best pitchers in the national league and went from possible bust to ACE in three seasons. His time in Philadelphia didn't go as planned, but he was never healthy. Now healthy, Arrieta will not only be a clubhouse leader but could be in line for a breakout season.
Chatwood was signed to a three-year 39-million-dollar deal in 2018 and never lived up to what the Cubs expected. After a terrible first season in 2018, Chatwood moved to the pen in 2019, where he started to rediscover himself as a pitcher. That earned him a spot in the rotation for 2020, where he got off to a great start only to have injuries end his season. Needing someone to replace him in the back of the rotation, Chicago welcomes former Pittsburgh Pirate Trevor Williams.
The 28-year-old certainly has had a rough go of things with Pittsburgh, but the once top 20 prospect in the Pirates system showed promise as a rookie in 2017. Chicago is hoping that a change of scenery is what Williams needs, and maybe a new organization can unlock Williams potential.
Quintana had his moments with the Cubs, but no one will argue the Cubs lost that trade with the White Sox. Quintana appeared in just two games after having surgery on a freak injury in June last season. Mills was the primary fill-in for Quintana last season and will be given the opportunity to do that again this season. Other names like Adbert Alzolay, Shelby Miller, Kohl Franklin, Tyson Miller, and Cory Abbott will be given the opportunity to take over Quintana's role in the rotation.
On paper, one may look at this roster and think the Cubs are in a worse position than they were last year. Last year's team is the same as this year's team, and I would argue that this year's team has more potential. The Cubs are coming off a season in which they went 34-26 and won the NL Central. They were on pace for an 87-win season.
While PECOTA does not like the Cubs' chances this season, I do think they will compete for at worst a wildcard berth. 90 wins may be a little steep, but this team still has the talent to win 85-88 games, which will land them in post-season contention yet again.

Tags: Cubs Baseball
,
Victor Caratini
,
Kyle Schwarber
,
Albert Almora
,
Ian Miller
,
Kyle Hendricks
,
Alec Mills
,
Yu Darvish
,
Tyler Chatwood
,
Jon Lester
,
Jose Quintana
,
Zach Davies
,
Jake Arrieta
,
Adbert Alzolay
,
Kohl Franklin
,
Tyson Miller
,
Cory Abbott
,
Theo Epstein