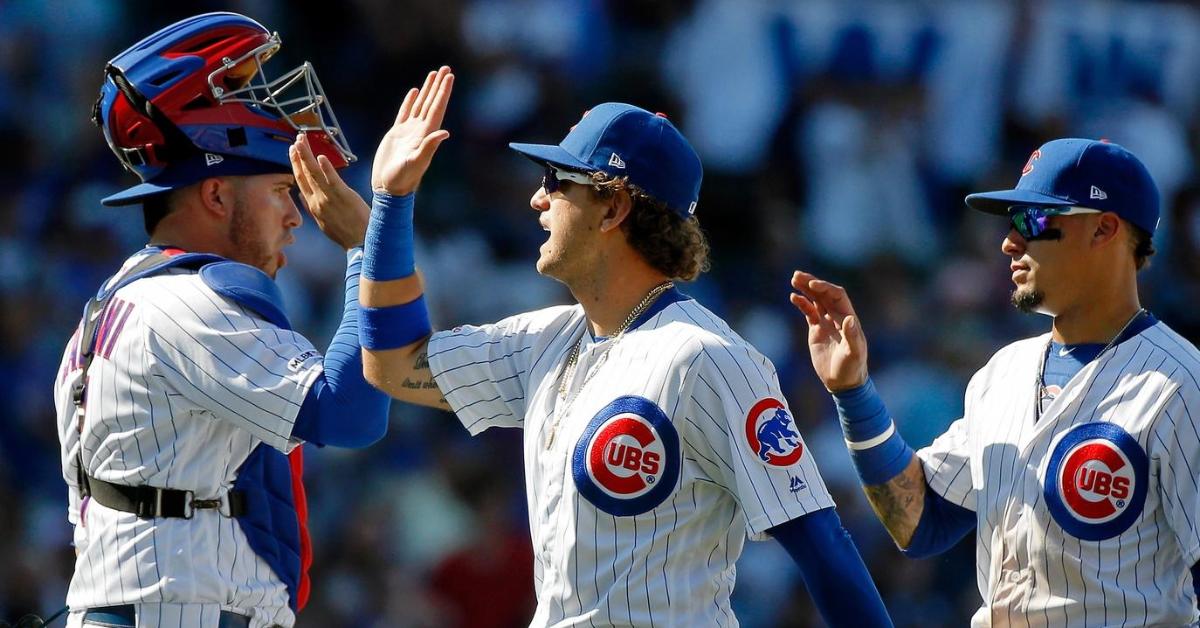 | | |
| --- | --- |
| 12 Days of Christmas: Cubs version Part 1 | |
---
In honor of the Christmas season, I thought we could countdown the Cubs offseason wish list.
Theo Epstein and Jed Hoyer have their hands full in an offseason where the Cubs are trying to subtract to improve. The Cubs are working to pull off one of the most challenging things for a front office to do: make enough acquisitions to contend while also maintaining enough resources to secure sustained success in the future.
If the Cubs would like to do just that, here are some things they would want.
Many people would include a significant haul in return for Kris Bryant or Javier Baez or Willson Contreras or Kyle Schwarber. Still, in my opinion, the Cubs would much instead retain those players and improve in other ways.
Here we go:
12. GET UNDER THE LUXURY TAX
This certainly a goal of the Cubs who missed the playoffs in 2019 despite having one of the largest payrolls in the MLB. Now, the already budget conscience Cubs, have to pay a multi-million dollar fine and lose a draft pick because they were over the tax in 2019. The Cubs are expected to be over that amount this year again, so moving some of the more expensive players is a priority this offseason. In the grand scheme of things, it is starting to make sense why Tom Rickets doesn't want to keep giving Theo Epstein money — an 84 win team cost over 200 million to construct.
11. BUILD UP THE BULLPEN
This is a no brainer for the Cubs as it is with most of the teams in the MLB. Despite the Cubs having one of the league's best bullpen ERAs, the Cubs were painful in high leverage situations. While the Cubs may decide to explore resining Steve Cishek, Brandon Kintzler, or Pedro Strop — it is important to remember there are budget issues to deal with. The Cubs have Craig Kimbrel, Kyle Ryan, Brad Weick, and Rowan Wick in their 2020 bullpen and a plethora of cheap players with minor league options to chose from, but they would certainly like to add some reliable big-league experience. Will Harris could be a guy to explore signing while the Cubs continue to scan for low-risk high reward moves for young, talented arms. However, you say it, bolstering the bullpen is a must.
10. BULK UP THE STARTING ROTATION
It's not just the bullpen that needs help, the rotation does. While Kyle Hendricks and Yu Darvish present a solid 1-2 punch at the top of the rotation, and old reliable Jon Lester is as solid a number three as the Cubs can find — there is a lot to be decided on the rotation. Jose Quintana could be a valuable trade piece or the Cubs' fourth starter. The fifth spot could go to Alec Mills, Tyler Chatwood, or Adbert Alzolay, who all have their perks or the Cubs may look to improve the rotation via trade or free agency. Should they look to sign someone, the options are still plentiful.
9. GET YOUNGER
Getting younger is mainly a goal for the Cubs in terms of their rotation. Kyle Hendricks was the only player still in his 20s in the Cubs 2019 rotation, and he is 30 now. Jon Lester is not getting any younger, and either is Jose Quintana. While Quintana is a valuable player to trade to get younger in the rotation, the Cubs need to start hitting on their picks. The Cubs have been historically bad at developing young pitching and, as a result, have had to use a lot of payroll in the rotation — correcting that issue would make the rotation cheaper and more youthful, a luxury for the Cubs.
8. GET A BACKUP SHORTSTOP
This was mentioned in an article from earlier this week. Javier Baez is one of the Cubs' best and most valuable players, so having some security behind him in case something happens is a must. The Cubs learned the hard way at the end of 2019 what a Cubs lineup without Javier Baez looks like.
7. CENTERFIELD
A problem that has plagued the Cubs since Dexter Fowler left is not having a center fielder. Many thought gold glover caliber defender Albert Almora could take the role eventually, but he has been one of the league's worst hitters over the last two seasons. Ian Happ has the offensive potential but lacks defensive consistency to start every day in centerfield. Jason Hayward plays solid defense in center but prefers playing right field where he has won a handful of gold glove awards. The Cubs will look for a player who can take over center field via trade or free agency — but they will undoubtedly be looking for a speedy, contact-oriented player.
Part II of the Christmas list will be released later this week.
Happy Holidays from us here at CubsHQ!

Tags: Cubs Baseball
,
,
,
Willson Contreras
,
Kyle Schwarber
,
Steve Cishek
,
Brandon Kintzler
,
Pedro Strop
,
Craig Kimbrel
,
Kyle Ryan
,
Rowan Wick
,
Kyle Hendricks
,
Yu Darvish
,
,
Jose Quintana
,
,
Tyler Chatwood
,
Adbert Alzolay
,
Dexter Fowler
,
,
Jason Heyward
,
Anthony Rizzo
,
Ben Zobrist
,
Daniel Descalso
,
David Bote
,
Addison Russell
,
Theo Epstein