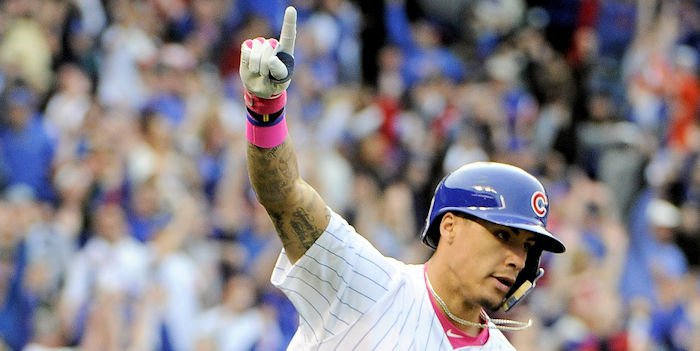 | | |
| --- | --- |
| Baez with four-hit game to power Cubs | |
---
CHICAGO – Javy Baez had himself a night, going 4-for-4 and doing a little bit of everything to help lead the Cubs to an 8-3 win over the Phillies on Tuesday night. The Cubs broke the game open in the fourth after Jon Lester singled to center with two outs followed by a single by Baez and a powerful home run from Kyle Schwarber. That gave the Cubs a three-run lead; a comfortable enough lead for the bullpen to keep.
Jon Lester (1-1, 3.67 ERA) picked up his first win of the season which seems like an oddity considering how well he has pitched in his games this year. He only made it through five innings because of a high pitch count, but the bullpen was stellar in his absence. Lester allowed five walks, a season-high, which led to the high pitch count. He didn't get a lot of calls on the outside corner which is his favorite place to go to get a strikeout.
Carl Edwards Jr., Hector Rondon and Wade Davis combined to throw a perfect sixth, seventh, eighth and ninth to pull out of the mini-slump the Cubs have had recently. They lost 2-of-3 to the Red Sox and then lost yesterday's game in blowout fashion in a near-monsoon.
Inconsistency has plagued the Cubs this year at the plate which has already been evident in the two games against Philadelphia. Being blown out 10-2 and then roaring back with eight runs in the next game is a bit erratic. They are averaging a healthy 4.77 runs per game, good for fourth in the National League.
The problem is that the starting pitching has a combined 4.77 ERA. That essentially puts an incredible strain on the bullpen, allowing them no room for error, which isn't fair to them. The erratic-ness of the hitting combined with the continual leakage of runs by the starters could give the Cubs a hard time through the summer months if things don't start changing right away.
Jake Arrieta (3-1, 4.66 ERA) will battle Jerad Eickhoff (0-2, 3.56 ERA) during the third of a four-game series with the Phillies on Wednesday night. The game is slated for an 8:05 PM EDT start time.