| | |
| --- | --- |
| Baez's homer help Cubs to dismantle the Rangers | |
---
| | | |
| --- | --- | --- |
| Friday, March 22, 2019, 7:29 PM | | |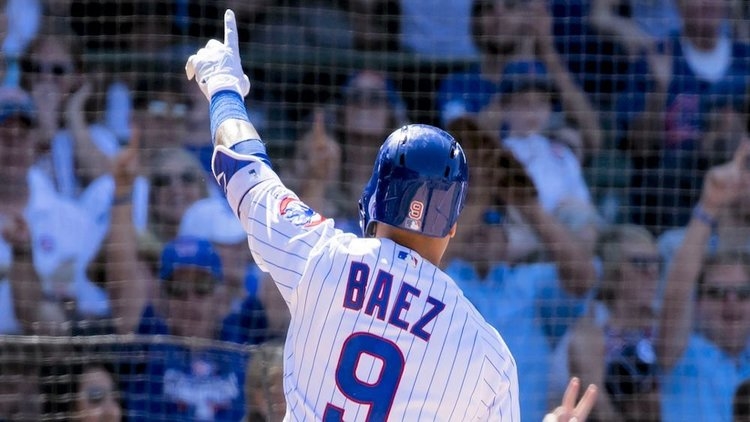 The Cubs, trying to come off of their two-game "tying-streak," hosted the Rangers this afternoon at Sloan Park. The pitching duel consisted of Rangers' righty, Zach McCallister (0-1, 3.27 ERA) vs the Cubs' Jose Quintana (1-1, 2.00 ERA).
By the end of the third, Javy's 4 RBI would be all the Cubs needed, as they topped the Rangers by a final of 7-3.
T1: Quintana wasted no time: 1-2-3 inning on 13 pitches (groundout, pop-out, groundout).
B1: (TEX: RHP-McCallister) Ben Zobrist's groundout started the inning, but Kyle Schwarber reached on a throwing error to first by the Rangers second-baseman; Schwarber would take second as a result. After Willson Contreras fanned, Javier Baez singled to center and took second on a fielding error, which scored Schwarber. David Bote's strikeout ended the inning. Cubs lead 1-0.
T2: Q would give up a leadoff, ground-rule double, followed by groundout. Next, Albert Almora Jr. robbed Chase d' Arnaud of a homerun when he leapt above the top of the fence to make the catch. On his 12th pitch of the inning, Quintana would notch a strikeout to end the frame.
B2: (TEX: RHP-Gomez) Cubs go down in order: Jason Heyward (groundout), Almora, Quintana (strikeout). Cubs lead 1-0.
T3: Quintana does it again on 12 pitches: groundout, and two flyouts to J-Hey (nice catch by Heyward on the first). (Pitch count:37)
B3: (TEX: RHP-Sadzeck) Trent Giambrone walked to lead off the inning, then stole second. Zo's flyout to center was followed by Schwarber's flyout to left, but Contreras drew a walk. Baez's home run blast to center cleared the bases before Bote's groundout ended the inning. Cubs lead 4-0.
JAVY WITH AN ABSOLUTE ?? pic.twitter.com/qE18fEqsKs

— Cubs Talk (@NBCSCubs) March 22, 2019
T4: Q would give up a homer to start the frame, then after a groundout, he'd allow a double. Quintana would retire the next two (strikeout groundout) to end the inning on 13 pitches. (Pitch Count: 50) Cubs lead 4-1.
B4: (TEX: RHP-Sadzeck) Heyward's groundout was followed by Almora's single to right-center, but Almora would be cut-down, trying to stretch it into a double. Quintana's strikeout would end the inning. Cubs lead 4-1.
T5: Quintana sends 'em down in order on 12 pitches (strikeout, groundout, strikeout). (Pitch Count: 62)
B5: (TEX: RHP-Lemoine) After Giambrone and Zobrist grounded out, Schwarber reached on a single to the right, but Contreras' groundout ended the inning. Cubs lead 4-1.
T6: Q would register a leadoff strikeout, then give up a single to the left. The next two went in order on a strikeout and a pop-out. !7 pitch inning. (Pitch Count: 79)
B6: (TEX: RHP-Clase) Adding to his perfect day, Baez began the inning with a walk, followed by Bote's strikeout. The inning would end on a 4-3 double-play after Heyward lined to second with a hit-and-run on. Cubs lead 4-1.
T7: Tyler Chatwood would get the nod from Joe Maddon for the seventh, and he wouldn't disappoint, sending the side down in order on a trio of flyouts, using only 7 pitches.
B7: (TEX: RHP-Davidson) Almora would be out an infield single, then be lifted for pinch-runner, Wynton Bernard, who would steal second. Zack Borenstein would fan, but Bernard would take third. Trent Giambrone would foul-out to the shortstop. Bernard would score on a wild pitch, followed by Ben Zobrist's home run. Charcer Burks would hit a two-out single to center, causing Davidson to be lifted for right-hander Demarcus Evans. PJ Higgins and Zack short would draw back-to-back walks to load the bases. Vimael Machin would fan to end the inning. Cubs up 6-1.
Ben Zobrist hits a home run off ex-White Sox Matt Davidson pic.twitter.com/KyaybpBDd5

— Aldo Soto (@AldoSoto21) March 22, 2019
T8: Righty, Brandon Kintzler, would take the eighth, but after two quick outs (pop-out, strikeout), Kintzler would be replaced by Carl Edwards, Junior. Edwards would immediately give up a homerun, followed by a single. Edwards would get a strikeout to end the inning. When Edwards returned to the dugout, the Cubs staff was examining his right hand. Cubs lead 6-2.
B8: (TEX: RHP-Hernandez) DJ Wilson would draw a leadoff walk, then steal second, then take third on a wild pitch. Wynton Bernard's single to the right would score Higgins. Jim Adduci would hit into a 3-6-3 double-play, followed by Giambrone's strikeout to end the inning. Cubs up 7-2
T9: Righty, Matt Carasiti would finish the day on the mound, giving up a leadoff home run, then striking out the next batter. A flyout and groundout would end the game with a final score of 7-2.
Of note: The Cubs did not issue a walk this afternoon.
Tonight's second game will be at 8:05 PM (CDT): Cubs @ Indians. The pitching duel will feature Cubs' right-handed prospect Duane Underwood Jr. (0-0, 6.00 ERA) vs. Cory Kluber 0-0, 9.82 ERA). It is televised on SportsTime Ohio and MLB TV.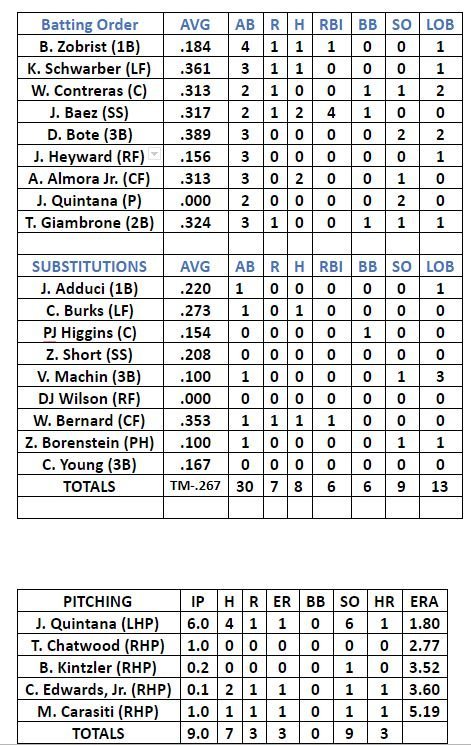 Tags: Cubs Baseball
,
Jose Quintana
,
Ben Zobrist
,
Kyle Schwarber
,
Willson Contreras
,
,
David Bote
,
Albert Almora Jr
,
Jason Heyward
,
Tyler Chatwood
,
Brandon Kintzler
,
Joe Maddon