| | |
| --- | --- |
| Braves sweep Cubs, Rizzo and Baez hit back-to-back homers, standings, and MLB News | |
---
| | | |
| --- | --- | --- |
| Friday, April 5, 2019, 8:49 AM | | |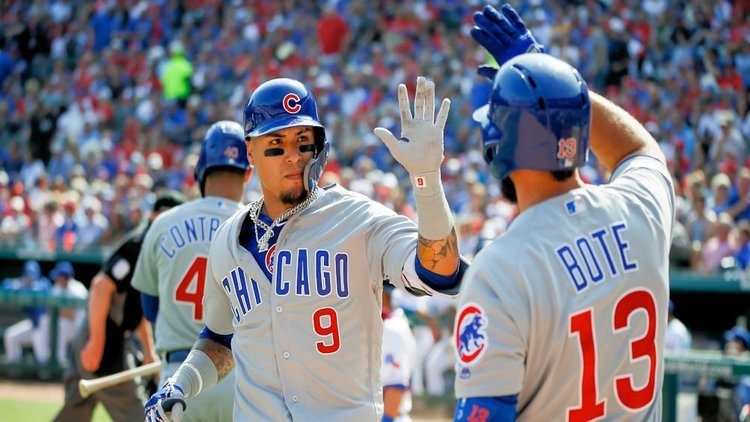 Next Game: Today, 7:10 PM. Cubs @ Brewers: Jose Quintana (0-0, 4.50 ERA) vs. Brandon Woodruff (1-0, 3.60 ERA).
Cubs' Home Opener: 3 Days. April 8 vs. Pirates: Game time: 1:20 PM Central. (ABC-7, MLB.TV)
Cubs News & Notes:
Thursday's Game Recap: For my counterparts at the Braves' websites, this would have been a fun writeup. Perfect game into the sixth for Fried, one-hitter into the eighth, they got the win and swept the series. For the Cubs though, the game wasn't so much fun. Until the ninth, Zagunis had the only two hits for Chicago. The bullpen failed miserably again, the Cubs committed another error (catcher's interference on Willson Contreras, and despite finally scoring four runs in the ninth, it was less than half what the Cubs needed to win.
Final Score: Atlanta 9 Cubs 4.

CUBS NEWS AND NOTES:
Jed Hoyer quotes of the day: Jed Hoyer joined the Bernstein and McKnight Show (670 The Score) Thursday morning. Here are some of the quotes: (1) "I think Jon has a good feel for what's going on in the clubhouse. I think there's a level of frustration." (2) Hoyer says when slides like this happen [referring to Lester's slide back into third] in July, it's taken in stride. When it happens early in the season, there's "nothing good to lean on." (3) "I do think that Yu (Darvish) really struggled in Texas. I think it is an important start to get that Texas taste out of his mouth." (4) Referring to the current losing streak: "We can't ever lose that joy. We need to get back to having fun. We need to escape that rut and get back to enjoying ourselves." (5) "No one wants to win more than (Wilson Contreras). He's competitive to a fault. He wants to succeed for the team so badly. He's going to mature into a player that will learn to have a better perspective on his struggles. You want players like that."
Joe Maddon: Two days ago, when the Cubs were (1-3), Joe Maddon said the first four games were "absolute fun." Now that they're 1-4, Maddon says that "It's frustrating for everybody."
Hoyer vs Maddon: I've always said that perception is reality. While Joe Maddon thought the beginning of the season has been "absolute fun," Jed Hoyer says, "It's not a lot of fun."
Personally, I'm with Jed.
Ian Happ: Happ went 2 for 5 in Iowa last night, with a double and 3 RBI.
Your @EMCInsurance Player of the Game ?? pic.twitter.com/WQk8FHBPZg

— Iowa Cubs (@IowaCubs) April 5, 2019
Anthony Rizzo: Another Rizz-Rocket. Rizzo's second of the year, a smash to right field in the top of the ninth to give the Cubs their first pair of runs.
#TeamRizzo pic.twitter.com/Zh0AG6pyLj

— Chicago Cubs (@Cubs) April 5, 2019
Javier Baez: After a very quiet last two days at the plate, Javier Baez backed up Rizzo's homer with a solo shot of his own.
.@javy23baez hits his 3rd home run of the season. pic.twitter.com/rJXM5g8DHe

— Chicago Cubs (@Cubs) April 5, 2019
Cubs-Brewers: The Cubs start a three-game set against in Milwaukee starting today, before opening up at Wrigley Field on Monday. While the Cubs have now lost five straight, the Brewers have done just the opposite, putting themselves up 2.5 games over the second place Cardinals and 4.5 games over the (tied for) last-place Cubs and Reds.
It's been a while: The Last time the Cubs started a season 1-5, it was 2012.
Carl Edwards, Jr.: After last night's bullpen debacle, Carl Edwards, Jr's ERA rose from 27.00 to 45.00, while Tyler Chatwood managed to drop his from 16.00 to 9.82.
Cub Birthdays: Birthday wishes (yesterday) to ex-Cubs Eddie Watt (78) and posthumously, Arnold "Mickey" Owen (102), Willie Ramsdell (102), Pete Kilduff (126), and Joe Brown (160).
NL CENTRAL SCHEDULE (March 31 – April 6, 2019)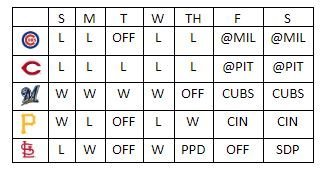 TUESDAY'S SCOREBOARD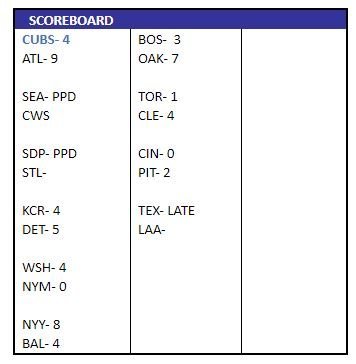 MLB News:
Indians: Credit to Trevor Bauer who had a no-hitter going into the sixth
Yankees: With Troy Tulowitzki now being added to the injured list, the Yankees currently have 11 players on the IL.